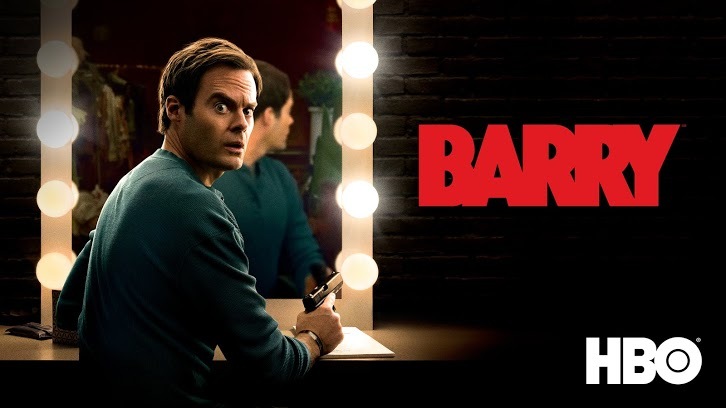 Barry centers on the titular Barry, an ex-Marine turned assassin, who after growing dissatisfied with his current life, finds his true calling whilst on an assignment in Los Angeles; theatre.


Barry
opens on the ending of Barry's current assignment and on the sweep of a hotel room to show a dead body and our protagonist packing away his gun. Seeing as this show is airing at 10.30, I'm going to presume that they will not shy away from the subject matter at all. After being thrown in at the deep end, we get to see the utter monotony of Barry's home life, and Bill Hader does a great job of showing just how drained Barry is from his current line of work.
His boss notices his lack of drive in his recent assignments, and thinks a change of scenery might be more appropriate. Cue Barry taking a little trip to Los Angeles to take out a member of the mob. Barry's conversations with Fuches actually give us a great deal of early insight into Barry's motivations, and it seems like he may have stumbled into his current occupation and that he's only really in it for the money and it was only really meant to be a short-term deal. Somehow I get the feeling he's being doing this a lot longer than he originally intended.
After arriving at LAX via a diversion at Ontario, Barry is hit with minor setbacks such as a slow car, and a gun without a silencer to carry out the hit. It really does add further to Barry's utter exhaustion with the job and Hader portrays this well with the hunch of his shoulders when he walks and the general lethargy he brings to his actions.
With Barry agreeing to carry out the hit, he tails the target around town until he goes into a building. Barry gets out of his car and whilst staking out the building, happens upon Sarah who is doing some pretty loud swearing. She's reading from a script and after a short one-sided conversation, gets called into a building which Barry follows her into. It just happens to be a theatre class, run by Henry Winkler of all people! After Sally gives a lacklustre performance in her scene, Gene stops her and exposes to the rest of the class that Sally doesn't believe in herself or her talents and neither does he or anyone else in the room in order to get a rise out of her. It works and the performance she then gives is light years beyond her previous attempt. It's enough to move Barry, and the direction here of cutting between Sally's performance and Barry's reactions to it was interesting and definitely helped us understand how he could deviate so much from his assignment. Henry Winkler is charismatic in this role, and the juxtaposition between theatre creating life, and Barry's current situation of ending lives was a really compelling point.
Barry being consumed by Gene's speech, is made by his mark, which I can imagine is a big no-no in Assassin 101 and is roped into doing a scene with him. Barry is clearly nervous, and possibly doesn't know how to act. It's not pretty and Sally doesn't seem to be impressed by his performance, but the applause at the end of the scene resonates with Barry in a way I'm sure his day job doesn't.
After the class and a minor amount of persuasion from Sally, Barry finds himself drinking in a bar with everyone from the class, sitting right next to his target. This is very quickly going to escalate out of control for him but fingers crossed it will make for good TV. Everyone presumes that Barry is going to be joining the class and brainstorms on which monologue he can do in order to showcase his current skills. Barry is paralyzed, clearly unsure of what is going on, but he manages to get out of the situation when the girls go to dance. It definitely appears like Barry is going to develop a crush on Sally, and just like that he has even more reasons to be invested in theatre and definitely not in killing Ryan. It's a slippery, slippery slope for him, especially seeing as Ryan then helps him with his audition. Anthony must be concerned about Ryan and the progress of the hit, as we see that he's watching Barry, and he's clearly not impressed when he sees Barry hugging Ryan and letting him out of his car and into his house.
Side note/observation, but I love that D'Arcy Carden from The Good Place was in this episode, and I'm hoping that she'll be recurring throughout the season seeing as she is a member of the theatre class. The core cast seems outstanding if it is being led by Bill Hader and Henry Winkler and if D'Arcy is sticking around then hopefully the same can be said for the recurring/guest cast as well.
Fuches visits Barry the next morning following a phone call from Carrigan who is not impressed with Barry's actions. Barry expresses his new-found love for the theatre, and how he wants to balance his day job with acting, maybe he can just do night assassinations and take acting gigs during the day. Sure, what's the harm in that? Fuches tries to encourage him to take up different hobbies but Barry is having none of it. That's when Fuches brings up the ultimatum; either Barry stops acting and trying to befriend and gets on with the job, or Fuches and the client will be forced to have him killed. Barry seems to accept, but the temptation of the theatre leads him to Gene and he can't resist asking him if he thinks he was actually good enough to be in his class. Gene tells the truth; Barry was awful, so Barry tells his truth; he kills people for a living. Unfortunately Gene thinks he made the entire thing up and sees potential in Barry, and just like that Barry is sucked right back in. It was obvious Barry wasn't actually going to leave town, because then how would the show work?
Barry goes over to Ryan's, presumably to take him out as requested (but with Gene's book in his hand that Ryan gave to him, can we be sure?), but as he goes to do so he discovers that someone has already beat him to it. He follows the bullet's trajectory and finds that it's the client, and their gun has become jammed whilst they're trying to reload it. Clearly they're wanting to take Barry out as well, and he gives them fair warning before taking them out. I'm not sure I'd want to take on a trained assassin, but with Barry now having killed his client, it'll be interesting to see what the consequences from Fuches and others will be for him.
The final scene of the episode sees Barry in a diner, and the waitress who serves him has a script tucked under her arm. Barry sees it an enquires as to what it is. She says she has an audition tomorrow and that she's an actress, and Barry simply replies "so am I". As the lights on police cars illuminate Barry's smiling face and with sirens in the distance, the episode ends.
With a comedic take on assassins, the pilot did a stellar job of introducing the key players and premise for the season. Will you be back for more Barry? Let me know in the comments.