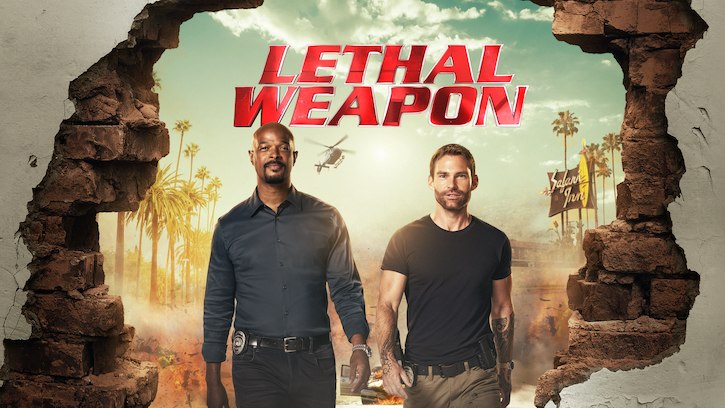 This episode of Lethal Weapon was one of my favorites of the season because we got some insight into Bailey's life and there was also some strong bromance moments, let's Dive in!

The Misadventures of Martin Riggs

I will start with Riggs because once again we are learning more of the pain he endured at the hands of his father. He wakes up in someone's front lawn with a crumpled letter from the Texas Parole Board and a case of amnesia because his beloved truck is no where to be seen and he can't figure out why. This begins a series of events to find the truck and we as the audience see what brought on this latest binge into recklessness. He spends the episode retracing his steps and each one has to do with the weeks and months after his mother's death.
First up is a bar where Riggs shot the jukebox after hearing his mother's favorite song
Today I Started Loving You
, we flash back and see a young Martin Riggs trying to calm his drunk father and stop him from getting in a fight at a bar after his mother's funeral because Papa Riggs keeps playing that song making other patrons mad in the process. It really is sad to see a child in a bar trying to be the adult when his father clearly can't be. He then continues to look for his truck and the next clue is at a car wash where he apparently hosed himself off and this is where we see the next flashback of Riggs hosing is father off to sober him up because a social worker is on her way to assess their living situation given the fact that Martin has been missing a lot of school. When she sees that the house is barely in order and Martin is scared, she tries to get him to talk to her but it doesn't work and he stayed with his father. I couldn't help but wonder what life would have been like for Riggs if he had said something and sadly I think it would have made things worse, his father probably would have gotten him back and made his an even bigger hell than it already was. The letter that set this chain of events off was one he gets every year asking him to speak at his father's parole hearing. As for the truck, we'll settle that up a bit later with one of my favorite moments of the episode.
Sister Dynamics
Part of the reason I said this is one of my favorite installments this season is because we are getting to know a little more about Bailey through her sister which is awesome. The case of the week centers around Bailey's sister Jess and the life that she leads much to Bailey's disapproval. Jess and her boyfriend run a con by having her steal wallets from men in the club where she is a waitress. After a successful night of theft, the two shack up in an expensive hotel and when Jess's boyfriend answers the door, instead of room service he gets an ice pick to his eye.
Our team shows up to investigate and Bailey immediately recognizes a piece of evidence left behind in the form of a necklace with a
J
on it, it is her sisters. She tries to pocket it when Riggs sees her and quietly calls her out. She tells him it belongs to her sister who is always in trouble and the two keep it to themselves, destroying a little more evidence in the process. I kind of like that Bailey worked with Riggs here, this was something we really haven't seen and she knew he would understand or just not care as she later told Murtaugh. Sure Riggs can sometimes be more trouble than he's worth but in these situations, when someone needs his discretion and help, he always delivers. The wallet Jess and her boyfriend stole belonged to a man that was on the run from the Minnesota Mob which I got a chuckle out of because I never pictured a strong mob presence in a state I deem very nice and friendly so I kind of loved they picked that particular state. They spend the episode in the usual car chases and having the team get kidnapped before they finally stop our Minnesota Mobsters who maybe were brothers, but I wasn't sure, before they got the bag of cash they were after. I could continue to explain the case, but I think it is much more important to talk about Sonya and Jess's relationship.
What we see as the episode and case unfolds is a complicated dynamic between the Bailey sisters (but I mean who doesn't have crazy family dynamics on this show?). Bailey apparently left after their mother died leaving Jess to fend for herself and this may have led to her always being in trouble. It is clear that Bailey feels a lot of guilt for not being there for Jess, but at the same time I hated seeing her beat herself up because she had to live her life as well. After everyone is safe, Jess takes responsibility and faces her crimes which was a good moment. I can tell she has wanted to make her sister proud but it has been a struggle. I hope we get to see her down the line.
The Adventures of Roger Murtaugh
If there is one thing I love the most about Murtaugh, it is his way of being the papa bear over the people he cares about and this episode had it in spades.
Trish is out of town which was kind of a bummer because I love whenever Keesha Sharp is on my TV but it did work for this episode because it showed what an amazing dad Rog is when left to his own devices. Riana is dealing with the nagging feeling that her boyfriend is cheating on her based on cryptic Instagram tagging. I gotta say that I am on Roger's level completely when it comes to Riana explaining why the 'tagging' matters, because I went to high school when this wasn't a thing; our form of communication was passing notes and good old fashioned rumors, so seeing him as a detective trying to decipher why these things were so significant really spoke to me. Roger pulls out all the stops to help his baby girl by enlisting Bowman to get him some stakeout equipment and breaking a few minor laws to follow the guy who may be cheating on his daughter. The bad news for Riana is they do catch the little snake doing what she most feared and it was sad to see her first heartbreak but major kudos to her for pouring that drink on his head, I was just as proud as Roger. We have all been there in the depths of heartbreak and when Roger sees how sad Riana is, he tries to cheer her up with ice cream and the movie
27 Dresses
but Riana has her mother's no nonsense attitude and wants her father to tell her if this is as bad as it gets. Roger tells her the truth and the answer is probably not but when the right one comes along the heart will be strong just like his was when he found her mother. Trish calls at the end of this and Roger gets a kiss on the head from his daughter. Roger the family man is one of my favorite faces of this awesome character. Another is his relationship with his biggest problem child, Martin Riggs.
The bromance this week was strong and I am always a fan when that happens. Roger is annoyed with a lot of things Riggs, whether it was Bailey confiding in Martin and not him or Riggs not breaking down when he thought Roger was in a car that exploded, Murtaugh was just not a happy camper with his deshelved partner for most of the episode. There was also the running thread of Rog trying to get Riggs to tell him why he was walking everywhere. He continued to badger him because the case of the missing truck as mentioned above was not a big mystery given the fact that it was sitting in Murtaugh's garage the entire time. It turns out that Roger had gotten a call about Riggs and had the truck towed to his house instead of an impound lot because he knew Riggs was spiraling and he didn't want him to get hurt. At the end of the episode Riggs walked to Roger's house to tell him he needs help and that is when Rog showed him that his truck was safe. The Murtaugh family has been one of the reasons that Riggs is still alive in my opinion and Roger doing this to help his partner reminds me of why I love this gem of a show so much. Sure people can write it off as a 'remake' and a 'procedural' but this show and this cast has something incredibly special and I love watching them each week.
So what did you think? Did you like some backstory on Bailey? Are you happy Riggs finally asked for some help? Let me know!