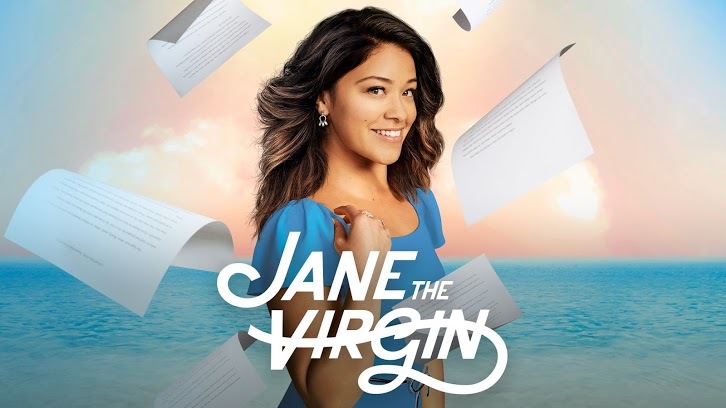 Jane the Virgin
"Chapter Seventy-Two" was written by the team of Carolina Rivera and Paul Sciarrotta and was directed by the incomparable Melanie Mayron. This episode features the aftermath of Rafael (Justin Baldoni) and Jane's (Gina Rodriguez) kiss – he thought it was life-changing, she was meh. And we also see the aftermath of Anezka's death and what it could mean for Petra (Yael Grobglas as both!).
The episode's opening flashback is Jane (Cali DiCapo) wondering about kissing. Naturally, Alba (Ivonne Coll) and Xo (Andrea Navedo) have very different ideas! Alba tells her that she'll be 19 and in love and it will be wonderful. Xo tells her to set her expectations low – it won't be wonderful. I adored that Xo opened the door for Jane to be kissing either a boy or girl – and gave her real practical advice. And naturally, both could easily have been talking about sex too.
The Narrator has to wait to give us our actual title – because he doesn't know what Jane is thinking about! Petra interrupts Rafael's afterglow, to tell him about Anezka's real death. Petra insists that it was self-defense and that she doesn't need a lawyer. Rafael agrees to go look after the twins. Krishna (Shelly Bhalla) calls and tells Petra that Luisa has checked herself out of the mental hospital – this is not good news because Anezka blamed Rafael and Petra for gaslighting Luisa before Anezka's death! Petra tells Krishna to get her a PI and a lawyer.
Rogelio (Jaime Camil) is having problems with his baby arrangement and very complicated family dynamic. Darci (Justina Machado) and Esteban (Keller Wortham) are making it very difficult for Rogelio to have enough time with Baby. Xo points out that it's something they can talk about in therapy – which Rogelio is still resisting.
Jane checks on Alba who is also feeling the aftereffects of turning down Jorge's proposal. She tells Jane that she's just not ready to settle and she doesn't love him the way she loved Mateo.
Jane drops by Xo and Rogelio's and tells her about the kiss. I loved how this scene was intercut with Rafael telling Alba. He gushes and she is utterly nonplused. She's ready to nip the whole thing in the bud – and the Narrator finally has his title!
It's time for Mateo (Elias Janssen) to start kindergarten at the school in Xo and Rogelio's school district, so they've left toys at their house in case someone checks. Mateo is terrified about going to school – like most kids, but he has the added pressure of having to lie – which also starts to weigh on Jane.
Xo and Rogelio's therapy gets off on the wrong foot when Rogelio is tweeting rather than paying any attention to what Xo is even saying. And of course, the tweet is about how bored he is and what a waste of time therapy is. The Therapist (Jacqueline Mazarella) asks him why he's so resistant, and Xo is convinced that he doesn't believe in it because he used to be a Scientologist. Rogelio maintains that he's not interested because they've already talked about his having an inkling she was pregnant and not acting on it. The Therapist then suggest they talk about something else – Rogelio's relationship with his own mother!
Rogelio maintains that his mother is perfect – and was an amazing Mom-ager. The Therapist gets right to heart of it, having a business relationship with his mother at such a young age. Suddenly the weight of having to support his whole family comes crashing down on him.
Krishna has found Petra a lawyer – JANE Ramos (Rosario Dawson!!!!). How do they keep getting these amazing guest stars?!?!? Ramos gives her the straight story – just like Xo with Jane about kissing! Ramos tells her exactly what's going to happen. She points out this isn't Petra's first time being investigated for murder – and we get the flashbacks to prove it! Petra accuses Ramos of trying to pad her bill. Ramos is offended and walks out. I'm already loving Dawson!
Rafael is waiting to talk to Jane about the kiss – and what it could mean. Jane is put off that Rafael has set a romantic mood with candles… but that's not all he's prepared. It was adorable that he'd prepared written answers to all of Jane's objections! He is SO adorable as he tries to convince her. Jane points out that she just had her heart broken – and he's addressed that, but then she drops the bomb – the kiss wasn't incredible for her. Jane is furious when Rafael mentions that he told Alba, and that's the end of that conversation.
Jane checks again that Alba is ok before she angry with Alba for talking to Rafael about her. She's supposed to be on Jane's team! Alba insists that she's #TeamJafeal! Alba is convince that it's meant to be. Mateo is simply part of a larger plan. And there's a history of complicated love in their family: Alba and Mateo and Xo and Rogelio all had to overcome many obstacles before being together!
Xo arrives to hide from Rogelio who has now opened the floodgates with therapy and won't stop talking about his childhood! #Rogelizations. And we cut to Mateo's traumatic entry into kindergarten.
Rogelio gets the good news that he's getting a sequel from the Executive Senior Executive (Gloria Calderon Kellett). He wants to know that Esteban knows and is devastated – and then wants to squash him like a bug when he drinks the lady scientist's potion and becomes a giant. She tells him no… but later we learn there's been a re-write…
Rafael and Jane arrive to pick him up, and both apologize for the night before. Rafael is insulted that she thinks he's just not a great kisser, and he insists that it's because she's a planner and he caught her off guard. They are distracted by Mateo's arrival. He had a great time and made a friend – who wants a playdate! Jane tries to put them off, but they end up heading to "Jane's house" – Rafael runs ahead and with Xo's help makes it look like they live there.
Jane tells Mateo that they are playing a game. Mateo needs to pretend to live at Xo and Rogelio's. I LOVED the triptych in the bathroom. Dana (A Leslie Kies) and Celeste (Fiona Rene) – Elihah's (Harlo Hass) moms, realize by the end of the playdate that Jane and Rafael don't live there, but they promise not to tell anyone their secret – but to watch out for some of the other parents.
However, Jane and Rafael aren't comfortable with having to lie – and rewarding Mateo for lying by giving him ice cream. Both are Jane and Rafael are really concerned when Mateo tells them he's scared about making a mistake lying about where he lives.
Petra interviews another lawyer (Mark Collier) who is happy just to tell Petra what she wants to hear. When the police show up, exactly how Ramos said they would, Petra has second thoughts, and tells Krishna to get Ramos back!
Xo finally tells Rogelio she's over hearing about his childhood. He pushes her to talk about her own parents. And suddenly, Xo realizes that maybe things weren't as perfect as she though. Her dad worked extra hours to give her a special doll – and then she realizes that instead of feeling special she really wishes that she'd had more time with her dad.
When Xo tries to explain to Alba about her own breakthrough, Alba completely loses her temper because she thinks that Xo is criticizing Mateo for being so selfless in looking after them. She can't understand that Xo just wishes she had more time with him.
There's a great scene with Xo and Rogelio talking over a bottle of wine. Xo realizes that she'd been projecting her anger at her own absentee dad onto Rogelio. #Drunktherapy. But the two end up in the most romantic night of their lives!
Rafael and Jane have an awkward moment with her getting out of the shower. Rafael thinks about texting her – and then doesn't, but the two end up in the kitchen together as neither could sleep. It's hard to explain lying to a child. Jane insists that they need to be on the same page with co-parenting. Rafael tells Jane that he's moving back in with Petra – he's been staying for Jane. Moving out means letting go of the possibility of them being together.
Rafael tells Alba that it's hard to give up the idea of something perfect because it might not have been perfect for everyone. And that's a fabulous commentary on memory. We all experience things differently, filtered through our own unique lens of experience. Rafael tells Alba that that also applies to her and Xo with Mateo.
Rafael ultimately doesn't move in with Petra because he gets a letter from Luisa. He's furious when he learns that Petra had left Luisa in the hospital for a week after she'd learned the truth. Petra finally tells Rafael the truth, but it's too late.
We get a nice scene with Rafael and Jane on the swing – how I've missed the swing! Rafael tells Jane he's done with all the lying and doesn't want Mateo to have to lie about the school – and his solution is that he's gotten himself a studio apartment in the school district! He had to sell his car – and now he'll be the one taking the bus! Jane is thrilled.
Meanwhile, Rogelio is shooting the last episode of his telenovela. Alba is there and apologizes for over reacting. She agrees that Mateo may not have been perfect for anyone but her – and Xo needed his time. This gives Rogelio pause. Rogelio realizes that he has to be a bigger man – but not a giant! He gives the lead in the sequel to Esteban so that he can spend the next year being a stay at home dad!!!!!
Petra begs Ramos to come back and represent her. Petra actually seems to be sincere as she tells Ramos that she's all alone. Ramos tells her to keep wearing her heart on her sleeve – it will make her a more sympathetic defendant… They seem to be getting along – but then Ramos calls someone from her car and tells them she's now Petra's lawyer…. Is it Luisa? Madga? Rose?
Jane challenges Rafael to try kissing her again – and this scene is adorable. Rafael makes sure that there's a little foreplay with this kiss! And this kiss turns out to be… amazing for both of them!!! It felt like a telenovela!!! And then Mateo does see this one… oops…
I loved this episode and how all the different storylines wove together. Given the emphasis on how past experience and family influence us, I'm betting it's Magda trying to manipulate Petra. But what do you think? And are you happy to see Rafael and Jane possibly together? Will Xo be happy to have Rogelio as a stay at home dad? Let me know your thoughts in the comments below!