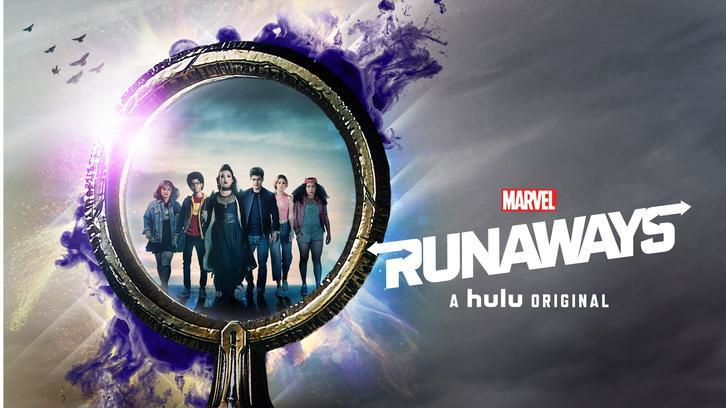 As always, this review is spoiler-heavy. If you want a spoiler-free preview check out Samantha's write up here. I'd also like to thank Jaime for stepping in to cover last week's episode, Tsunami in my absence - you can find the review here!

Runaways 1.09 "Doomsday" - Review:
Directed by Jeremy Webb & Written by Jiehae Park & Kendall Rogers


After a rather disappointing last couple of episodes of
Runaways
that had me wondering whether or not the show's slower pace was letting it down, the show managed to turn it around in
Doomsday
with an exciting, if flawed episode that put all the pieces in place for an eventful finale. It's interesting to see that the writers have seemingly adopted a similiar approach to that of AMC's
Preacher
in their storytelling structure, take a season to establish who the main characters are and put them in a place so the second season will hit the ground running. At least, let's hope so, because this first season hasn't been the most fast-paced show out there. But then, that's something that Marvel fans should be used to with the slow-paced nature of the Netflix series in particular.
Doomsday
put a lot of wheels in motion. The show put the kids at the forefront which really helped matters, as previously the adults have had just as much spotlight as the kids which hasn't always led to promising results. This allowed us to spend time taking a leap in the relationship between both Chase and Gert, and Nico and Karolina. The Nico and Karolina relationship and their kiss was executed more naturally than the scene where Chase and Gert hook up, which felt forced given that there hadn't really been any sparks flying between them up to this moment. Gert had clearly been into Chase, but this was the first time that Chase really showed that he felt the same way. I didn't buy it, and it rushed, like the writers needed to hook them up now rather than wait for a more natural moment.
The Darius subplot was also one of the more uninteresting parts of the show as well. He isn't part of either the Runaways or Pride, but has been a proven thorn in their side. He's monitoring the area where Geoffrey's company is drilling under Los Angeles, and has worked out that after all these years of monitoring the site, whatever's happening inside is going to happen soon because the ordinary workers, which includes Darius' spy, have been let go. There's more than enough drama happening between the kids and the adults to do without Darius, and he doesn't feel developed enough for us to be invested in his storyline. Obviously, he's going to show up in the finale as a wild card (maybe even force the kids and adults to temporarily unite against him?), but until we get a resolution with his storyline he just feels like a third wheel in a more important adventure.
Despite the drawbacks, there were plenty of positive elements about
Doomsday
. The fallout between Alex and Chase and that resolution was handled well, with the group deciding that they wouldn't split up just because Chase destroyed the laptop in the last episode. It wasn't all plain sailing, but they at least agreed that there were more important things at stake once they learned from Molly's parents recorded VHS tape about what Pride was planning (Alex's explanation that he was part of a VHS club was one of the more light-hearted moments of the episode, but also made kind of a perfect sense as for how they got a VHS player). Molly had held out hope that her parents were not as evil as the rest of them, but to learn that they at least changed their minds and attempted to warn them was proof, in some of the teenager's eyes at least, that they could be changed. The answer to how her parents died was finally resolved, with Leslie and Tina being both responsible, with Leslie murdering them using a bomb after they tried to break away from The Pride.
Everything building up to the final showdown was suitably great as well. Karolina telling Frank about their plan so that Frank could help them, believing that he wasn't as evil as the rest because he didn't know what was going on, was a too obvious route to Frank's betrayal of the group. But Frank's betrayal did allow Jonah to finally break the news to the parents that the kids knew everything about the organization and had even stolen the staff and the fistigons, prompting shocked reactions from the parents as they worked out who had been the informant. Jonah apparently won Frank over with a promise of a promotion, which is a bit weird at first especially when you consider how out of the loop Frank was, but makes more sense when you remember that Jonah doesn't care about the Church at all and his main interests are in Pride. He's setting up Frank to be the face of an organization that may be about to fall - unless Frank has something up his sleeve. He did say that he was on Karolina's side, and given his direction in the previous few episodes it doesn't seem reasonable to suggest that he may be double-crossing Pride in favour of supporting his daughter, but until the finale, we won't know for sure.
The confrontation between Pride and the Runaways (the first time we've heard the name Runaways uttered - even if it was dismissed in true comic book fashion, the reasoning behind its origin being too dark according to the rest of the kids), appropriately ended on a cliffhanger when Karolina revealed her powers to a shocked Pride. Even Leslie was surprised, although she seemed at least to suspect something like this was affecting her. Although the drill is stopped, they now find themselves confronted by their parents having been led into a trap. They explain that everything they were doing was for the kids, but it's not enough to convince them. Even though that Nico has lost the staff, they still have fistigons, Molly, Karolina and even Old Lace waiting in their car.
If things do come to blows, it will no doubt be an exciting an emotional conflict for sure. I was reminded a lot of
Captain America: Civil War
's airport fight scene between the two sides led by Iron Man and Captain America in the way this final cliffhanger was established, so I'm hoping that the next episode turns out to be even as half as awesome as that particular scene. But as always, the show tends to end just when things get really exciting, so we're going to have to wait until next week to see how everything is resolved in the finale. It feels like the show has certainly put all the pieces together to end on a high note, and the ten episode structure has helped things from getting too out of hand.
Don't forget to let me know what you thought of Runaways' Doomsday - in the comments below and be sure to stay tuned for the finale of Season 1 - Hostile - next Tuesday on Hulu!