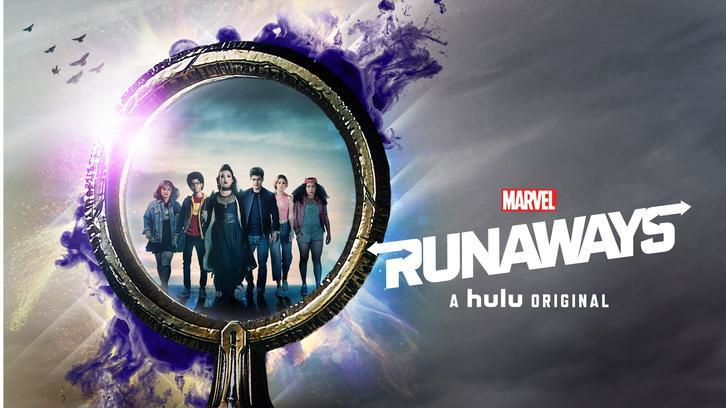 At the end of last week's episode Chase smashed the laptop to save his dad's life, and we were left with the cliff-hanger of who exactly came into Amy's room. The heavy focus on the parents was the only downside of 'Tsunami'. With Victor on ice for now and the season finishing very soon, the Runaways return to the forefront in 'Doomsday' and as a result it is one of the shows best episodes in weeks.


This type of scenario worked on a show like 'Smallville' because the show incorporated it into the story from the beginning. Here it just feels like a massive cop-out, and does a massive disservice to the comics.
Where last week gave us a scene that insinuated Karolina would tell her father everything that was going on, this week there is actually a scene where she does tell him what's going on and he offers a helping hand. You can probably guess this won't end well. Leslie can also tell there is something up between them, though she's not exactly sure what.
Victor's absence from the episode is explained away by Janet, and Chase has to deal with everybody at school offering him sympathy. He also has a lot of questions over where exactly Victor is and what exactly is going on with him, which Janet struggles to answer. I again have to give credit to both actors, because this type of scene isn't easy to work at all.
Alex is still extremely annoyed with Chase for destroying the laptop, but the rest of the Runaways are a little more forthcoming. Eiffel also makes another cameo, this time offering Chase a free ticket to a school dance and making a move on him. She also has more extremely unnecessary choice words for Karolina, and thankfully Gert is on hand to once again put Eiffel in her place. The whole point of Eiffel's existence seems to be to insult Karolina every few episodes. Having seen Danielle Campbell in a few things over the years, it's a massive waste of talent. If there was some kind of rivalry between the characters before the show started, it would've been useful to actually say or better yet show us this.
Molly is also back with the Runaways this week and again as you can probably tell from the promo, brings her parents video with her. The information her parents provides leads the Runaways to decide on a course of action, and they decide to use the school dance as a cover for what they're really doing.
Chase and Janet have a lovely bonding scene where they talk about Karolina. Aside from Gert telling Karolina some much needed home truths last week, it's a storyline that has been on the backburner since 'Kingdom'. I'm glad that the show is finally acknowledging that elephant in the room, but I do think it's a bit ridiculous it has taken another 4 episodes to get there.
I won't deny the showrunners have a lot of faults. The Runaways has suffered from pacing issues, too much focus on the parents that has at times left the Runaways feeling like extras in their own shows, extremely bad storytelling which has resulted in a lack of character building in places, making the show too grounded and some really bad comments in interviews. However, when showrunners get things right, they really get things right, and there are moments in this episode where I feel a step towards that.
The episode climaxes with a scene reminiscent of the comics, and has the potential to shape up a terrific finale. You can watch
'Doomsday' on Hulu this Tuesday,
and here are a few teasers to tide you over.
"I handled it"
"I promise you, I got this"
"What the hell is that guys story?"
"Why would it bother you if I did?"
"He speaks the truth"
"We'll take 5 tickets you hateful bitch!"
"What did you do to the babysitter?"
"The more time I spend with her, the less I think she wants to spend with me"
"I always saw you"
"Someone's in the dog house"
"After tonight I didn't know if I'd get the chance"
"Where are your children?"