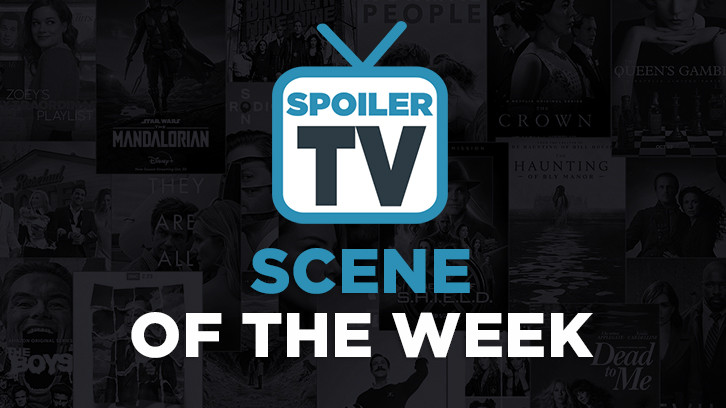 A weekly feature in which we're trying to find the most compelling, best acted, written, directed and just generally great, memorable scenes that we've seen in past seven days on TV.

AMERICAN HORROR STORY: CULT, "Great Again", November 14, 2017, Actors: Sarah Paulson, Evan Peters, The Scene: Kai fails to kill Ally and dies
Luana: This season has been my favorite, I can only hope they keep this up, it was just perfect.

BROOKLYN NINE-NINE, "The Venue", November 14, 2017, Actors: Andy Samberg, Melissa Fumero, Terry Crews and more, The Scenes: Jake reveals the moment he decided to propose to Amy & The party for Boyle
Samantha: Jake reveals the moment he decided to propose to Amy. Ever since I caved and started watching B99, I've fallen in love with this show. Particularly 2 couples that absolutely warm my heart. One of them isn't anywhere near as prominent as they should be, but at least the writers always deliver those Jake/Amy goods. Their storyline this episode didn't exactly blow me away simply because there was so much other great stuff going on, but this scene was absolutely adorable. It starts out with them both trying to keep quiet about the Vulture's philandering ways, and ends up producing a really heartfelt moment.
Laura: The party for Boyle. I said it all in the review, but the dynamic between Holt and Terry is too dang strong. These two have been through so much and it was so beautiful to see Holt admit that he likes Terry a lot, and always has. Terry loves love, and loves being loved, but there is always gonna be someone out there who doesn't like you, as Holt advised to Terry. You just have to learn to live with it, and focus on who does love you. And, of course, Terry ended up changing his own party into a party for Boyle to celebrate him saving Sergeant Peanut Butter's life. The scenes in the bar are some of the best scenes on the show, and this was no different. I love this show more than words can say.

CRAZY EX-GIRLFRIEND, "Josh Is Irrelevant", November 17, 2017, Actors: Rachel Bloom and more, The Scene: Rebecca's "A Diagnosis" song
Laura: I think this scene speaks volumes for the show itself, and also just how groundbreaking a scene like this is generally speaking. CEG is showing the realities of dealing with not only having a mental illness but also how to cope and live with it. Aside from being very relatable to my current life right now, it was a beautiful step forward to what looks like could be a BoJack-level of awesomeness for this show. I am finally excited to see this show again, and that's not something I thought possible a few weeks back. Well done, show. Can't wait to see more of Rebecca's dealings with her BPD diagnosis.

GOOD BEHAVIOR, "You Could Discover Me", November 12, 2017, Actors: Michelle Dockery and more
The Scene: Letty's performance
Marko: Michelle Dockery is the full package. During this short 15 episode run so far, Michelle displayed so many sides of Letty but I didn't expect her to rock the stage this hard. Her charming appearance and naughty performance were a full package.

HOW TO GET AWAY WITH MURDER, "Live. Live. Live.", November 16, 2017, Actors: Viola Davis and more, The Scene: Annalise rescues the baby and gives him CPR
Marko: The writers really don't have boundaries and are willing to push Annalise beyond any visible lines. Viola's performance hit all the right notes as she channelled her inner fighter on the edge of despair. She couldn't lose another baby and I hope she didn't.

JANE THE VIRGIN, "Chapter Seventy", November 17, 2017, Actors: Gina Rodriguez, Isabel Allende
The Scene: Jane talks to Isabel Allende
Luana: Gina was amazing once again, and we could feel her lingering pain over Michael throughout the entire episode, it just made sense, it's in the happiest moments when you miss the most. And that whole conversation was as amazing as it was heartbreaking.

LONGMIRE, "Burned Up My Tears", November 17, 2017, Actors: Peter Weller, The Scene: Lucian's Suicide
Darth Locke: There were so many great scenes in the first half of of the final season of Longmire, it was really hard to choose, but actor Peter Weller, whom directed this episode and is a long-time recurring character on the series, has always been a wonderful narration device providing the cowboy philosophical view (in this case, in the form of Lonesome Dove), let alone the odd way the character is a Conally and the contention that should make, but never really does given Lucian seems to be pro-Walt and accepts the poor choices of his relatives as their own. This scene was not only heartbreaking but it connected back to the showdown between Walt & Barlow itself and connected itself to another episode earlier in season, as Walt is forced to shoot at his dear friend, watch him drink something seemingly dangerous, only to follow him, injured from a gunshot wound himself, before Lucian just throws himself off a cliff and where he dies after getting one final word in, while Walt makes it down to his side! Can't wait to finish off the rest of the final season!

NCIS: LOS ANGELES, "The Silo", November 12, 2017, Actors: Daniela Ruah, Eric Christian Olsen, The Scene: The final scene
Samantha: This week was an emotionally packed episode, and it's actually really difficult choosing a scene but my Deeks/Kensi shipper heart has to go with that ending. So far this season has been light on couple scenes, which some fans have complained about. I get their relationship isn't the centre of the show and don't want it to be, but when Eric Christian Olsen & Daniela Ruah have to bring it in those emotional scenes? They absolutely bring it. This scene actually had me on the edge of tears, because Deeks knew how close he came to losing Kensi & she knew it too. It's a discussion they've had a number of times, but there's a real difference between discussing a hypothetical situation and actually being in it. I hope this ends up being more than one episode arc because it would be interesting to see if either of them do remove themselves from the front line.
Emmaline: The final scene of the episode, between Deeks and Kensi. It showed the normally light-hearted characters facing the severity of their jobs and being honest about how it's getting harder and harder watching one another in danger. It was a beautiful scene and felt very realistic for the characters - and sets up what may be a major change for the show.

OUTLANDER, "The Doldrums", November 12, 2017, Actors: Caitriona Balfe, Sam Heughan, Gary Young and more, The Scenes: Mr. Willoughby's stunt & Jamie and Claire talk about Brianna under the moonlight
Darth Locke: Mr. Willoughby's stunt. I find Mr. Willoughby to be one of Outlander's greatest new additions. I just really enjoyed the plot of Jamie trying to save the man that didn't touch the horseshoe, but ultimately it was part gimmick and maybe part truth with Willoughby finding the "right time" to tell his story--one that coincides with observing nature and a change in the wind!
Marine: Jamie and Claire talking about Brianna under the moonlight. It was a very touching scene with lots of excellent details revealing how much Claire misses Brianna and how hard it is for her to be away from her daughter.

PEAKY BLINDERS, "The Noose", November 15, 2017, Actors: Cillian Murphy, Paul Anderson and more, The Scene: The Shelbys are saved from the Hangman's Noose at the last possible second
Milo: It was a really tense opener that reminds us how great it was to have this show back, done in the stylistic and atmospheric way that the show is known for. Keeping the audience on the edge from the word go, the show pulled us into the heart of the gangster wartime drama with excellent results.

STAR TREK: DISCOVERY, "Into the Forest I Go", November 12, 2017, Actors: Jason Isaacs, Anthony Rapp and more, The Scenes: Lorca's Speech & Lorca manipulates Stamets a second time
Darth Locke: Lorca manipulates Stamets a second time, resulting in final bad jump. Lorca is one of my favorite characters because of his Hannibal-like ability to convince other people to do his biddings, knowing exactly what to say and when to take advantage. He's a character we don't exactly understand either, suffice to say that he will not heed to Starfleet and is willing to truely and boldy go places main character Star Trek Captains don't and I can't wait to learn more about him. On the other hand, Stamets just continues to be a compelling character drifting between the highs and lows of genetic modification being connected to the workings of universes, like no other human character. I just find it all so fascinating!
Milo: Lorca's Speech. Lorca's inspiring speech was a great pre-battle moment that got the balls rolling for an epic encounter with the Klingons. Jason Isaacs has been an excellent addition to this series and his character Lorca has been one of the best on the show so far.

SUPERGIRL, "Midvale", November 13, 2017, Actors: Melissa Benoist, Chyler Leigh, Erica Durance, Izabela Vidovic, The Scenes: Kara opens up to J'onn disguised as FBI agent & Alex and Kara argue in their childhood bedroom & Kara and Alex on the porch at the end
Justyna: I didn't expect to enjoy this episode as much as I did. It was a beautiful, yet quite a sad story from Alex and Kara's past. The story that showed how a death of a friend brought them together and their sister bond truly began. There were a lot of scenes that I could highlight from the hour, especially considering just how many memorable performances we got to see in this episode. The casting of these two young actresses was absolutely brilliant. All their interactions were beautifully written and made, but it's the moment when Kara breaks down that got me the most. First when she found Kenny's body and later in the scene where she meets "Agent Noel Neill". The latter one is the moment I chose for the article. Very interesting dynamics between these two, for a second it truly seemed like parent-child conversation. It's impossible to imagine how Kara felt when she lost everything, her parents, her home, her planet. In this moment she meets a complete stranger with a face of her mother and she lets all her feelings in. Her wish to be with Clark, the only family she has left and the only memory of their home. Her feeling of being out of place, alone, with powers she never wished for but hopes to use to help people. Her pain and loss when seeing her mother. "I love you, Mom." Kara's struggle to be human, to find home on Earth felt more visible in this scene than ever before. Beautiful work by the young actress, Erica Durance and the crew. Kudos for such a memorable episode!
DJRiter: The show has wisely returned its focus this season to the heart of the show - The Danvers Sisters. This week's episode Midvale, focusing on the development of their relationship is among the series' very best. And as always the episode was anchored by award-worthy scenes between Chyler Leigh and Melissa Benoist. Writers are running out of words to describe how magnificent these two women are in these roles and it all comes down to the bond they share it real life. Such a bond is built on trust in your acting partner. Their argument in Alex/Kara's childhood bedroom was as real and raw as it gets. I've had arguments like that with my sisters, though not about the same topics. Kara trying to be the protector, struggles to help the sister she knows is in pain, and Alex, grieving and drowning her sorrows after breaking things off with Maggie, both hurl hateful but truthful barbs at one another. You know their anger at one another won't last, but it was a glorious example of sisterhood with all of its ups and downs.
Donna: The scene with Kara and Alex on the porch. You truly see the bond they share. It doesn't hurt the chemistry between these two actresses has always been wonderful. Kara says her home on Earth is Alex. I have repeatedly stated the Danvers sisters are the heart of Supergirl and this once again proves it.

THE BLACKLIST, "Ian Garvey", November 15, 2017, Actors: Ryan Eggold, Megan Boone, James Spader and more, The Scene: The Race To The Hospital
Aimee: This was a powerfully poignant scene and one of the most emotional scenes to play out on any show this week and perhaps even this season so far. The performances by every cast member were superb. The haunting song playing over it added to the emotionally intense nature of the moment. They couldn't have picked a better track to play over this emotional scene. James Spader brought a great amount of weight to the scene as he allowed Red to show his genuine fear over losing Liz. It was very evident as he sat in the car awaiting news of her fate. Megan Boone was spot-on in her delivery of Liz's acceptance of her fate. She showed that Liz felt herself slipping away. Even more heartbreaking is that even as her life was oozing from her all she could think about was her daughter. The fact that she was the one saying goodbye when it was Tom who would lose his life was the ultimate irony. Liz fought to stay conscious, but could only hold on a short time before succumbing to the severe head trauma she had suffered. Every time her eyes closed it felt like an eternity before they opened again until they finally didn't. It felt so right for Tom and Liz to be side-by-side in this moment. It was a sad goodbye for Tom, but a poignant one. Ryan Eggold was an absolute powerhouse in this scene. He showed how strong Tom was trying to be for his wife despite the fact that he himself was dying and he likely knew it. He forced himself to keep talking and begging her to survive right up until Liz lost consciousness then he went quiet. The words he said, that he can't live without her, held a particularly emotional importance given his ultimate fate. When Liz and Tom's heads settled forehead to forehead it was a beautifully heartbreaking moment because that was their last moment united in life. In the other car, Samar was desperately calling out for an escort. The look on her face and Ressler's said it all. They both knew in that moment, without even seeing Liz or Tom that things were serious. When they reached the hospital the way the music swelled as the doctors fought to save them and their friends raced to their side made the whole scene that much more powerful. I was a dedicated viewer of the first season but since I have been a casual viewer at best, but after this episode I'm back. This was the best scene I've seen this season on any show and that says a lot because there have been some spectacular moments so far this year. The whole cast really delivered and the script was exceptionally well written. The editor deserves a ton of credit too because the way this entire scene was cut together made it even more impactful. All around this has easily become my favorite scene so far this season.
Justyna: That's one of the best accomplishments that a show can ever make, if you ask me. Being able to create scene so powerful that even a casual viewer or somebody watching the show for the first time still feels the emotional impact of the moment. There's only a few shows I know that were able to do that in their run and this time it's The Blacklist that made such an impression on me. I haven't watched this series in a long time, I still don't know the context of the situation but I've seen this highlight of the episode after a recommendation and it left me far more emotional than I expected. The entire sequence, from the second Liz and Tom are placed in the car and the race to the hospital begins, is beautifully made and absolutely heartbreaking. The music in the background is perfect for this moment and all the actors are at their best. Ryan Eggold especially leaves an impression when Tom desperately tries to keep Liz awake, while he himself is slowly dying. "Stay with me" was already emotional during the scene but only grows more powerful when the ending is revealed. Kudos to the entire cast and crew for such a memorable, powerful and one of the best scenes I've seen for a while.

THE MINDY PROJECT, "It Had to Be You", November 14, 2017, Actors: Mindy Kaling, Chris Messina, The Scene: Mindy and Danny reconcile
Klutzy girl: I gave up on the show a few years ago because Danny's character assassination was upsetting but I returned for the series finale and have absolutely no regrets. In fact, I even plan to catch up on the two seasons I've missed. I absolutely adored the way the final scene came full circle from the pilot, where Danny and Mindy sat down in the doctor's lounge to watch TV, this time after reconciling. From Mindy telling Danny that she's never stopped loving him, after he asks if she loves him again, to them arguing (as per usual) and saying they have the rest of their lives to argue was fantastic. Everything about this scene was fantastic, including the cover of "I'm On Fire" that closed out the series.

THE PUNISHER, "The Judas Goat", November 17, 2017, Actors: Jon Bernthal, Ebon Moss-Bachrach and more, The Scene: Frank's nightmare about Thanksgiving
Justyna: This show is nothing like all the other series I've seen. It's far more brutal, dark, serious and, for most part, hopeless. Its main character isn't exactly a hero I'm used to root for. Most of the time you end up being half on his side and half afraid of his actions. There's a number of impressive fights on the show, interesting dynamics between the main characters, the memorable therapy group scenes that I could highlight in the article. But the thing that keeps the show most grounded for me, showing its main character in a different light, are his memories, his dreams, his nightmares. They start innocent but grow more powerful and shocking with each episode. When choosing the scene from the first half of the season, I went with the dream of Thanksgiving dinner that never was. It wasn't just a memory of Frank that went in a dark direction. It was a dream of what could have been, a dinner that united the worlds and families of both Frank and David. Jon Bernthal's performance on the show is one of its biggest strengths and it was absolutely brilliant in this moment. From joy and hope falling into horror and pain. Frank Castle is such a complex character and seeing all the different sides of him is quite a powerful experience. Excited to see the second half of the show. Kudos to cast & crew for their great work.

THIS IS US, "Number One", November 14, 2017, Actors: Justin Hartley, Milo Ventimiglia and more, The Scenes: Kevin relives his last football game & Kevin's breakdown outside Charlotte's house
Marko: Kevin's breakdown/speech on the field. In the previous season and a half, Justin Hartley got pushed aside by how amazing his fellow castmates were and how underwhelming his struggling rich white boy story was compared to the other stories. But this week nothing compared to Justin. The way he delivered the heartbreaking lines in this week's episode was beyond phenomenal. His tears were my tears. Kudos!
Klutzy girl: Kevin's breakdown over his dad's pendant outside Charlotte's house. His continuing spiral is so painful and real, and his tearful pleas for help killed me. I'm both excited and terrified to see where this storyline leads, and Justin Hartley is absolutely knocking it out of the park.
Marine: Kevin reliving his last football game on the football field of this old high school and thinking about Jack. Very cool montage in that sequence.

YOU'RE THE WORST, "It's Always Been This Way", November 15, 2017, Actors: Aya Cash and more
The Scene: Gretchen chooses herself
Luana: I've been waiting for this moment all season, and even though it turned out to be meaningless thanks to just one scene, I really need her to follow this path next season.