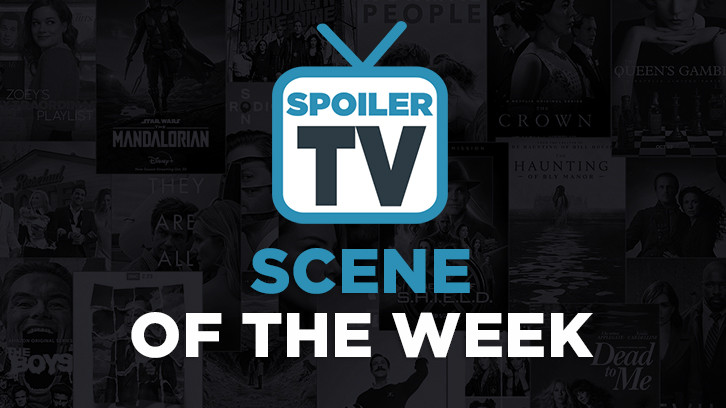 A weekly feature in which we're trying to find the most compelling, best acted, written, directed and just generally great, memorable scenes that we've seen in past seven days on TV.

ARROW, "Deathstroke Returns", November 9, 2017, Actors: Manu Bennett and more
The Scene: Deathstroke's fight
Marko: This is the Arrow that I remember. A perfectly choreographed and executed fight scene, showing why we/most of us love Deathstroke so much.

BERLIN STATION, "Right of Way", November 5, 2017, Actors: Richard Armitage, Thomas Kretschmann and more, The Scene: Daniel tries to save Otto's life
Darth Locke: Daniel tries to save Otto's life, but German law enforcement doesn't want to take the chance.

BROOKLYN NINE-NINE, "Bad Beat", November 7, 2017, Actors: Andy Samberg, Joe Lo Truglio, Terry Crews, Andre Braugher and more, The Scenes: Jake surprises Boyle with the best man announcement & Jake and Terry threaten to call Kevin
Samantha: Jake surprises Boyle with the best man announcement. This is honestly really hard to choose because Andre Braugher was fantastic as always in this episode & I really enjoyed Rosa with Hitchcock & Scully, but I have to go with that opening. Boyle is the #1 Jake/Amy shipper. He was ready to burst with excitement when he thought Jake called him in to ask to be his best man, and hid his disappointment so badly when Jake asked him something completely different, only to then be surprised by what was awaiting him outside. One of B99's best openings.
Laura: Jake and Terry threaten to call Kevin if Holt continues to gamble.

CRAZY EX-GIRLFRIEND, "I Never Want to See Josh Again", November 10, 2017, Actors: Rachel Bloom, Tovah Feldshuh, The Scene: Rebecca and her mother bond
Luana: It was heartbreaking to see how strange it was for Rebecca to have her mother be nice to her.

FRESH OFF THE BOAT, "A League of Her Own", November 7, 2017, Actors: Ray Wise, Luna Blaise
The Scene: Marvin apologizes to Nicole
Marko: It was a really sweet scene. Marvin felt so bad for the comment he made about the Lesbian bar and he was embarrassed by how he made her feel. It was a nice moment and wake up call to everyone who unintentionally hurts someone. Words can hurt and will always hurt.

GREY'S ANATOMY, "Who Lives, Who Dies, Who Tells Your Story", November 9, 2017, Actors: Ellen Pompeo, Jesse Williams, Kate Burton and more, The Scene: Meredith wins the Harper Avery Award
Saloni: It's hard to choose one because the episode had so many nostalgia filled scenes. I'll pick Meredith winning the Harper Avery/Jackson's acceptance speech on her behalf. What a journey it's been for this character with these 300 episodes. Culminating it with her big win is perfect. I loved that Jackson spoke about how her losses (Derek, Lexie, Ellis) strengthen her as a doctor. So true. The cherry on the cake was Mer's vision of Ellis applauding her.
Diana: Meredith wins the Harper Avery Award and among the people who congratulate her, there's her long dead mother Ellis, who's looking proudly at her. Meredith is moved, as she finally got her regard. Beautiful mother-daughter moment. That feels like a series finale to me, it was so perfect.

HAWAII FIVE-0, "Mohala I Ka Wai Ka Maka O Ka Pua (Unfolded by the Water Are the Faces of the Flowers)", November 10, 2017, Actors: Alex O'Loughlin, Scott Caan, The Scene: Steve and Danny talk about the former's health
Klutzy girl: Steve and Danny talk about the former's health and how they're both scared but were unwilling to put their fears on the other. The fact that they had an honest conversation was nice.

LEGENDS OF TOMORROW, "Return of the Mack", November 7, 2017, Actors: Neal McDonough, Arthur Darvill, Caity Lotz and more, The Scene: Darhk returns and fights the Time Bureau and the Legends
Milo: Darhk's return and the fight scene vs the Time Bureau and the Legends. The anachronistic soundtrack choice of Return of the Mack in Victorian-era London really played into the scene's strengths, providing the fun, enjoyable campy atmosphere that Legends is known for. Darhk himself is one of the best villains that the Arrowverse has had and one of the rare bright moments of Arrow Season 4, so it's great to have him back in Legends again which should give the show the boost it needs.

LUCIFER, "Vegas with Some Radish", November 6, 2017, Actors: Tom Ellis, Lauren German and more, The Scene: The Ending
Justyna: This was a really good episode overall, but I think the last minutes were especially well done. After spending Chloe's birthday away from her, in Las Vegas, Lucifer returns home to find Chloe, Linda and Dan all passed out in his apartment. His reaction is genuine and funny. But the best part comes when he opens up to Chloe, thinking that she's asleep, and admits he doesn't want to lie to anyone, especially not to her. Tom Ellis did a very subtle yet wonderful job in this moment. Also, the gift sharing was a lovely addition. Lucifer is not comfortable with his emotions but there's a lot of heart in the hug Lucifer and Chloe share at the end. Glad to see this sweet and honest part of their relationship. Hopefully it won't be too long till they can finally have an open conversation about everything. Kudos to the great cast & crew for this memorable scene and such an entertaining episode!
Jennise: Lucifer gives Chloe her birthday present. The gift was unique and very sweet. After spending the episode feeling neglected and hurt it was one heck of an apology.

MACGYVER, "Duck Tape + Jack", November 10, 2017, Actors: Justin Hires, George Eads
The Scene: Bozer returns Jack's cigar box
Jennise: Someone broke into Jack's house and stole the one thing he had of his father; his dog tags. This scene was a very simple moment, but George Eads made the moment stand out.

MR. ROBOT, "eps3.4_runtime-error.r00", November 8, 2017, Actors: Rami Malek, Portia Doubleday, The Scene: The Real Time scene
Jimmy: Shot in multiple takes edited seamlessly together to play out in real time as one scene. Without doubt one of the greatest technical achievements in television history. Rami Malek and Portia Doubleday were simply sublime, and the team behind the camera were faultless, with sound design in particular like nothing I've ever seen before. Even if you don't watch Mr. Robot, you should watch this episode. You'll be able to follow what's happening without any difficulty, and bear witness to an episode of television that's nothing like you've ever seen before.

ONCE UPON A TIME, "Wake Up Call", November 10, 2017, Actors: Adelaide Kane and more, The Scene: The reveal about the New Dark Curse
Marko: Drizella revealed as the one who will cast the New Dark Curse. Adelaide Kane delivered an outstanding performance this week. She brought all the feels while playing the neglected step daughter whose mother wants to sacrifice her for her other daughter. The tears, the tone of her voice, just everything worked perfectly.

RIVERDALE, "Chapter Eighteen: When a Stranger Calls", November 8, 2017, Actors: Camila Mendes, Graham Phillips and more, The Scene: Veronica and the Pussycats stop Nick from raping Cheryl
Samantha: I feel like this scene is particularly poignant right now & once again Riverdale gets it spot on. Veronica & Josie spot Nick walking off with Cheryl & immediately know something's wrong. They could've then sought out a boy, such as Archie, for muscle & a lot of shows would've. But these girls can more than handle themselves. Cheryl may be a cow at the best of times, but they weren't letting anything happen to her. The way they marched into the house, Veronica got Nick off her & they proceeded to beat him up? Perfectly executed.

STAR TREK: DISCOVERY, "Si Vis Pacem, Para Bellum", November 5, 2017, Actors: Doug Jones, Sonequa Martin-Green, The Scene: Saru explains his actions to Michael
Darth Locke: This show has been really nice with its juxtaposing character dynamics, mythology building, and trying to maintain character development. So far it's Michael that has had to explain herself for making certain decisions at the very beginning of the season, but to see Saru know peace for the first time in his life and then feel threatened by it being taken away was a really complicated and wonderfully emotional thing to throw into the mix. Especially considering that Stamet is a character that became happier seemingly due to genetic modification and became extremely disgruntled, almost more so than before in this episode--these things are just being written so nicely together.

SUPERGIRL, "Damage", November 6, 2017, Actors: Melissa Benoist, Chyler Leigh, Adrian Pasdar, The Scenes: The Ending & Supergirl and Morgan Edge face off
DJRiter: The ending scene in the alien bar between Kara and Alex. Alex has ended up exactly where Kara told her she would be after losing Maggie, alone in a bar, broken and drinking. But she's not so far gone that she can't call the one person who still loves her and will help her, her sister. This scene that ends with Kara putting her arm around her sister and kissing her tenderly on the head is just the latest example of why Chyler Leigh and Melissa Benoist and their characters are the heart and soul of Supergirl. Can't wait to see the Danvers Sisters go home to Midvale to begin healing next week. I'm betting it will be one of the best episodes of the whole series.
Jennise: Supergirl and Morgan Edge face off. Wow. Morgan Edge stepped up into full on villain mode. He is Supergirl's Lex Luthor. The upcoming story may actually have an edge. (Sorry, couldn't resist the pun.) Looking forward to how this is going to play out.

THE FLASH, "Girls Night Out", November 7, 2017, Actors: Danielle Panabaker, Katee Sackhoff and more
The Scene: The confrontation with Amunet in the warehouse
DJRiter: Iris and her bachelorette party facing off with Amunet in the warehouse. Katee Sackhoff makes Amunet a great villain and it's going to be fun having her around for more episodes!

THE GIFTED, "got your siX", November 6, 2017, Actors: Natalie Alyn Lind, Emma Dumont and more, The Scene: The truck gets past the police blockade
Justyna: I really loved seeing all the different powers in action. It only proves how strong people can be if they stand together. Stopping the bullets, the truck jumping the blockade and then the mirage diversion were all really well done. Both visually and in terms of the characters and the story. Though they are faced with increasing danger from all sides, the mutants have each other and this show of trust from one side and protection from the other worked exactly right. I continue to very much enjoy the show and I'm excited to see what's next. Kudos to cast & crew for another great hour!
Milo: Jumping the Blockade. Seeing their powers in action was really cool and the tension created here really played to the episode's strengths. A highlight of the episode for sure.
Darth Locke: Some of the team-ups over the last couple of episodes have been great! Visually the show has tried to remain grounded in its reality when using its science-fiction and fantasy aspects. Seeing the truck go over and then the mirror mirage truck diversion was very entertaining.

THE MIDDLE, "The Setup", November 7, 2017, Actors: Beau Wirick and more
The Scene: Sean talks about how smitten he is with Sue
Saloni: It made my heart happy because Sue Heck deserves all the happiness. They're dragging out these two getting together but I do hope it happens sooner rather than later.

THE MINDY PROJECT, "Danny in Real Life", November 7, 2017, Actors: Mindy Kaling, Chris Messina, The Scene: Danny apologizes to Mindy
Saloni: Danny apologizes to Mindy for brushing her off during his mom's chemo sessions and tells her how she makes him better! Chris Messina is so damn good on this show. I know they kind of ruined his character so he could get off the show but they're redeeming him before it ends.

THIS IS US, "The Most Disappointed Man", November 7, 2017, Actors: Chris Sullivan, Chrissy Metz
The Scene: Toby proposes
Luana: I loved how Toby saw past her fears and decided to help her take a risk and go for it, to finally try to just be happy and know that she deserves it.

YOU'RE THE WORST, "From the Beginning, I Was Screwed", November 8, 2017, Actors: Chris Geere, Aya Cash, The Scene: Jimmy and Gretchen kiss
Luana: Though it has been torture, it was fun seeing them go off on someone and find that they still have things in common.