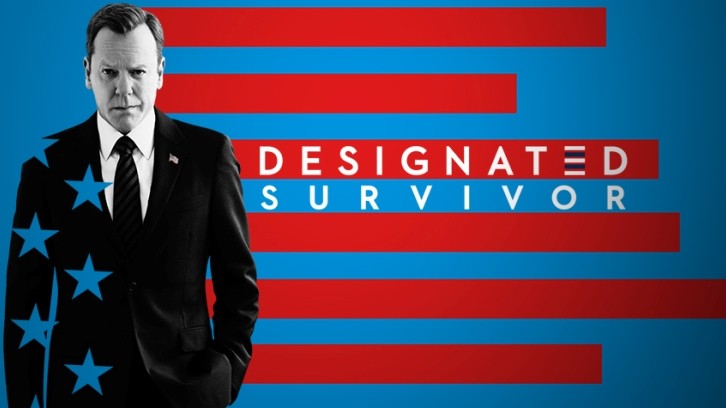 Designated Survivor
"Two Ships" was written by Jessica Grasl and directed by Leslie Libman, whose other credits include
NCIS
, T
he Vampire Diaries
,
The Wire
,
The Shield
, and
Oz
. Grasl has also written for
Shades of Blue
,
White Collar
,
Hawaii Five-O
and
Leverage
. I loved the clever way the title played out in the various storylines in this episode. The main plot literally involved two ships, but there's a famous saying "two ships that pass in the night" that refers to two "people" meeting briefly and then never see each other again. It's a chance encounter and represents a missed opportunity. In the case of this episode, however, it takes on a more sinister undertone as the meetings don't seem to be random and without consequence at all. The Kunami garbage barge purposely hits the USS Verona, it seems likely that Eric Little had and ulterior motive for suddenly dropping in on Eva (Bonnie Bedelia), and Emily's (Italia Ricci) father (Brian McNamara) only wanted to use her connections to further his business. There seem to be no chance encounters in this episode.
The entire team has to go to work when the USS Verona loses radar and gets blown off course by an electrical storm, finally ending up disabled after striking a Kunami sanitation barge in Kunami waters. Tom (Kiefer Sutherland) contacts the ship himself and bonds almost immediately with the highest ranking surviving officer – Lieutenant Will Griffin (Gregory Smith).
Tom immediately promotes him to Captain and Griffin is reluctant as he's only been commissioned a short time. Tom tells him that he wasn't ready for his own battlefield promotion (ie becoming President) either, but he knows that Griffin will also rise to the challenge. Sutherland has really done an excellent job bringing the character along until he is clearly pretty comfortable in the office and is very Presidential.
Tom calls in Cornelius Moss (Geoff Pierson), whom we haven't seen yet this season, to help. Moss makes excuses about having a rather bad history with Kunami – he couldn't be much help there, so he offers to help Tom with the Thorne murder situation. But as it turns out, he has ulterior motives there…
Aaron (Adan Canto) tries to persuade the Kunami Ambassador Darzi (Ali Hassan) to allow a humanitarian mission in to save the men and the ship, but he's having none of it, accusing the US of using the ship to spy on them. In the end, he's not wrong. The ship does have monitoring equipment on it. Admiral Chernow (Mykelti Williamson) is adamant that both the technology on the ship and VDR can't fall into Kunami hands.
Naturally, the situation goes from bad to worse. Senator Cowling (Rochelle Aytes) makes another appearance, and the Senate committee isn't going to help with a diplomatic mission. Darzi demands the US lift the ban restricting their uranium program, and Tom categorically refuses to do it. Tom asks Griffin to destroy the VDR, but it's under water. Griffin offers to go himself because it's too dangerous to let his men do it, but Tom won't let him.
It's not long before the pumps that were keeping the ship afloat stop working and the ship begins sinking. Chernow is able to demonstrate that the barge purposely rammed the Verona, but Darzi continues to deny it. Tom orders Chernow to send a ship to rescue their people – and is willing to let the VDR and technology fall into Kunami hands. Tom contacts Griffin again, and Griffin assures him that the men aren't scared. They are all prepared to make a sacrifice for their country.
The USS Wycoff gets all the sailors off the ship, but Griffin refuses to leave. Tom sends the ship back for him, but Griffin has opened the torpedo tubes and set the self-destruct, so the ship can't get back to him in time. He tells Tom that he swore an oath to protect his crew and his country. He's gotten his crew to safety and now he has to protect his country by destroying the technology and the VDR. Tom clears the ready room and tries to convince Griffin not to sacrifice himself. However, Griffin refuses to be dissuaded and after telling Tom it's been an honor, the picture feed goes to static.
As the day unfolds, Emily briefs Seth (Kal Penn) on what to tell the press. Seth picks up on Emily being uncharacteristically distracted. She confesses that her father, whom she hasn't seen in 23 years has suddenly turned up and wants to see her. Seth convinces her not to let the opportunity slip through her fingers – not to let this ship pass her by – and to have lunch with Dave.
Lunch is going very badly as Dave has lame excuses for why he left and never contacted her. It was nice to see Ricci get a meaty storyline and she delivers a really excellent performance in this scene and her final scene of the episode. Dave turns things around when he pulls a newspaper clipping out of his wallet of Emily as a child that he's been carrying around all these years. She invites him back to the White House where he charms everyone and appears to learn more about the staff than Emily knows. I kept expecting him to have a good reason for having disappeared – was he secretly a CIA agent? Did he have to go into witness protection? But sadly, he turns out to have clay feet and the only reason he's there is to get a photo op with the President to help sell his new corkscrew.
In the final scene, Seth brings Emily all the food. She confesses how devastated she is, and Seth tells her that she has to know that she's the greatest thing since sliced bread – but better! Penn is also terrific in this scene and suddenly, it seems that Seth has been secretly having a thing for Emily. She gets up and kisses him – but is it a friend kiss for making her feel better about herself – or is this something more? It should be interesting to see what happens if Emily and Seth start a relationship – what will Aaron think?
Meanwhile, Hannah (Maggie Q) and Damian (Ben Lawson) go after Catherine Cray (Michelle Nolden). Interestingly, once Moss comes on board, they are reporting to him instead of Aaron. She fights back with her lawyer (Seann Gallagher) when they freeze her assets. I am already tired of Hannah and Damian's relationship because she's too immature to even discuss it. Is he not attractive to her because he isn't married?
The two question Thorpe's aide Payton Lane (Cariba Heine) who ends up being kidnapped. The kidnappers want Darius extradited to Malaysia where he'll receive no more than a slap on the wrist for his crimes. I did like that Lane facilitated her own – needlessly last second – rescue by giving them a clever clue to her whereabouts. In the end, Catherine admits to being the gun runner and the kidnapper but insists that she wasn't behind Thorpe's murder.
Hannah and Damian declare that they are back at square one. Darius didn't kill Thorne either. Chuck (Jake Epstein) goes back and looks at all the surveillance footage from around Thorne's hotel. Was it just me or did it seem like not a very nice hotel for a high level diplomat? Regardless, they catch someone going to visit her five hours before her death – and it's Moss. So. Were they also ships that passed in the night? Will this be some kind of "innocent" affair or will Moss be involved in Thorne's assassination? A favor for his good friend the British Prime Minister perhaps?
Finally, there's the Eva storyline. Kendra reports to Tom that she tried to go to Forstell (Reed Diamond) to find out if he was dropping the case or to persuade him too. Tom points out that due to how Forstell became the head of the FBI, he can't show any favoritism towards the White House if he's to establish his own credibility. Tom tells her not to expect any help from that direction. Kendra then gets his permission to meet with Eva who stonewalls her about signing anything. Eventually, she admits that she did see Eric Little once about six months ago, when out of the blue he stopped by with a bottle of wine…. Because, yeah. That's not suspicious at all. Kendra points out that Eva has now placed Alex in a very sticky legal position because she lied to the court on her mother's word.
One of my absolute favorite scenes in the episode was the last one. Mike (LaMonica Garrett) watches as Tom packs up his bag to head to the residence. He's clearly still distressed by the loss of Captain Griffin. Mike asks for Griffin's name so that he can tell his children about this American hero. It's a nice way for him to reassure Tom that Griffin's sacrifice won't go unnoticed. Tom does take some comfort from it before leaving the office.
Kendra then shows up, looking for Tom. Mike asks what she wants, and she tells him it's bad news. He asks if Tom really has to hear it that night. Kendra tells him no, so Mike tells her to come back the next day – Tom's had a hard enough day already. I just love how he is protective of his charge in every way.
I thought this was a really solid episode. Really good performances from Sutherland, Ricci, Penn, and guest Smith. Of course, for me, the episode really shone from a writing perspective as the theme alluded to in the title filtered through virtually every aspect of the episode. What did you think of the episode? Let me know your thoughts in the comments below!