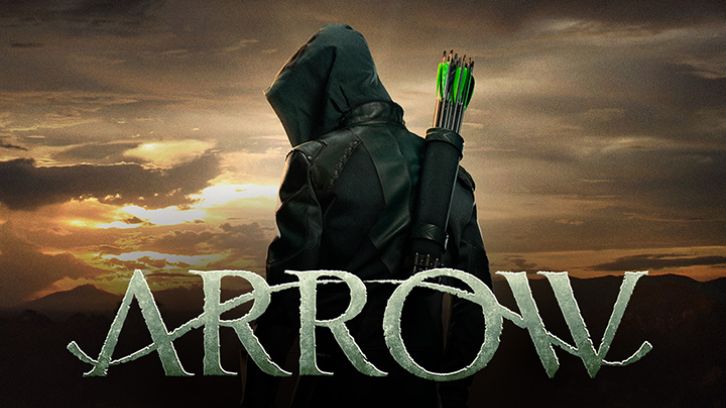 Arrow
"Promises Kept" was written by the team of Oscar Balderrama and Rebecca Bellotto and was directed by Antonio Negret. I have to say that I feel like the one who has had a promise broken. I signed up to see Oliver Queen (Stephen Amell) as Green Arrow, and as much as I love David Ramsey (John Diggle) – Diggle in not MY Green Arrow. I appease myself, however, with the wonderful treat of having Manu Bennett really takes center stage as Slade Wilson in this episode. Also of note, we finally get Kirk Acevedo (Ricardo Diaz/Dragon). showing up! I really, really hope that they are not going to squander this wonderful actor by making him the stupid muscle.
The episode picks up right where we left off with Slade being held at gunpoint by Kane (Liam Hall), who tells him he should have stayed dead. Slade says he'd heard Kane was in trouble and offers to join Kane's merry band of psychopaths. Slade suggests that they talk because trust in built on honesty. And of course, that's the theme that runs through both storylines in this episode.
Kane is cagey about what the Jackals are up to – and Nylander (Kris Holden-Reid) is too – but Kane agrees to take a chance on Slade. Oliver reveals himself to Slade, who isn't pleased to see that Oliver has left the way he was supposed to. Oliver insists that he doesn't abandon people and he can't walk away from "this." The two come up with a plan for Oliver to get the detonators. He does manage to see the plans before Nylander sees him and gives the alarm.
Naturally, Oliver is captured. Kane calls Slade on missing his kill shot, and Slade makes a lame excuse about no depth perception – like he wouldn't have already compensated for it. Regardless, Kane makes a present of Oliver so that Slade can "collect his debt." There's a nice little fake out when it looks like Slade might kill or injure Oliver. Oliver pleads with Slade, saying he isn't this guy anymore. Slade tells him that he made a promise to his son, and Oliver reminds him about their promise to each other – to save both their sons. Stupid move, Oliver. Kane immediately picks up on Oliver having a son. Of course the star is always safe, and Slade frees Oliver.
Slade tells Oliver that he realized when Oliver mentioned William that this isn't who Kane is. He's sure that he's just mimicking Slade's rage under the Mirakuru. However, when they go after Kane to stop the Jackals from destroying the water supply, Slade sees that it is more than simple rage driving Kane. Kane tells Slade that he saw him kill the Chinese spy on the camping trip (last week's flashback) and he's been a killer ever since. In fact, he killed his own brother, Grant – who Slade didn't know about – just a few months after the camping trip.
Slade is willing to let Kane kill him, but Oliver stops him. Oliver and Slade get the Jackals in custody and then Slade leaves to go after Kane. He tells Oliver that Kane is family and you don't give up on family. He sends Oliver back to his own son, and there's a beautiful shot of Slade disappearing into the smoke and dark.
It's fitting that the flashbacks this week are all about Slade's time between getting picked up after Lian Yu and coming after Oliver. He's picked up by ASIS – and Kane is already working for them. We get some really terrific training scenes between the two. Eventually, the mirakuru starts being a problem again and Shado (Celina Jade) begins appearing to Slade. He's driven mad and eventually completely loses it.
Meanwhile, back in Star City, Diggle is dealing with his own madness. He's so determined to remain Green Arrow that it seems he'll do anything to get the drug to calm his tremors and keep lying to Lyla (Audrey Marie Anderson) and the entire team. It was nice to see Lyla again and get more of a glimpse of Diggle's private life. Let's not forget that he has a son and family too! Lyla commiserates that now she knows how Diggle felt when she took on Amanda Waller's job. But she likes that he is Green Arrow and it apparently turns her on!
Diggle is clearly in denial when he buys Diaz's story that they are waiting for FDA approval on the drug. It seems impossible that he wouldn't recognize a criminal drug dealer when he sees him. I'm curious as to what side effects might be in store for Diggle.
Lyla is the first one that Diggle tells the truth to – but mainly because he's hoping that ARGUS will have a substitute drug for him. Lyla is glad that he finally told the truth but she's disappointed that the most moral man she knows has been using an illegal drug and lying to his entire team.
The team can't find Diaz's location until Diggle gives it to them with a vague explanation of a "source." Felicity (Emily Bett Rickards) is suspicious. The team attacks the lab – and since when does Dinah (Julianna Harkavy) carry a gun? The lab is blown up and Diggle almost rushes through the flames to save the drug. It's his wake up call and he tells Lyla. She tells him don't be sorry, be safe. He tells Lyla he has to tell the team and apologize.
Diggle tells the team, and of course, they all forgive him. Felicity, however, has already left for the day. Curtis (Echo Kellum) points out how stupid it was for Diggle not to come to him first – after all manufacturing a solution is what he does! And for once, I had to agree with Curtis – so obvious, Diggle… Dinah also forgives him, and Diggle promises that there will be no more secrets between them – but of course, now Dinah has one. I wish the writers would get some new material at this point.
Felicity and William (Jack Moore) are waiting for Oliver when he gets back. William asks if he was able to help his son, and Oliver tells him yes, but he tells Felicity that it's a long, sad story. He also tells her that he is now more convinced than ever that he made the right decision to stop being the Green Arrow. Nope. Sorry. Not the right decision by me at all. And I'm sure that on that note, we are about to find out why it was a mistake….
This episode was nicely shot with some excellent fight scenes and stunts. Bennett was a terrific edition to the episode – as always. While I enjoyed Kirk Acevedo, I really do hope he has more to do going forward than simply acting sinister. Don't get me wrong, he's terrific at doing that, but it's such a waste of an actor capable of so much more. Kudos to David Ramsey as well. This has been a meaty – if stupid – storyline for him. But it seems that instead of Oliver getting smarter, the rest of the team has gotten stupider. These were moves that Diggle warned Oliver about in the early seasons. What did you think of the episode? Would you like to see a Slade Wilson spin off series? Let me know your thoughts in the comments below!