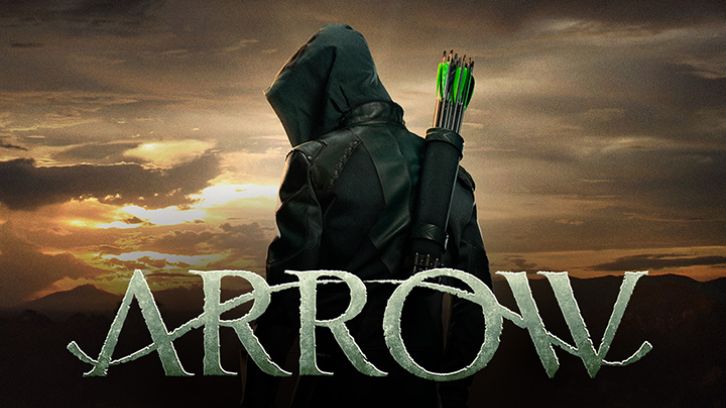 It's time for me to play catch up on
Arrow
. I've been travelling a bit, but I am also struggling to maintain my interest in the show when Oliver (Stephen Amell) is no longer the Green Arrow. I'm sure the show will course correct soon enough, but in the meantime… So. What have I missed? "Next of Kin" was written by the team of Speed Weed and Oscar Balderrama and was directed by the ever wonderful Kevin Tancharoen. "Reversal" was written by the team of Sarah Tarkoff and Emilio Ortega Aldrich and was directed by Gregory Smith. As an aside, Smith, who is also an actor, just did a guest spot on
Designated Survivor
, "Two Ships," and was terrific. Finally, "Deathstroke Returns" was written by the team of Ben Sokolowski and Spiro Skentzos and was directed by Joel Novoa.
"Next of Kin" was probably the least satisfying of the three episodes, though I did really appreciate Tancharoen's direction. We get some super nice slow motion scenes of the team jumping over balconies in the climactic fight scene, for instance. I also loved the absurdity of Diggle (David Ramsey) as Green Arrow sitting with the driver (Mark Manning) and the guard (Craig Fraser) in the gas truck as they listen to the driver's terrible music.
However, the destruction of Diggle's character continues as he fails to provide leadership in the first confrontation with Onyx (Chastity Dotson), and then we see him shooting up with something to stop the tremor in his arm – because that's ever turned out well before. He's able to shut Dinah (Juliana Harkavy) up – so there's that – but lying to the rest of the team is never going to turn out well. I see them being captured or him not being able to shoot up at a crucial moment, right? But that new crossbow is sweet…
Rene (Rick Gonzalez) goes to Oliver to beg him to come back to the team, and this does lead to a nice scene between Amell and Ramsey. These two are always great together. Oliver apologizes for putting John on the spot – after all, he has a wife and son too. Diggle insists that they are all there because of the sacrifices Oliver made and it's Oliver's turn to let him do the job.
Meanwhile, Oliver isn't doing so well as a parent. He tries to reassure William (Jack Moore) about his math test and fails spectacularly. He goes to Felicity (Emily Bett Rickards) for help, and she immediately realizes what Oliver said – he would have been happy with a C and relax – and why it failed – William wants help, not a pat on the head. Naturally, when Felicity agrees to tutor William, the two hit it off, leading Oliver to present Felicity with a key to his apartment and invite her back into his life.
At City Hall, Councilor Pollard had introduced an anti-Vigilante bill. Quentin (Paul Blackthorne) tries to help, but it does seem like supporting the vigilantes is a vote against the police being able to do their job. Oliver nicely nuances the question, by saying that it would help the police to free them up from chasing the vigilantes, who are trying to help them do their job. He invokes Chapter 9 which changes the Bill from a Council vote to a city-wide referendum. In addition FBI Agent Watson (Sydelle Noel) turns her attention to Diggle.
"Reversal" is notable because we finally get Michael Emerson! I was a bit disappointed that they have him playing a computer genius – Cayden James – just like his character on
Person of Interest
. James comes off a lot more like his portrayal of Ben on
Lost
, however. I liked that the title played out in a number of different ways. It still feels like a reversal to me to have Laurel (Katie Cassidy) be evil Laurel, something the team also struggles with.
The central reason for the title is, of course, the reversal of roles between Felicity and Oliver. She's the one called away from the dinner date, and Oliver ends up on the computer in the lair. I'm not a fan. It does seem that they are setting Rickards up for a major storyline this season as James would appear to be her nemesis.
When Black Siren starts dropping bodies the team investigates and at first it seems the victims are nobodies, but it soon becomes clear that the victims are just too unremarkable. The team discovers that they have access to the servers controlling the Internet.
When Felicity tries to finish her date with Oliver at her place with dessert, she finds Alena (Kacey Rohl) waiting for her. She has bruises on her face and admits that James gave them to her – he's not the man she thought he was and he's planning something which will cause collateral damage of 4% of the world population! Felicity is angry with Alena – after all she told her James was a good man and convinced her to go against her team to break him out of Argus. But of course, Felicity agrees to help her. Oliver arrives just as they are leaving, and Felicity tells him to stay out of it. He insists she call the team for backup, which, of course, she stupidly doesn't.
Felicity and Alena go looking for Amnesiac (Graham Coffeng) – I'm betting we see this guy again – at a pretty interesting club. They need a "mirror ghost drive" from him. When things start to look a little dicey, they are suddenly "saved" by a guy in a gas mask – who is of course, Oliver. Felicity is furious with him but steals the drive while Amnesiac and his buddies are unconscious. Oliver is furious that Felicity didn't call for backup, but she tries to explain that she was trying to protect him from Watson.
Meanwhile, the team has been desperately trying to get ahold of Felicity, and Diggle finally gets her to answer her phone. Naturally, both plots end up coming together. James is waiting at Felicity's apartment when she and Alena get back there, and the team has backtracked Laurel via Curtis tracking her scream to Felicity's. In the ensuing melee, Alena is badly wounded. Does anybody start to wonder if Alena has been a plant all along? That the bruise on her face and being shot were just collateral damage to sell her story?
It's Oliver to the rescue this time when Felicity is consumed with guilt over Alena being shot. He tells her that he's the leading expert in guilt and regret. This was a nicely acted scene. Felicity asks how he managed to balance everything, and Oliver points out that he didn't – at least he didn't do it alone – he had Felicity to help him. And let's not forget Diggle! He gives her good advice by telling her not to live in the past but to make it right in the future. He also tells her to trust herself.
The team follows James to the server vault to stop him. James is impressed by Felicity. I did love Oliver guiding Felicity to the vault and her having to trust him. Oliver also gives her important moral support and the two save the Internet together! There is also a pretty good fight scene between Diggle and Laurel.
It's almost funny – if it wasn't so sad – that Oliver starts giving the team orders when they get back: we need to focus on why James has aligned with Black Siren….
Felicity visits Alena in hospital. Alena has decided to take some time, but then she wants to come and work for Felicity in the start up – she even has an idea to pitch. She suggests that Felicity concentrate on trying to mass market her own spinal implant – the thing that had her part ways with Palmer Tech. They even come up with a name together: Helix Dynamics! And did everyone notice "Oracle" on the board in the last episode as a possible company name? Nice!
The last we see of James in the episode, he presents Black Siren with a present. A chip to block them from tracking her sonic scream. He confides in her that his objective all along was to take down the firewall to the vault and now Felicity's "fingerprints" are all over the processor, not his. He just wanted the code. But he's definitely now taking an interest in Felicity too.
Oliver and Felicity are interrupted one final time in the episode when Slade (Manu Bennett) calls Oliver asking for his help to find his son, and that leads us right into "Deathstroke Returns." As a big fan of Bennett, I am always happy to see him back. It's also great to see him back without being strung out on mirakuru and acting bizarre.
Slade tells Oliver that his son has left Calgary and joined the Australian Intelligence service – just like Slade had done himself. Joe (Liam Hall), who now goes by the ominous name Cain, has been arrested and is serving a life sentence in Kaznia (and no it's not a "real" place except in the DC Universe). Slade tells Oliver he needs his help as a politician, not as the Green Arrow. Like everyone else, Slade is determined to save Oliver from himself and a double life.
Slade contacts an old associate – Nylander (Kris Holden-Ried) to help them. He gets them some information for them. Oliver is fed a story about Joe having been killed, but when he takes Slade to see the body, there is no body. I loved Oliver warning the Warden (Paul Cowling) not to make Slade angry! They learn that the Jackals have taken Joe to torture him for information.
Oliver is determined to go with Slade, but Slade drugs him, saying "Alone is what I do best." This felt a lot like a
Taken
episode to me! I loved Slade being a one man wrecking ball! Oliver wakes up and follows Slade in time to see how things play out. It turns out that Nylander is with the Jackals, but Slade knows he's not smart enough to be in charge. And of course, it turns out that Joe is the leader of the Jackals!
I loved that the flashbacks here were of Slade with Joe 13 years ago. We see Slade struggling to have a normal weekend camping with a younger Joe (William Franklyn-Miller). Their relationship is clearly strained. When another random camper comes by, Slade asks him to take a picture of Slade and Joe. Naturally, not all is as it seems. Slade goes off alone and corners the guy – with a knife to his throat – and wants to know where Yao Fei is. The guy tells him Purgatory – and there we have Slade blended in to the flashback story!
The secondary story in this episode really didn't grab me. We finally learn who the Vigilante is – Vincent Sobel (Johann Urb)! Dinah's former partner. Apparently, something happened to him that he can't be killed. Naturally, he's after Pollard (Laara Sadiq) to stop the anti-Vigilante bill – or is he working in league with her? Regardless, Dinah is consumed with guilt over him – and what he's become. Dinah tries to get Vincent to talk but becomes convinced he needs to be killed. However, she lets him go and tells the team he "got away."
Meanwhile, Watson is hot on the team's heels. She calls Felicity in for a meeting, which amounts to nothing. However, when she interviews Dinah, she's noticed that Dinah disappeared when the Black Canary showed up at the latest attack on Pollard. She's not giving up easily!
I'm very much hoping to see the Vigilante storyline wrapped up quickly, but I doubt that will happen. I'm also hoping that Oliver is going to get William's blessing at some point to help the team and Felicity, and that will allow him to take over again as Green Canary. Does anyone else think that Ramsey looks like a sausage stuffed into that leather? There's been some rumors about a possible Deathstroke spin off, and I would totally be down for that! I'm definitely looking forward to more Michael Emerson, but I really hope they help him create a new character. How are you feeling about the season so far? Let me know your thoughts in the comments below!