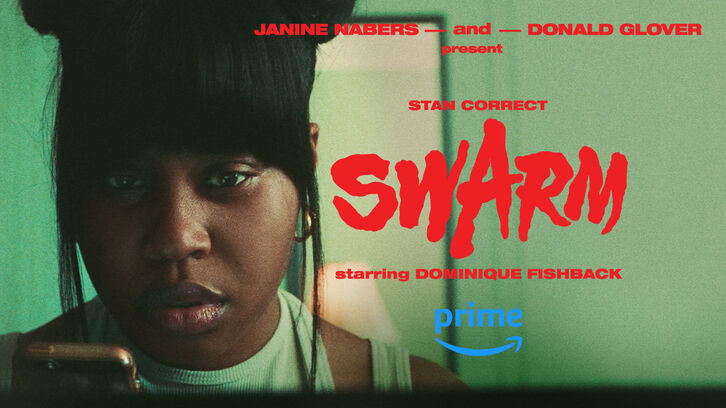 Swarm is an American horror-comedy limited series that premiered on Amazon Prime Video in March 2023. It was created by Janine Nabers and Donald Glover. The plot follows Dre, played by the remarkably talented Dominique Fishback. Despite most of the cast making guest appearances as minor characters, Chloe Bailey is a recurring face as she plays Dre's foster sister. The series explores the complexities of Dre and Marissa's relationship, the toxicities of fandom culture, and the ways in which our addictions are rooted in trauma. Because the extremism in fandom culture is not delineated enough, I was impatiently waiting to watch this one. I was completely blown away by the first episode, which is simply phenomenal. Overall, my expectations were exceeded and believe this will rank as one of the best shows of the year.

In terms of whether the plot is linear, I would say it depends on the experience of the viewer. Many felt that the episodes were anthology-like, illustrating different versions of Dre based on her personality changes and random adventures. There's also an episode that acts like a mockumentary, which threw some fans off. Although there are gaps and genre-hopping episodes, I personally felt the plot was linear. As there are changes in the tone of the series, we see this with Dre's character. Each event traumatizes and alters her, which results in the change of character. She is also aging and evolving as anyone would. However in the same breath, we can say that she hasn't changed at all. Dre's dangerous impulses only intensify over time. The changes themself demonstrate the significance of the popstar Ni'jah in this story. She is the most consistent element in Dre's life, not only serving as an idol but as a symbol of love and safety.

I share with most fans the experience of being thrown off at the very last scene of the finale. I was hoping for a direct, clear ending but what we were given is to be interpreted. My take is that Dre was shot by police while on stage trying to attack Ni'jah and that's why we see Marissa's face on her body instead. They are together again and the hugging symbolizes the comfort she is feeling being put to rest. I feel Dre ran on stage to hurt Ni'jah because she knew she would be caught soon. Not only did she previously bring her harm, but she killed her girlfriend although she insisted she loved her. I will even go as far as to say if Marissa would have successfully moved out, Dre would have tried to hurt her too. I think one of the most disturbing aspects of the series is that in all actuality it's not about Ni'jah, it's about Dre's obsessive behavior and the nightmarish manner in which it escalates.

Swarm is a brilliant horror series, with a mystery that unfolds in a unique and addictive way. The content is deep and dark, causing you to feel a range of emotions while watching. The acting is raw, humor is effective, and the dialogue is intentional. Everything felt necessary, despite the ending catching me off guard. I highly recommend it to anyone who has ever had an obsession, is interested in the critique of social media, or just loves a bloody good time.