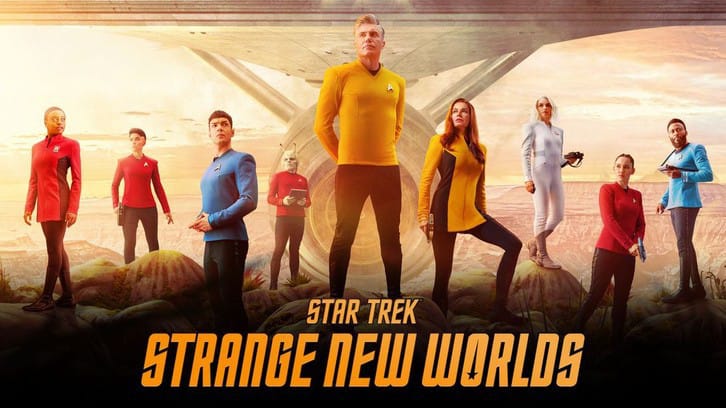 With the recent announcement that Star Trek: Discovery would be ending; it's almost like the passing of the torch: now Strange New Worlds returns as the flagship Trek show, advertised by Paramount+ before cinemas in every major blockbuster release. The premiere sets the bar high for its status but makes an interesting choice to take Anson Mount's Pike out of the equation early on, putting him on his own duty halfway across the universe and leaving Spock in charge of a grounded Enterprise.

However, as we well know from Picard, a grounded Enterprise doesn't mean an out-of-action Enterprise and Strange New Worlds quickly comes up with a plot device to have Spock enter the Captain's chair. His call sign is simple; far from the "Let's Fly" creativeness of past Captains – the commentary on each Captain having it be their thing feels a little too much like fan-service but then again Strange New Worlds wouldn't exist were it not for fan-service; so we'll let it slide: the idea of Spock in the captain's chair having decades of experience before he met Kirk isn't uncommon after all; Spock's practically a veteran when they do meet, so seeing him gain this newfound experience for the first time is refreshing – a Vulkan learning the human side of his character in a crew that would ride or die for any one of their members. The chemistry between everyone is pretty much spot on from the word go.

Chris Fisher's direction is smooth, cinema-like – with appropriate lighting and being able to see what's going on to match – and it kind of has to be if they're advertising it before the latest Marvel movie. This is grand, operatic action-packed Trek – fast paced, high-octane but with a solution that solves the crisis before it becomes all out war; a direct response almost to the premiere of the first season of Discovery where Burnham tried and failed to stop a war. This time Spock must intervene to destroy a rogue Federation ship before it can open fire on the Klingons – and it's so good to have them back playing a role in Trek again; after they've been largely absent from the future Discovery timeline for the past few seasons. Making Pike take a backseat almost feels like an odd, brave call – but Spock, Chapel and M'Benga getting some needed time in the sun helps make sure Strange New Worlds is also learning from the lessons of Discovery, we want to care about your bridge crew more. Make us care: even if that, at the same time, wasn't the focus – Discovery was more interested in the different sections of the ship than directly on the bridge; the science lab paid a key role – but here, the repercussions of the Klingon war are heavily felt.

You're reminded this show is a spinoff after all: M'Benga and Chapel's characters get so much depth here and it's fascinating to watch them come to terms with the war, and it gives new strength to what they've undergone in the past. Jess Bush and babs Olusanmokun have in-built chemistry and the two actors revel in the needed screentime – taking them to the planet's surface does lead to M'Benga torturing a Klingon – Strange New Worlds offers a reminder that although it's more utopian than Discovery, we're not quite in the idealistic future that the original series strives for yet: the combat between these two characters and hordes of Klingons shows that Strange New Worlds isn't afraid to pull its punches.

Ethan Peck is as important a figure to Strange New Worlds as Anson Mount and his role as Spock, whilst fan-service heavy, proves that he was more than worthy to be the latest actor to join the role. He gets to deal with his past feelings that were brought to light in the first series – but the show seemingly struggles with balancing all of these storylines at once. We get a reunion with La'an Noonien-Singh (Christina Chong), reappearing after so little time away, and even the abscene of Pike feels like something that you know will be addressed in the second episode with presumably, a Pike-heavy hour. This is an ensemble show now; it seems and Strange New Worlds has a balancing act that renders it a tad uneven pulling off all these pieces together.


I really liked the inclusion of Carol Kane as a veteran chief engineer. This iteration of Trek has had a surprisingly A-List number of guest stars – Jason Isaacs and Tig Notaro in
Discovery
leap to mind here – and Kane's performance feels like a welcome Notaro-esque vibe. The aged, veteran Pelia seems determined to stick around and should give Spock an emotional mother-esque figure to bond with; given her connections with his parents in the past.
Strange New Worlds
sees like it needs to address the ramifications of the Klingon War on the current timeline – remember after all; this is a prequel still and the events of the first two seasons of
Discovery
are very much present in this show. There's an advancement in style choice of the Klingons to see them fit more in line with their Next Generation counterparts; a throwback in a series of throwbacks – which makes sense as the show progresses closer and closer to current timelines. You don't really know how good it is to have the Klingons back until they do return; because they're really some of the best material for scenes in this episode: the drinking competition is easily my scene of the week, and a hungover Spock passing it off to his commanders was a fun, light-hearted way to end the episode. Little does he know; however, that he's just saved Starfleet a whole world of trouble: they're already at war, but on one front that could have so easily been two.