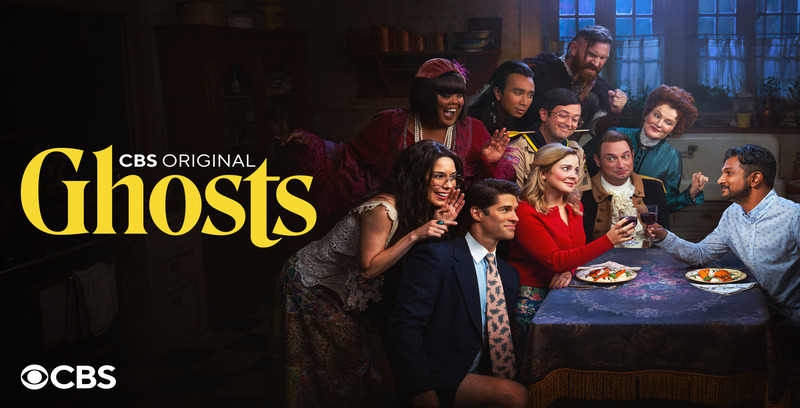 I knew just 10 minutes into this week's episode of Ghosts that I was going to start off my review with a reference to one of my favorite (also criminally underrated) sitcoms in recent memory: Trial & Error: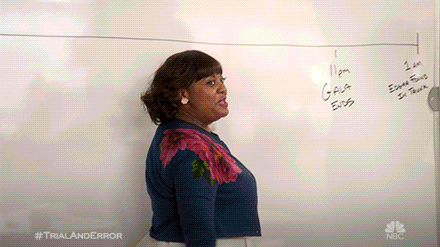 Now that we got that out of the way, we can proceed to talk about all things
Whodunnit
, the penultimate episode of season two and an episode that I loved so dearly. While this season hadn't quite made Alberta's murder mystery as big of a major plot point as I would have hoped, particularly in how it centered its reveals around cliffhangers that wouldn't get addressed for episodes, it was mighty satisfying to see some momentum this week as Sam felt pressured to close down her podcast and try to get to the bottom of Alberta's murder in one day. Enter the murder board.

Jay's involvement was clever and hilarious, often speaking as the viewer, trying to decipher the murder board in a way that felt organic to everything we knew beforehand, particularly the note that could have potentially had Alberta's sister's initials. The episode beautifully transitions into awe-inspiring flashbacks to the night of the murder, and I can't be the only one who was hooked from start to finish with the period accurate costumes, an Al Capone appearance, and Alberta's sister Theresa being confirmed innocent. It was nerve-racking at times, just waiting for the other shoe to drop and desperately looking for clues where there weren't any: I was still convinced it was going to be Earl, Alberta's lover, up until Hetty started looking uncomfortable, so color me surprised.

After a series of fast-paced, witty flashbacks, we get to the big twist of the night (and no, it wasn't Al Capone): it was Thomas, Hetty's son, who poisoned Alberta because he was in a secret relationship with Earl! Very often in whodunnits that aren't part of a murder-of-the-week, the reveal could feel underwhelming if there isn't an emotional connection involved. While I would have loved to see more of Thomas leading up to this episode besides the brief introduction we had of him a few episodes back, I love the implications of this twist with Hetty having hidden this information from Alberta for over a hundred years, thus fracturing their friendship immeasurably. I look forward to seeing how Hetty attempts to fix this bond and regain Alberta's trust, but a part of me also feels very satisfied with how this all went down, assuming Alberta will soon find peace, hopefully.

If anything, this episode answers so many questions about Hetty's relationship with Isaac. I'll never forget how welcoming and understanding she was to him coming out to her, a scene that lives in my mind rent free, and knowing now that she had a gay son adds an extra layer to this bond between the ghosts. I love nothing more than when a gay twist serves purpose for every character involved, and while Hetty keeping the murderer's identity a secret is inexcusable, I still can't find myself but sympathizing with her.

On a much lighter note, Flower, Pete, and Trevor get caught up in a Nigerian email scam on Sam and Jay's laptop in what was an adorably hilarious subplot. I keep waiting for Sam to revoke their laptop access because these ghosts have crossed the line so many times already, but while it's entertaining and fun, I'm concerned if it's all building up to something more serious (maybe the teaser for the season finale?!). Regardless, it's always amusing to watch the writers incorporate as much of its ensemble cast as it can, and while this subplot didn't quite serve the main storyline much, the inclusion of the basement ghosts was a welcome surprise.

Scary Delights from the B&B:

- Jay: This is the murder board!
Isaac: This is what he's been doing all day?
Sam: So, this took 8 hours, Jay?
Jay: It took a long time to find red string. Target was closed, Michael's was all out, and honestly, I kinda lost track of time in Yarn Barn. That place is amazing!

- Thor: So you just... drink alcohol even though no idea who gave it to you?
Alberta: And you just traipsed through a field wearing a metal helmet during a lightning storm? What's your point, Thor? We all got here somehow.

- Sasappis: Is a big hat inconspicuous or like really conspicuous?
Isaac: It is an interesting question. More of a side trip, but not one unworthy of taking.

- Flower: I'm in. Even though I've never committed a crime and I definitely haven't robbed a bank.

- Pete: I feel so... dumb.
Flower: Okay, so he lied to us about being a prince, but at least we helped someone get off of Snake Island. And that's what's important.
Pete: I feel less dumb, but still.

- Sam: I mean, this is huge. Al Capone killed somebody in this house. Do we put that on the website?

- Isaac: I know it's not the time, but I always thought that Thomas was gay so I do consider this a personal victory. Again, acknowledged, not the time, but very vindicating.

- Hetty: The thing is, Alberta, I was ashamed to have raised a man that would do that to you.
Alberta: So you just say this and you think it makes it all better? Do you know how painful it's been not knowing how I died for the last 100 years?
Hetty: No. No, I don't. And I knew that telling you might fracture our friendship. Perhaps irreparably.
Alberta: Then why'd you tell me?
Hetty: I couldn't let you go on thinking that your sister had betrayed you like that.
Alberta: Well, I'm glad my sister didn't betray me. But the person who's come to be like one did. And I don't know if I'll ever get over that.