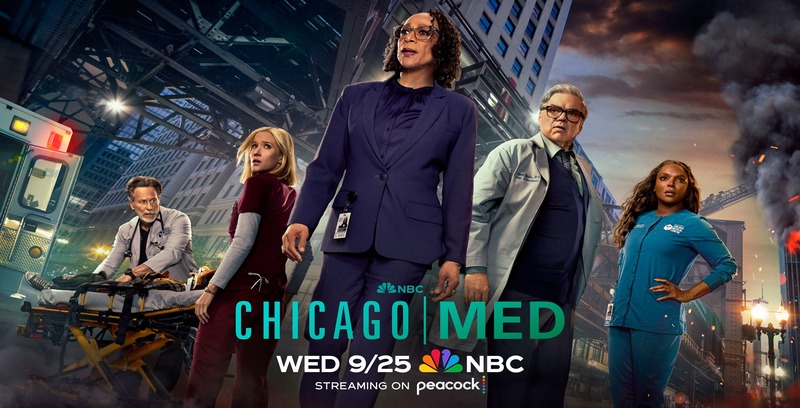 The theme of this episode seemed to be the unexpected, both with medical conditions, rare disorders and having to respond to situations noone has seen before.

Dr. Marcel, Sam and Dr. Tanaka-Reid


Dr. Marcel agrees to do the robotic assisted surgery in the OR 2.0 and completes the repair. Kai is very embarrassed and says he will now be ridiculed for what happened, but Crockett is very kind and professional and provides him with support to get through it. After the way Kai has acted and treated others, it was certainly big of Crockett to treat him so kindly, and perhaps this ego check is exactly what Kai needs in order to make him a better physician and improve his bedside manner and the way he treats the other staff.
Dr. Asher, Dr. Archer, Dr. Song, Dr. Charles, Leila, Quinton and our guests from Chicago Fire
After she delivers, Quinton becomes paranoid, saying the child is not his, and he uses the pair of scissors he was given to cut the cord to threaten people as he tries to get away. As he is running down the hall and trying to get away, he opens the door to the MRI suite and he is pulled against the MRI machine and pinned to the machine with a stretcher, and the scissors become embedded in his neck in the artery.
Eventually they are able to use the webbing straps to support him, and Dr. Archer goes in and removes the scissors and clamps the artery, and they free him and take him to the OR. Dr. Archer gets dizzy and they call another doctor to take over for Quinton's case and take him to the ED.
While keeping him calm, Dr. Charles notes he had lumps on the back of his neck and he wonders if there is an underlying condition which triggered the psychosis, and they are able to investigate and determine he has a genetic disease called neurofibromatosis, which is what caused the episode. He reunites with his wife and his newborn son, who they name Trevor after Quinton's dad.
Dr. Halstead, Dr. Cuevas and Maria
They want to order more tests but Doris tells them Goodwin is in the MRI suite and says no more treatment because the parents had checked her out of the hospital where her brother died. The HMO won't pay until she returns to the other hospital and the company wants her sent back there. Her family wants her to stay at Chicago Med, but with no other choice, Maria is willing to sacrifice for her family and return to the other hospital. As they prepare to transfer her, they give her a copy of her records, but then Dr. Cuevas notes a strange odor to her urine and they run one more test. They are able to diagnose her with a rare metabolic condition that affects how she processes certain amino acids and they let her and her parents know they will be able to treat and manage her condition.
Afterwards, Dr. Cuevas tells Goodwin that she knows she needs to work on her DACA renewal, but she has considered leaving Chicago Med because her parents had to go to Canada years ago and she has not seen them in a decade. But working with her patient today, she realizes that they sacrificed to get her there, and Goodwin tells her she will always have family here with her Chicago Med team. This was such a touching scene because not only does it reconfirm how wonderful, kind and nurturing Goodwin is when it comes to how she cares for her employees along with all the patients, but it allowed us to get to know Dr. Cuevas a bit better. Knowing she has no family support does potentially explain some of what we saw earlier in the season with her lack of confidence and reliance on pathways and clinical protocols. Working with wonderful and caring people like Dr. Charles and Sharon Goodwin will only continue to assist her to develop her confidence and skills as a professional.
Daniel and Liliana
What did you think of this episode of Chicago Med? Share your thoughts in the comments below.