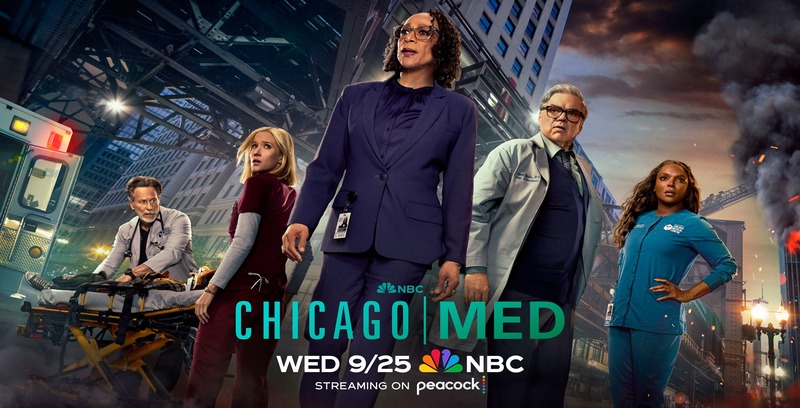 Let's start with a recap of all the exciting things that happened in this episode of Chicago Med.

Sean and Dean


One can only wonder if poor Sean has had a backslide in his recovery based on the fact that he feels his father is interested in Hannah and that is why he is discouraging him from pursuing her. His reaction at the end of last week's episode after he saw Dean and Hannah in the lounge was definitely one of sadness and anger, and one can only wonder if this will make him think twice about wanting to donate his kidney to Dean. Fingers crossed that he has not had a lapse in his recovery and he is able to move past this and perhaps we can even see something happen between him and Hannah in the future.
Maggie and Sharon

Maggie is going on an interview for a charge nurse in the ED in a new hospital. Sharon is sad that she might be leaving but wishes her luck. Later she tells Sharon the interview went well, and Sharon says she is angry with Jack for driving away good people, but she is so happy for Maggie to be finally looking out for herself.
I absolutely love the friendship between these ladies and it would be so sad to see that ripped apart by Jack Dayton and the for profit changes at Chicago Med. We can only hope in our upcoming finale that something will change and we will see Maggie stay at Chicago Med.
Dr. Asher, Dr. Abrams and Michelle Abrams
Hannah and Nellie discuss that Hannah has not dated in a long time and maybe it is time to get back out there.
Hannah is completing the surgery and Dr. Abrams is observing. Sam starts to get upset when she has to change her approach and she tells him to get out of the observation area and let her finish. Sam leaves and Hannah completes the procedure without any problems. Sam tells Hannah that he does want the baby but he is an empty nester and she did not expect to see diapers again until he is a grandpa and he says he is a good father, but is afraid because trying to parent with his first wife is what ruined his first marriage and he is afraid of making the same mistakes. Hannah tells him that he is not the same person anymore and the fact that he can admit his shortcomings says he is unlikely to repeat them.
Sam goes in to see Michelle and he has bought the baby a onesie. Sam accidentally tells her it is a boy, but Michelle is very excited and so is Sam.
It is wonderful to see how well Hannah is doing in her recovery and that she feels she is ready to pursue a relationship with someone again. While some of us always hoped she would get back together with Will someday, seeing her perhaps develop a relationship with Sean Archer would also be a nice substitute. Regardless of who she chooses however, it is great to see her in a place where she feels she is ready to start to look for love again.
Dr. Halstead, Dr. Song, Dr. Marcel and Jack Dayton
Crockett arrives and he and Will discuss how he has not been sleeping because he cannot stop thinking about Richard Evan's surgery. They cannot figure out how he got a clot in his liver that caused the stroke, and he says he is going to have Grace pull the OR 2.0 data. When Grace goes in, the information is all gone from the main and backup server.
Crockett talks to Jack and says there is a problem and that OR 2.0 deleted a surgery's data. Jack tells Crockett to leave it alone and when he says he won't, Jack gives him a thumb drive with the data and says he is trying to protect him because he made a mistake.
Crockett is upset and says the error is his fault, and leaves the thumb drive sitting on the counter when he speaks to Will and Will takes the data to Grace to review, and says Jack cannot be trusted. They realize that it was the OR 2.0 and not Crockett that made the mistake and they tell Crockett he did not make the mistake.
With the impending surgery for Jack that will be livestreamed, one can only imagine what our Wolf writers have in store for next week's finale. However it is clear that Jack does not want to ruin his stock value and patent by having the information leak that there was an issue with the 2.0. While the new technology could potentially save a lot of lives, clearly there are issues to be worked out, and perhaps Grace and Will and work out their differences and work together to ensure the safety of all to come moving forward.
Liliana and Daniel
Liliana is very excited because she is going to be moving to her new home and will be packing and has given notice to her landlord.
She says she still has to move and that she has to honor the notice she gave her superintendent. She says she will figure it out and Daniel offers to let her live with him. She says she can't and he wonders why not and she says she can take care of herself. She says why is he asking her now, and he says because she bought a house, and she says maybe this is a good thing for him because he can now come in and rescue her like some kind of charity case. Daniel leaves angry and upset.
This was such a sad development because things have been going so well and there is nothing we want more than to see him have success in love. Clearly though her brother's presence is causing problems, and that bad feeling we all had about him and his attitude toward Daniel may indeed be a valid concern now. We can only hope they will be able to work it out and get back to the place they were before.
Dr. Charles, Dr. Cuevas and David Sullivan
He says that he has to back out of going to prom and college because of the voices in his head. He tells him that the voices do not sound like what he used to hear, and they don't really have a sound but he knows they are there. Dr. Charles tells him that he thinks he is perhaps hearing his inner dialogue, and he brings in Dr. Cuevas to help practice the situations that are making him nervous.
It is so wonderful to not only see how amazing Dr. Charles is with a patient, but also how he is able to encourage Dr. Cuevas to also become a better psychiatrist and a thoughtful and caring physician. I don't know about anyone else, but if I needed help, I would hope Daniel Charles would be on duty.
With the season finale as our next episode, and knowing how Wolf Entertainment loves a good cliffhanger, and with all these complex stories on the go, it will be interesting to see how season eight comes to a conclusion. Knowing our Med writers, it will be a nail biter for sure!
What did you think of this episode of Chicago Med? Share your thoughts in the comments below.