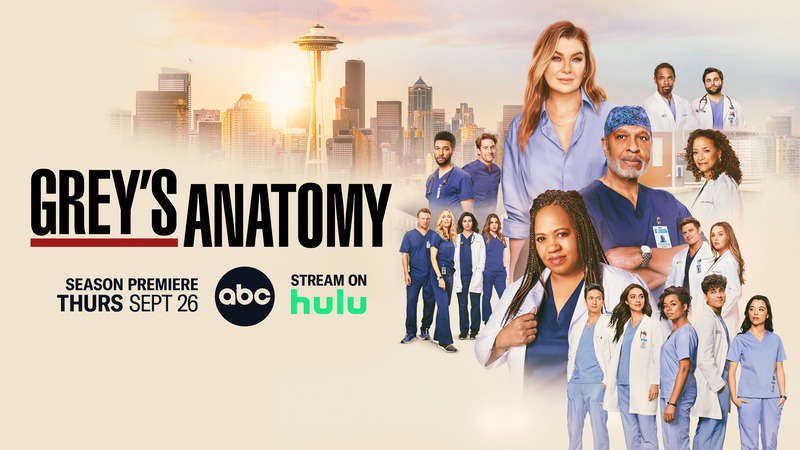 19.06 – Thunderstruck
"The human body is full of energy. Sprinting at full speed, it produces enough wattage to power anything in your house. Your cells are built to move charged ions through the cellular membrane. And the nervous system is a highway of electrical signals… zapping through your muscles and brain. Your body runs on positive and negative charges, all obeying a basic law of physics...opposites attract."
The episode starts with Meredith sending her farewell letter to the hospital as Chief of Surgery, showing us how determined she is to make this choice. We see the residents and then the doctors reacting while reading said email, clearly not expecting it to happen.
Jo and Link are seen together at home, talking about how the thunderstorm is ruining her chance to open the new clinic, while, at the Grey's house, where Maggie and Amelia tell Meredith how good her letter/email was and Maggie begs Mer to stay home with her
At Grey Sloan, we learn the new clinic can't open yet because it hasn't been approved yet, disappointing Jo, Carina, and Bailey. Above all this, the residents are still joking about Amelia and Lucas, and Amelia forces him to confess the truth to everyone about Amelia being his aunt (finally the truth came out because I couldn't take it anymore.)
In the next scenes, we see Wilson going to Maggie, at Mer's house, saying he was sure she was avoiding him. Maggie explained - in a very not believable way - she was just trying to spend time with the kids before they leave.
Owen also thinks he could be a Chief again and, believe me… I loved him as Chief but I'm not convinced it might be the right role for him at this time. He's a good - GREAT - teacher, and he should focus on that. Thankfully, Richard apparently feels the same way, especially considering Owen's suspended license.
After some cases scenes, we see Lucas and Simone talk about the major surgery Meredith and Nick have to perform on a writer, Tessa, and Simone explains that - just like Meredith (I'm liking these parallels) she would go to the midnight book releases with her dad and grandma. She also asks Lucas if he feels better after telling the truth about Amelia, and he says he doesn't feel better but is at least free.
In the next scenes, we see Richard asking Nick if he should expect a goodbye email from him too, considering Mer is leaving. … And about that, I can already picture him leaving and Owen taking his place. It might not be that bad. We also learn Nick didn't know about Lucas being Derek's nephew and, truthfully, I thought it was something Meredith told him off-screen. I don't know— it felt weird. They also talked about how he's trying to accept that she's leaving and that she's trying to make it work - because she *wants* to make it work.
At the Grey's house, we see Maggie and Wilson packing, and she's talking about how she's gonna miss Mer but she's happy for her. And she also takes the post-it - THAT post-it - and shows it to Wilson, saying she's holding on to it because she's scared Mer is gonna leave it behind accidentally. Then, they start talking about their relationship, how Wilson is not going to change his mind about changing specialty, and Maggie doesn't wanna find a replacement, and he clearly thinks the only reason Maggie is complaining is that he's convenient to her. I think it's not (only) about that. I think she's worried about losing someone else. And I can't blame her.
During Meredith's surgery, she argues Lucas is not focused enough and he needs to step up from the surgery and let Simone assist. Nick disapproves, and it looks like their "fight" is more personal than ever. I think she wanna proves Lucas has no advantages for being a Shepherd. If he fails, he fails, independently of who he is.
In the next scene, we go back to Mer's house, to see Wilson and Maggie argue again says if they keep working together they could risk their relationship, and he's not willing to do that because - and I quote - he "loves cardio but loves her more." While this could seem sweet, Maggie does not approve of that and says she would never give up her career for anything. While they keep discussing that, a bolt of lightning strikes the house, scaring everyone inside.
Back at the hospital, Richard and Bailey are shown at the gallery, talking about how he doesn't know how to choose a substitute for the Chief's position. Bailey says she's not gonna take the job because she has a clinic to run.
While they talk, Ben calls Bailey telling her there's a fire at the house, and Richard asks Meredith to step out of the surgery to go back to her house. In the next scene, we see Meredith at the house reuniting with her kids, Maggie and Wilson, and we see the house burn. Zola says she wanted to go back inside to pick some stuff, but Meredith tells her the most important thing is that they're okay, the rest is just objects.
At the hospital, Mika starts talking to Teddy about her life, and her family, and how they convinced her she wasn't enough. And seeing how Teddy worked that day, changed her and her perspective on things, and called her a badass surgeon. Hearing the discussion, Owen asks Teddy if she wanna be Chief of Surgery, saying she would be perfect at it. And I totally agree with it. She is good at making fast decisions and saving lives, she was trained to do that in the war, and I bet she would be perfect in that role.
Blue and Jules meet in the residents' rooms, and Jules asks him how he knows about lighting, and he asks her how she knows about the melting points of metals. Jules says her mom used to make jewelry and, with her brother, she was forced to sell it while her father sold weed. She always wanted them to disappear but it never happened, and they're still drug addicts. Blue says he spent part of his life in Saint Kitts to go to medical school because he didn't get accepted in the US. He says his nickname is Blue because a valedictorian in high school, but in college it was different. His mother got sick, and he didn't have good grades, so he had to go to Sant Kitts if he wanted to become a doctor, while his mother got really sick and died. I have to say, I hope we get deep into both of their storylines because it seems very sad but I think their past and their pain can unite them - which is something they clearly think too - and it's very interesting.
Nearly at the end of the episode, Bailey's clinic gets approved and, with Jo, Carina, and Link, we see Bailey cutting the red ribbon. The clinic is titled to Elena Bailey, Miranda's mother, who fought for her to get every opportunity Miranda deserved. I really hope this is a good chance to give Bailey and Jo a very important and deep storyline this season.
In the residents' locker room, Simone is talking incessantly about how good the surgery was, and how they saved that woman's life, while Lucas is clearly panicking because she got to assist and he failed. She tells him he just had a bad day and nothing happened, and he keeps telling her to stop being nice. Simone tells him he should be thanking her and Lucas kisses her. And I can say: FINALLY, I've been waiting for this to happen since the first episode they interacted. They look so nice together. But, of course, we need angst… so Simone tells him she can't go on with it.
In the last scene, we see Andy say to Meredith they're trying to do their best… of course - and thankfully - at the very end, Maggie gives the post-it back to Meredith. Assuring both her and all of us that the past has been preserved.
19.07 – I'll Follow the Sun
"One of the greatest frustrations surgeons have are the unrealistic expectations of our patients. Whether they're acutely ill or they've been sick for years, by the time they're on the surgical table, they're hoping for a miracle. But often, surgery is just the beginning of the healing, rather than an end. Because for weeks or months post-op, people have to learn how to live without the part of their body we've just removed. And that's not always easy and it's never painless. So, surgery is not the happily ever after our patients hope it will be. Like everything else in life, it's an evolution."
The episode starts with Mika's van being taken from the street and Simone arriving at the hospital with an unknown woman that we learn to be her sister (these both seem like useless details but it's extremely important in terms of storyline.) Meredith arrives at the hospital with the kids and meets with Amelia and Maggie who are trying to forget it's Mer's last day at the hospital.
In the resident's locker room, Mika and Simone arrive as Schmidt is explaining to them that it's important to sleep, take breaks, eat, get a therapist, and lean on friends to not end up like Helm - who is working at Joe's because she had a burn-out. Jo, Maggie, and Winston are dealing with a particular case of a child who was born with a malformed heart, which leads to important discoveries for most characters.
In the meantime, Meredith and Nick have a bad discussion about their (past?) relationship, where he asks her why she didn't talk to him about leaving, and says he moved to Seattle for her and still didn't understand why she didn't talk to him about her moving. She - OBVIOUSLY - answers saying he didn't say he loved her. When, episodes ago - at the beginning of the season - we heard Meredith say she loved him, he didn't say it back. Maybe because he was mad at the time, or maybe because he wasn't sure…we can't know. Although I don't think the main reason she didn't talk to him is an "I love you." She didn't bring it up in past episodes and now - all of a sudden - it's a problem??? It looks like poor writing to me.
Moving on, Teddy is starting to like the idea of potentially becoming chief - as am I - and asks Richard for information about the people they're interviewing, trying not to sound too interested. But Richard doesn't immediately understand she's aiming for the job and asks her to be part of the hiring committee - disappointing Teddy of course.
The patient we saw in episode 19.06, Tessa (the writer) ends up back at the hospital because she felt a sharp pain after carrying her groceries - we all know it's prohibited to carry weight after surgery - so that complicates the resident's position. Lucas tells them they should take her to the OR instantly but Schmidt insists she should get a CT first.
In the meantime, Mika ends up at Joe's to talk to Helm, and asks her for help to learn how to do sutures. It's a simple scene but I'm definitely and positively sure I saw some sparks and chemistry between these two so…we'll see what happens.
Amelia goes to talk to the child's parents, the boy who was born with a malformed heart and tells them her story. About how she gave birth to Christopher knowing he wouldn't survive because there was no cure or surgery for anencephaly. But if there was, she would've done everything in her power to cure him. She says she thinks about Chris a lot these days, especially now that he has a brother - Scout - and she asks herself whom would he be now. I sobbed.
Mika gets to attend the baby's surgery, and we see Blue and Jules talk in the gallery. He says he thought she would win the contest and she tells him she tanked because she was scared of babies. She tells him her father forced her to assist to her brother's birth and cut the umbilical cord when she was just five years old. And that traumatized her for life. I don't know if we should take this as a possibility she'll find her right specialty in OB or if she'll despise it. I'm conflicted.
While Maggie and Winston's surgery went extremely well, also thanks to Amelia…Meredith and Nick's one didn't. They lost a patient and had a bad argument after it. She said she's gonna pick herself and she's not gonna beg him to love her. And that's totally opposite to what she did with Derek. I think it's not a bad thing entirely because we're talking about a 25 yo vs a 45 yo. Meredith grew up a lot and of course we see this change.
Meredith clearly passed the torch to Simone. I always had the impression it was gone end up this way but seeing Simone was the only resident she had scenes with, and seeing the parallels with the Alzheimer storyline…we can definitely see they did it on purpose. And I'm definitely sure there's more to Simone's story, I think it's somehow related to Meredith, Ellis or Richard's part. I'm so curious. The entire hospital organized a farewell party for Meredith. While waiting for her, Teddy asks Richard why - after her achievements - he didn't think of her as Chief. Richards tells her it requires a lot of stress, that's why he didn't ask. But the job is hers if she wants it. When Mer arrives, everyone praises her. I was waiting for Bailey to finally say she's proud of her but we didn't get a chance - let's hope it happens before the series ends - and Richards tells her GSMH won't be the same without her.
In the meantime, Nick is losing time at the bar, and Helm approaches him, asking what he's doing there if there's a party for Meredith. Helm tells her Mer is perfect, she couldn't choose her because she likes men but she fell for Nick and he's throwing it away. And I can't agree more with her. She's 100% right. Meredith can have a bad attitude sometimes, but she's been through a lot, she earned that right. If you love her, you fight for her. This stands for Meredith but it's more of a general thing. He goes back to the hospital and meets Bailey, who tells him Meredith and the kids are at the airport. He leaves to go to her, knowing he won't make it in time, so he calls hers to tell her that long-waited "I love you." He says he loved her since the first time he saw her. She said she didn't hear him - which wasn't true at all - and that she would call him after they settled.
At the end of the episode we see Meggie leaving with Amelia after fighting again with Winston. We see Jules and Blue together - and I'm so happy about that. We also see the beginning of a new era… Lucas, Simone and Mika move to the Grey's house, where it all began.
It definitely didn't feel like a farewell episode for Meredith - probably because we'll see her again - but it felt like the beginning of another era, a totally different one. The generation is changing, and have no idea where this could lead us, but I'm excited, after all.
"As long as the sun rises on your life... there will be new dragons to slay. So the end of my story is not any kind of ever after. Because I'm still alive. I'm still here. And the sun still rises on my life."
What did you think of these episodes? Did you like it? Let me know in the comments!