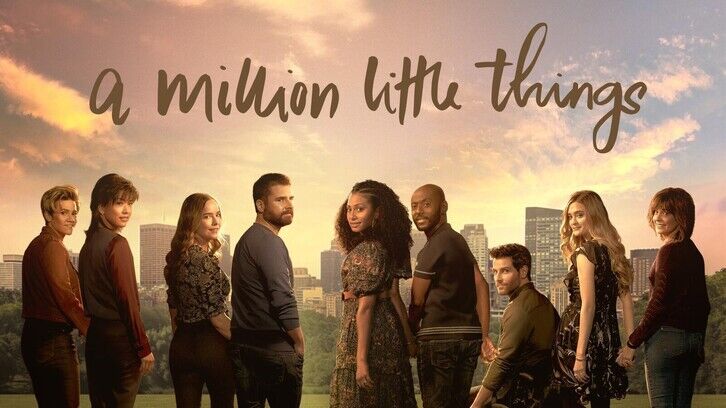 The third episode of the final season of A Million Little Things split the friend group into two - one for girl's night and one for boy's night. Both groups had their fair share of drama while having fun on potentially the last night before Maggie and Gary become parents.
Girl's night
with Maggie, Greta, Katherine, Regina, and Sophie
The ladies go to an escape room with the sole mission of trying to break the boys' record time of escaping.
Sophie lands her eyes on a guy behind the snack counter and learns that he's a fan of her and her band, but she lets her past experiences with Peter cloud her judgment. Regina eventually helps her to see that she'll never move past her fears if she doesn't see what's out there for her. Later that night, Sophie ends up calling the guy and I hope we'll get to see some of their development in future episodes.
Right before the girls have to give up their phones to start the escape room, Maggie receives a surprising phone call where she learns that Dr. Jessica is auditioning as her potential replacement. This is exactly not the type of news she needed to find out before trying to have a fun night. Her emotions eventually overcome her in the midst of the game and she just breaks down in front of the group, revealing the reason behind her urgency to get out of the room. The girls rally behind her and end up escaping only 15 seconds after the record time, but then learn that the boys asked for two hints, so in my eyes, the girls beat the record.
Greta and Katherine continue to have drama in their relationship as Katherine immediately shoots down the idea of getting married again and continuing to hide her girlfriend. Katherine only introduces her to a friend after Greta complains and it just doesn't seem genuine to me. These two need to have a real conversation about their future as these kinds of things are just going to keep happening.
Boy's night
with Gary, Eddie, Rome, and Danny
The guys have tickets for their final Bruins game before they give up their season tickets, but they eventually end up missing the game as it was a day game. The guys get let in to sit in an empty TD Garden because of an usher's connection to Rome's dad.
During dinner, Gary creates a game to pick a winner between Rome and Eddie on who should be his son's godfather. The game goes back and forth with it always ending in a tie between the two. While in the empty arena, Gary reveals that both of them, along with Danny, will be the godfathers. He also reveals that he made a big decision to sell his dad's truck and with the money, he'll continue to buy them Bruins season tickets. I think this is the best idea for him to use the money as this is what brought all of them together and I honestly can't imagine them without renewing their tickets even though they occasionally run into trouble when they try to attend the games.
Eddie reveals to the guys that he's thinking of going back to school and is looking to become a licensed addiction counselor and I admire this career step for him. It's a full circle moment from where we saw Eddie at the beginning of this show.
Rome is distracted with news about his dad as he learns the results of the MRI and the possible diagnosis of Alzheimer's. It breaks my heart to see them go through this as their relationship has really grown and they're finally back in a good place.
Other thoughts:
- My favorite scene of the hour was Gary showing up to Dr. Jessica's office and standing up for Maggie. "You'll never be as good as Maggie Bloom."
- Regina appears to be the only character so far that doesn't really have a storyline established for this final season.
Let me know your thoughts in the comments below.