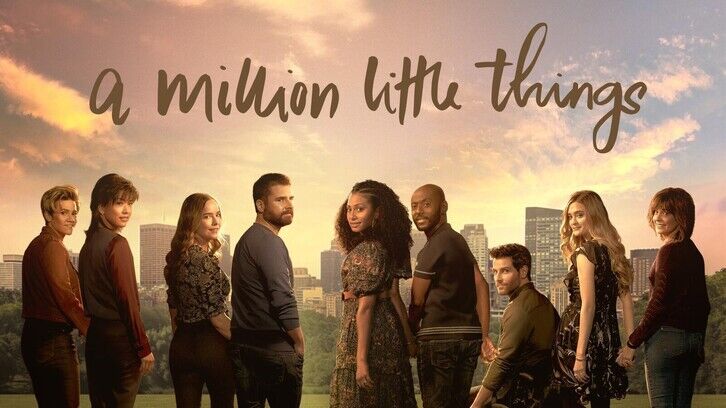 Last week's of episode of A Million Little Things brought clarity for some characters, but also introduced new worries and developments for others. I'm going to break this episode down by each pairing.

Gary and Maggie
Maggie is experiencing morning sickness and struggles to get through recording her radio show. She's trying to bank as many episodes as possible to prepare for her absence after she has the baby. Worry is also starting to creep in as she fears her job won't be available for her to come back to after her maternity leave. In the middle of recording an episode, Maggie has to run to the bathroom and Gary steps in to take some calls. To everyone's surprise, Maggie's boss actually loves what Gary did on the air and even teases a new name for the show - "Gare on the Air". Maggie breaks down after lashing out at Gary and he reassures her in a very "Gary way" that everything will be okay.
Eddie, Katherine, and Greta
Katherine and Greta struggle to find alone time as they are constantly interrupted by Theo and Eddie spending a lot of time over at their house. This pushes Eddie to get back in the dating world and he creates a dating profile with the help of Greta. This might seem weird to have your ex-wife's new girlfriend help, but for them it works. I love the relationship that Greta and Eddie have developed from the moment that they met. Eddie goes on his first date, which happens very quickly after his profile was made live, and at first it seems like she has an obsession with people in wheelchairs. It just seemed too good to be true for him, but she reveals that her brother is actually handicapped and that's why she has such a history with wheelchairs. Of course she didn't stick around after Eddie accused her of such a thing, but she did provide some inspiration for Eddie as he looks into going back to school.
Regina and Rome
Rome is worried about his dad and even lies to him about his car still being in the shop when he wants to keep him off of the road until he gets an MRI. Walter refuses to get an MRI, but persuades Rome to give him a road test instead and if he passes, he'll get his keys back. And just when you thought Walter was passing the test with flying colors, he actually drove them to Rome's parents' old apartment from decades ago instead of his current house. Walter comes to a realization that he is struggling with memory loss and hands over his keys to Rome. This was a moment of sadness, but also strength because that couldn't have been easy for him to admit.
Regina's food truck is set up near a homeless encampment and it ends up being robbed. She jumps to conclusions and accuses Sophie's new friend, Joseph, of stealing from them because of her assumptions about him being homeless and on drugs. But the marks on his arms ended up being from dialysis and Regina feels terrible as the encampment is now being torn up after her complaints.
Other thoughts:
- Just when I thought this season was starting off slowly, they throw in the wrench of Gary's therapist, Dr. Jessica, potentially filling in for Maggie when she's on maternity leave. Is she going to feed Gary ideas about pushing for Maggie to not return to work?
- What degree is Eddie going to go back to school for?
- Is Greta and Eddie's friendship going to create tension in her relationship with Katherine?
What do you think is coming up in this final season?
Let me know your thoughts in the comments below.