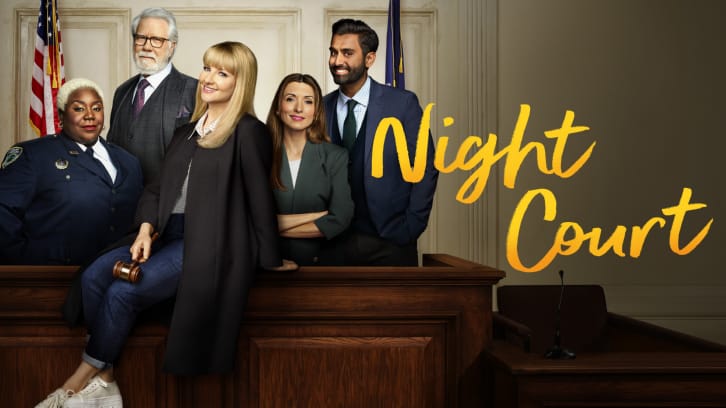 In January of 1984 the show Night Court aired for the first time on NBC as a midseason replacement show. It starred a rising comedian named Harry Anderson who had impressed many from a handful of appearances on Saturday Night Live and his recurring role on Cheers as the grifter Harry "The Hat." However, his lack of experience as an actor had initially caused some issues with network executives. Since the show lasted for nine seasons with Harry Anderson being one of only three actors to star in all nine seasons, it would seem the network shouldn't have worried.

Harry Anderson played Municipal Court Judge Harry T. Stone, a geek with a love of magic and pranks and more than a mild obsession with the singer Mel Tormé. Harry had been appointed a judge more out of luck than anything else. When asked by a frustrated and astonished Dan Fielding in the pilot how Harry of all people got appointed to the bench Harry replied that of the hundreds of candidates in line in front of him, only he was home at the time to receive the call and accept the appointment from the outgoing mayor on his last day in office. Harry bucked tradition by refusing to act like conventional judge, which early on earned him the ire of some of his contemporaries. Harry saw it as a mission to treat the people who came before his bench as humans and to bring a little levity to every day.
Initially,
Night Court
also starred the far more seasoned actor John Larroquette as the libidinous assistant district attorney Dan Fielding (Though over the course of the first few years of the series we learn his birth name was Reinhold Elmore) and the classically trained actor Richard Moll as the loyal though not too bright bailiff Nostradamus "Bull" Shannon. Both actors were the only two besides Harry Anderson to stay throughout
Night Court
's nine-year run. Also cast in the first season were Selma Diamond as bailiff Selma Hacker who played a sort of mother figure to Bull. Gail Strickland as the legal aid attorney though she was immediately replaced after the pilot by Paula Kelly. And Karen Austin as Lana Wagner, Harry's court clerk and despite being engaged to an offscreen character, Lana was initially supposed to be a potential romantic interest for Harry.
Over the first few seasons there were many changes to the cast. Karen Austin was the first to be replaced after the first season and was not present for the last couple of episodes of season one. Austin claimed she was let go after being diagnosed with Bell's Palsy, but a rumor claimed she was jealous of Harry Anderson's role and even had to be dragged off the set by security after she attacked him. Which story is true? No clue. Charles Robinson took her place as Mac Robinson who often served as a straight man to Judge Stone's antics. Paula Kelly also disappeared after the first season for unknown reasons. She was replaced as by Ellen Foley who had her own claim to fame for being the female vocals in the hit rock duet song by Meatloaf "Paradise By The Dashboard Lights." Foley played Billie Young, a new romantic interest for Harry but she also only lasted for a season as the rumor was the network was waiting for Markie Post to be available. Post did guest star in the second season as defense attorney Christine Sullivan and returned to the role on a permanent basis in the third season. For the next several seasons Harry and Christine became a major will they/won't they storyline while Dan pursued every avenue to get her to sleep with him.
The role of the second bailiff, the mother role for Bull, ended up being a sad story on it's own. Selma Diamond died of lung cancer after the second season and was honored by the cast during the third season premiere. Florence Halop replaced her and also died of lung cancer a year later. The rumor after Halop's death was the part was cursed and executives were a little afraid of casting another older woman in the role. They settled on the much younger stand-up comedian Marsha Warfield to play the tough yet privately sensitive Roz Russell. Warfield ended up being the last of the cast changes.
The show was a wild ride for nine years and guest starred a handful interesting names such as Michael J Fox, Yakov Smirnoff, Dennis Haysbert, Teri Hatcher, Lou Ferrigno, James Cromwell, Fran Drescher, Nana Visitor, Pam Grier, Stephen Root, and even Don Cheadle. Late night king Johnny Carson guest starred as himself on one occasion. Jazz singer Mel Tormé, Judge Stone's obsession, guest starred on multiple occasions as himself and even credited the success of the show with bring younger crowds to his concerts. Brent Spiner, who guest starred on a handful of episodes as the down on his luck Yugoslavian hick Bob Wheeler, supposedly almost joined the ensemble right before he was cast as Lieutenant Data on
Star Trek: The Next Generation
. John Astin recurred as Harry's stepfather who went in and out of the mental ward on multiple occasions, but after he was released he was always feeling "much better now."
The show was good enough to suvive nine years, much to the surprise of the network. Like pretty much every other comedy that goes on for multiple years the characters changed a great deal becoming caricatures of their original selves. On top of that the show didn't really mind breaking with reality considering Wile E. Coyote is prosecuted for chasing the Road Runner briefly in one episode. One of the real tragedies of
Night Court
is that it never had a satisfactory conclusion for a variety of reasons. Supposedly it was supposed to end in a marriage between Christine and Harry which never materialized. The writers were prepared for the show to end after the 8th season before a sudden renewal and were expecting a renewal for a tenth season before a sudden cancellation forced them to come up with a quicker ending. This was talked about in a mini-
Night Court
reunion on the show
30 Rock
which guest starred Harry Anderson, Markie Post, and Charles Robinson.
Night Court
may no longer be timely and many of it's jokes are outdated but it's still good for a cheap laugh and if you're interested all nine seasons can be found on Amazon's Freevee.
The new
Night Court
, which will be a continuance of the previous show rather than a reboot, will have Melissa Rauch of
The Big Bang Theory
fame anchoring the show. Rauch is playing Abby Stone, daughter of Judge Harry, following in her father's footsteps and taking over his old courtroom and office. It doesn't seem to have been revealed yet who Abby's mother is. Depending on the in-show timeline it seems the likely candidates will be Christine, Billie, or Lana. And likely in that order of probability. Though Harry did date a few other women throughout the show (my personal favorite Mary-Margret Humes who played a witch) and it's always possible if Abby Stone is the same age as Melissa Rauch that her existence predated the women of the show and Harry didn't know about her until later in her life.
Of the main cast, only John Laroquette will return as Dan Fielding. Tragically Harry Anderson, Markie Post, and Charles Robinson have all passed away somewhat recently. Through the stories that are coming out so far, we know that Fielding will have burned out as a prosecutor long ago and is enticed back to the court as the new public defender by Abby. Instead of being the lecherous clown he'll be bringing years of comedy and acting experience while being something of a father figure to his old friend's daughter. Whether or not Richard Moll or Marsha Warfield will appear to reprise their old roles is unknown. Moll has been doing steady voice acting over the years while Warfield has recently come out of from retirement and has recurred on
9-1-1
as Hen's mother. So if they don't show up in the first season and the show survives to a second season it's possible we could see one or both at some point.
The new
Night Court
will air on Tuesday January 17th at 8/7c on NBC. It'll be interesting to see if the follow up to the 80s comedy can still work in the 2020s. While I am holding out hope for a good show I have to admit I'm fairly skeptical that it will survive. At the very least the banter between Rauch and Laroquette should be worth watching.