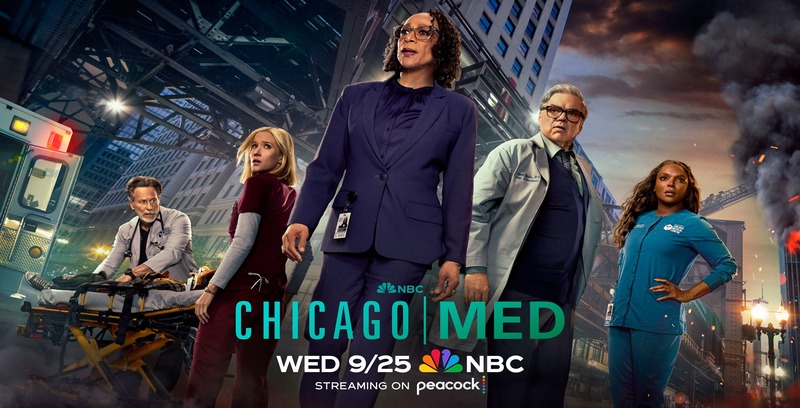 While love is blooming for Dr. Charles and Lillianna, this episode had a lot of themes about breaking stigma, whether it is stigma around possible addictions or stigma about background and race or even some look at stigma of certain diagnosis. And in typical style, our Chicago Med doctors were there to advocate for their patients and fight those stigmas to ensure their patients had the best possible outcomes.

Dr. Marcel, Dr. Lieu, Dr. Charles and Omar Thomas


When they arrive at the hospital, overall Omar is doing well other than dislocating both ankles. Dr. Lieu shares that he did not hit his head but he seems to be having memory difficulties like he is stuck in a loop, and shares it seems like he was possibly having the same issue before the fall, so Dr. Marcel suggests that they consult Dr. Charles.
After some IV nutrition, Omar's memory improves and he tells them that he has been having headaches and Dr. Charles does a test and he is not able to move his eyes. Omar is very anxious but again Dr. Charles is able to calm him, and they order an MRI and it shows that he has an adenoma and a small bleed that could be causing the eye lock, and they consult neurosurgery to fix the issue. With how astute he is with mood and psychiatric issues, it is easy to forget what a competent physician Dr. Charles is and how knowledgeable he seems to be about neurological issues. It does make sense since some neurological issues can present with changes to behavior and mentation, but this only makes Dr. Charles that much more of an asset to the ED and an even more enduring character.
Omar thanks them for their kindness and they tell him to get well.
Dr. Halstead, Maggie and Aaron Curtis
A young man, Aaron Curtis, 22, comes in by ambulance who passed out at work. He is complaining of abdominal pain, and when they do an x-ray, they see a bullet in his abdomen. They turn him to find the wound which is several days old and healing over.
The officers speak with Will and Maggie about a recent robbery where the clerk and the robber exchanged bullets and they seem to feel that Aaron is their guy, but from their interactions with him, Will and Maggie share with each other that they do not feel he could have done this. Aaron later shares with Will and Maggie that he was in the store but was a customer and was not involved in the crime, but he got hit when the bullets started flying and he says knows that the crime will be framed on him. He says when it comes to people like him, the truth doesn't matter.
Aaron becomes unresponsive while the detective is talking to him and is having a GI bleed from the bullet eroding part of a vessel by his pancreas but he refuses surgery as he knows if the police get the bullet they will try to pin the crime on him as it will show he was at the scene. The detectives take some of the discarded pads from the floor to test and tell Will and Maggie that blood at the scene is a match to Aaron, and they have found he is only 17 so the state can compel surgery and they have a warrant for the bullet.
After the surgery they find out that PD has now arrested someone else for the crime and are no longer looking at Aaron. Will and Maggie discuss this up on the roof (cue terrible green screen) and Maggie finally shares with Will that she and Ben are separated and she does not know where the future lies, and Will comforts her. It was wonderful to see Maggie open up, and the friendship between her and Will has always been a very special one, so it makes sense that other than Sharon that he might be the person she reaches out too. We can also only hope that she and Ben will be able to move past this troubled spot and reconcile in the near future.
Dr. Asher, Dr. Archer and Jodi Dunner
Dr. Asher runs her name through the system that has been implemented to help identify potential drug seeking patients and her file comes up red flagged for multiple prescriptions in the past for sedatives and opioids and so she asks Dr. Archer for a second opinion. The program will require Dr. Archer to sign off to override and give her any pain medications, but Dr. Asher says while something is not right, she is not getting an addict vibe from her.
Suddenly however Jodi has a seizure, and she did not receive anything and is not showing signs of withdrawl, so they take her for a CT of head and chest as clearly something more is going on. They discover that she has a rare lung cancer, and show her the scan and they are hoping to do surgery but they are concerned if she is capable of consent due to her muted affect, so they consult psychiatry. While she has a slowness to her responses, they determine she is capable of consent and they get her consent to do her surgery. Hannah is upset because the new algorithm they are being asked to use labelled her as a drug seeker and they would have let her walk, and she is worried about future patients being labelled and not getting the care they need.
Dr. Archer tells Dr. Asher that she did a great job sticking it to legal, but Dr. Asher tells him that she looked at her name and she is also immediately red flagged and so no matter how her recovery goes, somewhere she will be labelled for life. You can definitely see how these words hit Dr. Archer, especially considering not only his newly discovered respect for Hannah as a physician and dare-we-say-it friend, but also when you reflect on the fact that he just found out his son is being released from prison.
Dr. Archer and Sean
When Sean is released, Dean goes to pick him up and they agree to try to start over and share a hug. This is one of the first times that we see some genuine loving emotion from Dr. Archer, and it is wonderful to be able to see this character evolve and learn more about him with his family. It will be great to see where our One Chicago writers decide to take this storyline next, and if it follows the usual pattern we have come to expect at Chicago Med, you can definitely expect some drama and excitement in the future.
What did you think of this episode of Chicago Med? Share your thoughts in the comments below.