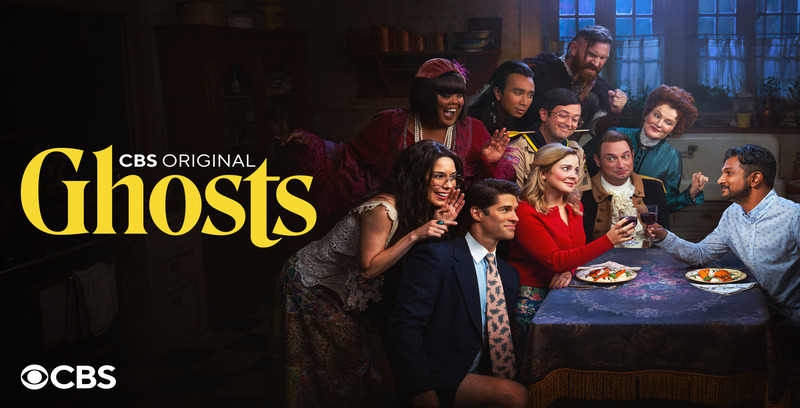 Ghosts is back, baby, and it's brought a Superstore friend!

Kaliko Kauahi is one of a couple of hilarious guest stars this week after the show has been on a break for the past couple of weeks (but don't fret: we're getting a supersized Christmas episode next time!), and if you don't know her from Superstore then stop everything you're doing--yes, even reading this review--and go watch Superstore. It's one of the most endearing (and realistic) single-camera sitcoms that have graced our modern screens in the past few years, and Kauahi's character, Sandra, is a highlight.
But back to our ghosts: Jay and Sam are having a wine-tasting event featuring
Veep
's Nelson Franklin from Sippr NY, but the problem is that they haven't exactly completed the process of getting a liquor license. This problem escalates (as it always does) when the inspector from the liquor board (Kauahi!) decides to stop by for her inspection on the same night. This immediately adds an unexpected suspense element to the episode, somewhat similarly to when Sam got stuck in the vault in this year's
Halloween episode
(eerily similar in setting too, if you think about it), and it all made for a fantastic, fun episode.

Ghosts has proven that it's not afraid to be silly--I don't know if you can't be silly in a sitcom about ghosts wandering around a mansion all the time--and The Liquor License was no exception. Structure wise, from recognizing the problem of serving alcohol illegally to the board inspector showing up on the door unannounced to scrambling to keep the two events from colliding and right up to the ending where everything miraculously goes without a hitch, this episode had classic sitcom vibes to it. I'm not complaining because at a time where sitcoms are rare and valuable (especially the good kind), I appreciate that Ghosts and Abbott Elementary are taking ideas from tropes that have worked in the past and tweaking them slightly for the modern age. More, please.

While the opening teaser with Isaac's flashback kept me guessing halfway through the episode--why did it matter, where does Isaac fit into all of this, where's my boy Nigel--luckily, it all ties up beautifully at the end. Hetty, Sasappis, Flower, and Thor's reluctance to join the "Lame-da" fraternity (which admittedly got a chuckle out of me, followed by a headshake) feels very on-brand for the characters, and I certainly expected Trevor to take up more space in this subplot. Fortunately, Trevor ended up being the savior after all; his heart-to-heart with Isaac about fitting in after realizing that Isaac had been ditched and lying about being a Freemason back in 1773 was beautiful and sweet in the best way possible. It's all wrapped up quite nicely with all the ghosts cheering and dancing in the vault.

I would have been perfectly fine without the third subplot of the episode: Pete and Alberta. Don't get me wrong, I love both (admittedly, Alberta a little more than Pete) and I was marvelously enjoying their banter, especially as Alberta was enjoying seeing Jay and Sam break the law (and a wall) while Pete was vehemently against any of those shenanigans. However, the almost-kiss at the end didn't feel quite earned. Maybe it's because Pete's longing for Alberta hasn't felt quite as developed as I would have liked (there have been hints here and there...and a straight-up confession, I think?), so watching Pete gunning for that kiss was a little sillier than I believe it was intended. Regardless, Alberta's reaction was priceless and this didn't sour my experience of watching this wonderful episode. Here's hoping for a little more development on the Pete/Alberta side if the writers really want it to go there. Until then, I would happily trade this with more tidbits about Alberta's murder! And it looks like we might be getting something on that sooner rather than later...

Scary Delights from the B&B:

- Isaac's "I wish she had three instead of two" line is my favorite gay-pretending-to-flirt-with-women joke I have heard in a very long time. I had to pause the show because I was hollering.

- "It's crazy you can publicize a drinking event. In my day, when folks were boozing, you didn't know if you were going to get arrested, get shot or go blind. Ooh-whee! It was fun."

- "Well, Hetty's saying sometimes you need to bend the law in business, and Pete's arguing against."
- "And whose mansion are we standing in right now?"
- "Okay, I had a three-bedroom in a very good school district."

- "Now, you may be wondering, what is a frat? And the answer is an organization that promotes high-minded conversations about philosophy, poetry and ethics."
- "What? No, it's not that at all. It's about binge drinking, taking drսgs, and doing one day of charity every three years."

- One of the episode's highlights was Jay pretending to tenderize some meat while Sam simultaneously breaks a wall to get a hold of the stashed (thousands of dollars-worth) vintage whiskey. Such a fun, silly, little scene.

- "You know, there's a statue of Ben Franklin on campus at Penn, him sitting on a bench."
- "Ugh, of course there is. Why are you telling me this?"
- "Because every weekend, kids get drunk and pee all over it."
- "Oh, Trevor... What a gift you've given me."

- "Little tip, Sam. You and Jay wait 20 minutes before drinking it, see if any of these folks go blind."

- "Did Earl knock me off? Or maybe it was T. But who the hell is T?"
- "Samantha, fire up that podcast machine. We've got two new suspects!"