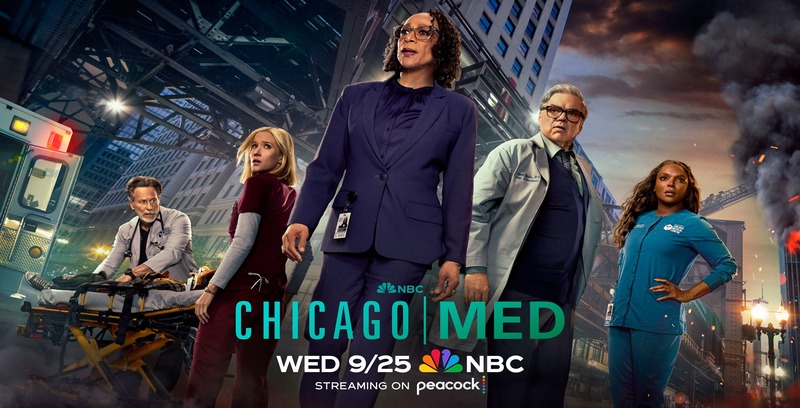 In this episode we explored several different aspects of family dynamics that were interwoven within the overall storylines and clinical cases in the Gaffney ED. We also explore some of the difficulties of moving forward from past decisions, dealing with actions from the past and also a glimpse into the world of misdiagnosis and stigma with mental health. They also demonstrate in this episode some of the very real outcomes of the pandemic from both a logistical and medical training standpoint. We also had an opportunity to begin to learn a bit more about Dr. Archer, and begin to understand the backstory better of the man many began to love to hate the last few seasons. It was definitely an action packed hour Chi-hards!

Goodwin, Dr. Marcel and Dr. Tanaka-Reed


An ambulance pulls in and Maggie calls for Dr. Marcel and Dr. Kai Tanaka-Reed. Julian Sanchez was shot, and is brought in by paramedics to the trauma room. Kai tries to run the trauma and take over from Crockett in a very arrogant way despite his inexperience, and it appears he does not have great interpersonal skills from this first interaction. He questions why Crockett wants to get a chest and pelvis film, but Dr. Marcel explains you always have to be sure the hole going in and out meet up and nothing else was affected and that bullets travel in unexpected ways, and you would not want to leave it in his chest. Crockett sends him to tell Maggie they will need an angio to find out where the injury to the artery is.
In the OR, they discover a fistula, and Dr. Tanaka-Reed tries to minimize his error by stating that noone could have foreseen that injury. The young intern's cocky and narcissistic personality is certain to cause friction this season, as we definitely have some strong personalities in the ED, and do not anticipate many of them will put up with a young and inexperienced doctor speaking to them this way. After the surgery the patient thanks Dr. Marcel and Dr. Tanaka-Reed takes offence and says he did not like how Dr. Marcel took credit for everything and that he was just as responsible for saving the patient's leg, maybe even more so. Kai says that Crockett should be giving credit where credit is due and he has been talking down to him all day, and Dr. Marcel tells him "OK, I was very impressed with the way you almost killed our patient."
Later as he is leaving, Goodwin asks Dr. Marcel how things went with Dr Tanaka-Reed and he says fine, but Goodwin tells him that Kai has filed a complaint with HR about Crockett being condescending and disrespectful to him, and she asks if he wants to file a counter complaint but Crockett says no, and that they will find a way to find common ground and she does not have to reassign him. I love that Crockett is going to stick things out, as Kai could learn alot from Crockett about how to communicate with patients, and based on what we saw when Crockett first arrived at Med, I wonder if he sees a bit of himself in this young man.
Dr. Halstead, Dr. Asher, Dr. Charles, Jenny and Henry
This episode begins for Will with him meeting with an inspector about his building and Will tells him he is waiting for the insurance company to approve his claim so he can begin repairs to his building. The inspector tells him that he is in violation of several building codes and that he will be charged $700 a day until he remedies the issues. Will asks him what he should do and the inspector says he should get it over with and bring in a wrecking ball. It is sad to see after he finally decided to invest his reward money to see Will's bad luck streak surface again. Unfortunately, it feels sometimes like bad luck seems to follow him, and he is always in some sort of kunundrum.
Hannah has examined Henry's mother, Jenny, and she seems fine other than a few cuts and scrapes and Will goes in to fill her in on Henry and ask for permission to put a cast on his arm, but she will not consent to Will treating him, and she becomes agitated and paranoid and they have to sedate her. They consult with Dr. Charles, and he goes to speak with Henry and waits for the toxicology screen on Jenny.
Dr. Charles goes in to examine Jenny and she continues to be paranoid and has strange lapses in speech and Dr. Charles asks for permission to treat her and send her for a scan, and she agrees. Daniel also asks Hannah to consult Dr. Sam Abrahms. Dr Charles is such an endearing character and it is so wonderful to see how he will do anything he can to ensure that his patients are properly diagnosed and treated. They order Jenny a CT of the head. Ultimately however, after a battle over the contrast with Dr. Marcel, the scan comes back negative.
Dr. Charles and Dr. Cuevas are discussing Jenny's admission when Dr. Asher joins them and shows Dr. Charles the chest xray from when Jenny came in. She feels her mediastinum is wide and she could have a tumor which could be causing her symptoms, so they hold the admission and send her for another scan of her chest. They discover a small tumor and she goes for surgery to remove it. Dr. Asher tells Dr. Halstead that they feel the tumor was what was causing her psychosis. Jenny and Henry are reunited, and he shows her that the crysallis had hatched and turned into a butterfly, and we see that Jenny's psychotic symptoms have resolved. She apologizes for her behaviour and Dr. Charles lets her know they are all glad that she is okay now. This was such an enlightening case, as unfortunately due to the stigma of mental health, many patients are not given a proper workup and could be misdiagnosed.
Dr. Taylor, Maggie and Grant
Grant comes in with one of his workers, who had an accident at his worksite. Vanessa takes the worker in and takes care of the man who has a stick in his eye, and Maggie orders the CT scan Dr. Taylor requested. The stick managed to not penetrate the eyeball, and Vanessa removes the stick and checks his eye.
Maggie later apologizes to Vanessa for not making it to lunch and Vanessa tells her that she saw her go with Ben and that it seemed that she was trying to keep them apart and Maggie tells her that she was, and that she has not told Ben about Grant yet. Vanessa apologizes for not being more sensitive to the situation. As Ben comes into the ED and Grant is leaving with his worker Keith, Vanessa runs interference for Maggie to help keep them apart.
As they are leaving the hospital, Maggie tells Ben about reconnecting Vanessa with her birth father, and Ben wants to know why she waited until today to tell him. She tells him that she has told Grant she is not interested in reconnecting with him, and he asks why she felt the need to tell him that. Maggie says it was to make sure there were no misunderstandings, but clearly Ben looked upset that she had not told him sooner. We can hope that with everything their relationship has survived, that they will be able to move past this, as their relationship is definitely a fan favorite at Med.
Dr. Choi, Dr. Archer, Dr. Hudgins and Mr. Albert Morero
Suddenly the patient's oxygen saturation falls and he is really struggling to breathe. Dr. Hudgins tries to help but is worried he might hurt the patient so Dr. Archer takes over and they assist him to cough up a huge mucus plug. Dr. Choi is still hopeful that the compression vest will work but Dr. Archer tells Mr. Morero that he feels that bronchoscopy is the only way to clear things out for him. Al tells him he does not want intubation, and Dean reminds him of his family and all he has to live for. Dean promises he will not allow him to be left helpless on a bed. This was a very risky promise to make that only comes back to bite him later.
Before the episode ends, Dr. Choi takes Dr. Hudgins into a room with a dummy to practice intubations. He tells him welcome to boot camp. This was a very sweet interaction, and clearly Dr. Choi wants to help Dr. Hudgins after the restrictions he expreienced during the pandemic, and speaks to the added level of support new professionals will need in order to help them properly treat patients following their lack of hands on training over the past 2 years.
Dr. Archer and his son Sean Archer
After what happens with his patient, Dean returns to visit Sean again. He goes to see if there is anything Sean wants to tell him and tells him he will do his best to listen.
The episode draws to a conclusion as we see Will watching his building be demolished by a wrecking ball. Perhaps this is symbolic of new beginnings, just like for Vanessa and her father, the new residents, Jenny and Henry and Dean and his son Sean. One thing is for sure, the wave of change is heading towards Chicago Med, and we will just have to see what happens when the ripples settle. I can't wait!
What did you think of this episode of Chicago Med? Share your thoughts in the comments below.