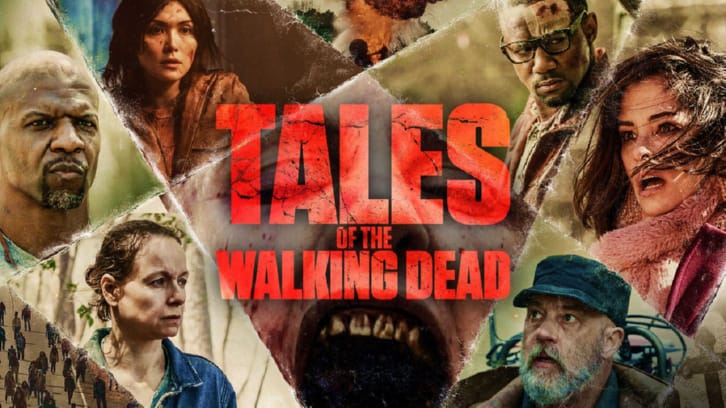 Tales of the Walking Dead "Blair/Gina" was written by Kari Drake and was directed by Michael E Satrazemis (Fear the Walking Dead, The Walking Dead). Drake also wrote for Defiance, which I loved, Lost in Space and Severance. However, this Groundhog Day episode was one of the worst episodes of the franchise – and I'm include World Beyond. Don't get me wrong, I really like Parker Posey (Blair) and enjoyed Jillian Bell (Gina), but the story itself was lame.
Blair is a stereotypical selfish, bitchy boss, and Gina is the equally stereotypical blue collar, downtrodden receptionist. The two must relive the same hour over and over again, presumably so that they can "learn" something about themselves and then move on. Did we need to add the layer of a zombie apocalypse to this story? I suppose we're also ripping off
Happy Death Day
– and this is supposed to be a "black" comedy. But I had no desire to see that movie...
Posey, in particular, delivers a solid performance that believably transforms her character. It was hard not to find her clothes pretty funny – was that top made out of Astro-turf? And could Gina's clothes clash any more with each other? However, that was about it for the humor for me.
I was mostly rolling my eyes and checking my watch, but towards the end of the episode, the characters finally started opening up to each other and having a few good soul-baring moments together. I thought, ok, this isn't bad if they are actually going to learn something about themselves. There's no way this ever fits into the actual
Walking Dead
universe, but ok. And then… the tanker blows up, and they aren't killed, and Gina insists that Blair has a personality disorder and none of this has really just happened… so let's just negate any emotional growth.
What I've always liked about
The Walking Dead
is what it is able to say about humanity and society through the characters. This episode almost got there only to throw it all away in the last few moments, leaving us only with a sight gag of the two women's scorched off hair that looks like bad do's from the 1980's… What did you think of the episode? Let me know your thoughts in the comments below!