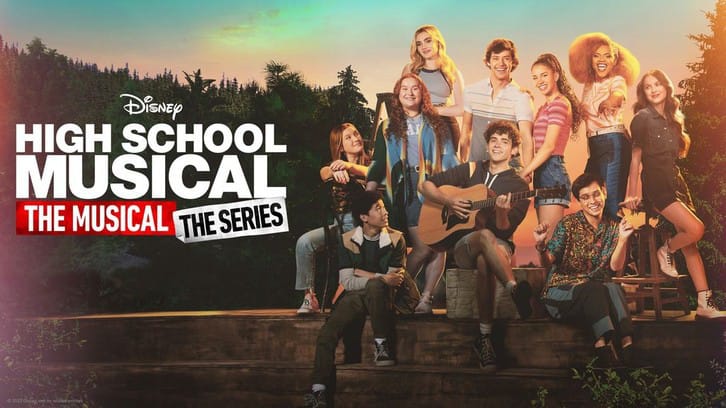 What time is it? Summertime! The Wildcats are leaving the halls of East High behind this season and trading them for the great outdoors at Camp Shallow Lake. But while the end of season 2 promised a hot summer, the first episode of season 3 only felt lukewarm. Let's dive in and see what some of our favorite Wildcats are up to during their summer!
Bye, Salt Lake

Before we head to Camp Shallow Lake, let's first discuss the two other storylines in this episode, which take place almost entirely separate from the main plotline. Nini was given an opportunity to work with Jamie Porter, Gina's brother, at the end of season 2, and we start season 3 with her trying to write the daily songs Jamie requested. But it's not as easy as it seems. She reveals to Miss Jenn that her muse seems to have left her, just as it did last season after her breakup with Ricky.
But after some advice from Miss Jenn, Nini is ready to join her mothers on their journey to their roots. Looking back at Salt Lake once more, Nini says her goodbye and takes off. This goodbye feels like it's also Olivia Rodrigo's goodbye to Salt Lake and her journey on this show. As someone who has loved Nini since the very first episode, I'm sad to see her on her way to leaving the show, especially before what would've been the natural end of Nini's story. But I hope that the show can at least give her an ending worthy of her journey so far. And that she doesn't end it in isolation from the Wildcats, but that she gets to have a final moment with all of them.

We also learn that Miss Jenn plans on spending her summer on a cruise with Mike Bowen, Ricky's father. While I understand that it would be a little odd for Miss Jenn to discuss her relationship drama with Nini, it does feel weird that nothing is said about Mazzara's opening night confession to her. While I don't doubt that the show will circle back to it, it just felt a little off to me that Miss Jenn made this initial choice to date Mike instead of Mazzara off-screen. But it's clear she's not fully confident in that choice. I just hope that the rest of her arc with these two men doesn't play out mostly off-screen. It's been two seasons in the making, and I for one would like to see how it plays out, rather than just hear about it.

Finally Free

While Nini is looking for a spark by going home, Ricky is looking for one by leaving his. Initially, he plans on going on a trip with Lily, whom he's been hanging out with since the end of season 2. But his heart is clearly not in it, and it doesn't take long for things to unravel. As soon as Ricky stumbles upon the harness she stole during opening night, he ends things with her and takes off to camp.
While I largely enjoyed the other two plotlines in this episode, Ricky's story felt incredibly rushed and weirdly inconsistent in some parts with the previous season. For starters, there's a joke about Lily saying titles from High School Musical songs without knowing they're HSM songs. However, last season she referenced another HSM song to Ricky as he was about to go on stage and gave him a knowing wink, which seemed to indicate that she was in on the joke. But while this is a small inconsistency, what feels more jarring is how quickly this plotline ends. Season 2 spent several episodes building up something between these two characters. While it never felt like the audience was meant to root for this pairing, it does feel odd that the writers didn't use this relationship to a greater extend in Ricky's arc.
Finally Free was a great song with a beautifully shot performance, but I can't help but feel like this moment wasn't earned. Ricky has struggled so much with change in the past two seasons, and yet ended season 2 not fully ready to embrace it. While it is surely nice to see him finally do so, it feels like we got to this point too quickly in the season. Ricky has avoided self-reflection for so long, so it feels jarring that he suddenly seems to be doing so much of it through one song. Even just one scene where he talks through his feelings would've helped to get him to this headspace in a more organic way. It's at this point in the episode that Big Red's absence this season is really felt, as he often helped Ricky process these things.

A Surprise Guest
Five of our Wildcats drive to camp, all while singing a fun mash-up of What Time Is It and Start The Party. In addition to giving us some insight into how these characters are feeling as they head into the summer, it also lets us know that this season will be covering Camp Rock songs in addition to High School Musical and Frozen (which we later learn is the musical of the season) ones. While EJ, Gina, and Ashlyn seem to be enjoying camp (especially EJ), Carlos and Kourtney are less enthusiastic. This episode allows them to shine as a comedic duo, but while it's fun to watch them together, I do hope that not too many of their jokes this season hinge on them not liking camp. Cause that will get old for me really quickly. As will Carlos' digs at EJ and Gina's relationship, as they don't feel necessary.
After a tour of the camp and an introduction to some new faces, the Wildcats head to the amphitheater. The celebrity guest that many of them came to camp for is revealed to be none other than Corbin Bleu! But that's not all, because Camp Shallow Lake is putting on Frozen ahead of the release of the licensing rights to high schools everywhere! And to top it all off, Corbin is directing a Disney+ documentary on that same production! Exciting, right? Or perhaps a ton of pressure that our Wildcats didn't sign up for? Only time will tell.
The highlight of the episode for me was EJ and Gina's adorable new relationship. They head into the summer with high spirits and hopes, determined to have a great time together. And initially, they seem to be getting their wish. EJ is ready to focus all his time and energy on Gina, while Gina prepares herself for her summer of firsts. Their banter this episode is really sweet and it's nice to see both of them so carefree and happy. It's the least they deserve after they both got their hearts broken in previous seasons.

However, this episode doesn't waste time before it starts heavily foreshadowing that EJ and Gina's romance may not last the summer. Especially the final scene of the episode is heavy on the foreshadowing, with Ricky interrupting their moment together, indicating that the show is headed for a love triangle. EJ and Gina's overconfidence feels reminiscent of Ricky and Nini's back at the beginning on season 2, which makes it all feel a little repetitive. After this show spent over a season setting up EJ and Gina's romance, it's frustrating that I can't even properly enjoy the payoff of that story without immediately worrying about how it will all fall apart again. I understood why the writers did that storyline with Ricky and Nini and agreed that it was the right choice for them, but repeating it with EJ and Gina feels unnecessary. Not to mention that we've already been through a love triangle with EJ and Ricky on both ends.

In addition to that, I found EJ's line about being the guy who shows up very out of character. His redemption arc in season 1 in part hinged on him simply being himself and being there for the people around him without needing any praise for it. Season 2 further emphasized that by him constantly showing up for Gina when she needed it, and he never made a big deal about it. He simply saw it as something you do for your people. So for him to suddenly name it as an admirable trait of his felt very jarring, and more like a line the writers wanted him to say in order to set up Ricky's entrance into the scene and EJ and Gina's storyline. I am, however, interested in seeing how EJ will handle directing the musical. It sounds like a lot of pressure, which will no doubt be difficult for him to handle, but it does feel like an interesting direction for his character.
All in all, I hope that the disappointing aspects of this episode aren't a bad omen for the rest of the season. HSMTMTS is a show I greatly enjoyed for two seasons, and it would truly be a shame if I had to say goodbye to the show along with Nini.

Additional thoughts:
- As they head to the amphitheater, EJ walks arm in arm with Gina and Carlos. It's an adorable little moment that really highlights the group's closeness, and I really hope we get to see more moments like that between the Wildcats this season.
- What's the status of Kourtney's relationship with Howie? She mentioned that he's off to college, but are they still together and doing long distance or did they break up?
- While I usually love the meta humor of this show (and meta humor in general), it felt a little too heavy handed in this episode.
- "It's five minutes in and I already miss Seb." "Oh, and I miss Biggie." Me too, Carlos and Ashlyn. Me too.
What did you think of Happy Campers? Are you enjoying the storylines that the first episode of season 3 set up or were you a little let down like I was? Let us know in the comments?