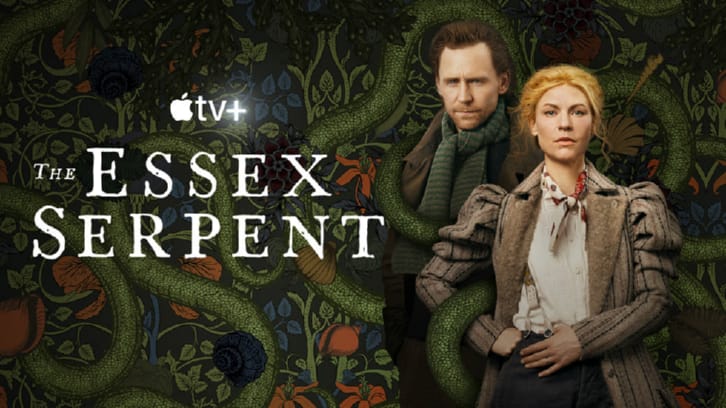 The Essex Serpent wrapped up its six episodes this week. I was really looking forward to this miniseries because it checked a lot of boxes for me. A dark, mysterious period drama starring Tom Hiddleston (Will Ransome) and Frank Dillane (Luke Garrett), who I enjoyed in Fear the Walking Dead. The series is based on the gothic romance novel of the same name by Sarah Perry. The lead writer is Anna Symon (Deep Water, Mrs Willson, and Dark Matters), though she didn't write every episode. Clio Barnard directed the entire series, and her credits include Ali & Ava and Dark River. She only has a total of 9 credits – none of which I'd heard of. Perhaps a lot of the pacing problems are due to inexperience?
I was, unfortunately disappointed in almost every element of the show. I'm not a huge fan of Claire Danes (Cora), and I might have enjoyed the series more if Kiera Knightley had stuck with the project. As for the gothic mystery? It was accurate as far as the gothic tradition of making a mountain out of a molehill – or the fact that the mystery was more a fear of science and nature than anything concrete or even truly supernatural. There was a lot of hand waving and no real attempt to explain things. Were we really to believe that a whale caused those ripples and killed the Banks girl? Was it all simply "supernatural"? Or is Will the Essex "serpent"?
As for it being a "period piece," both the clothes and the dialogue didn't seem grounded in the period at all. Stella's (Clémence Poésy) clothing felt particularly off – a little to "hippie" though, of course, she was meant to seem 'other-worldly.' There were far to many modernisms in the dialogue for it to ring quite true.
It was really hard to find any character to really like. Frank was too egomaniacal, and frankly, Hiddleston's characterization seemed to be all over the place. At the end of the day, I find it hard to root for a character who cheats on his dying wife – who is absolutely saintly in setting up her husband with his next wife before drowning herself. We don't get to know enough about the "regular" people of the village to make an informed decision about them. They are an after thought to Cora who freaks the kids out enough in school to send them all into seizures…
I did like Martha's (Hayley Squires) storyline and her crusading for the poor of her own neighborhood. I was hoping that she'd end up with George (Jamael Westman), who was really the only genuinely nice, upstanding person in the lot. And were we to infer that Martha was in love with Cora and wanted their relationship to become romantic? Cora herself was too self-involved and utterly devoid of empathy for the community of fishers.
I did enjoy Caspar Griffiths as Frankie. It's clear that he's likely on the spectrum somewhere, but this young actor really delivered a compelling and believable performance. I really wanted to like Frank, but his treatment of George in particular was too much to overlook. And was anyone surprised when he got stabbed in the hand? At least most of the characters were given quickly wrapped up happy endings.
Sadly, I would say if you haven't watched, don't bother. It's slow and frustrating going. The mystery isn't enough to hold your attention and there aren't any real scares. Overall, I just found the plotting labored and slow. Poésy, Squires, and Griffiths give quite good performances, but they aren't enough to make this much watch television. I generally don't like writing full season reviews but couldn't face writing 6! What did you think of the show if you watched? Am I completely off my rocker? Let me know your thoughts in the comments below!