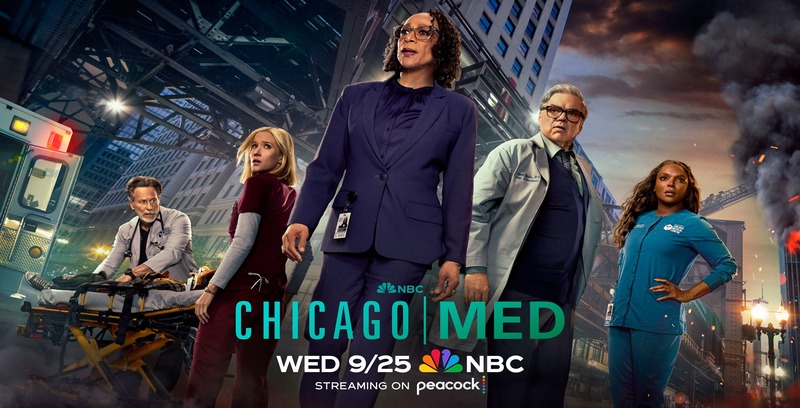 As we head into the final few episodes of the season, let us recap where we were when we last saw our friends at Gaffney. It has definitely been a phenomenal season of excitement and exceptional storylines, and surely, these last few episodes will not disappoint heading into the summer hiatus.

Dr. Halstead, Dr. Asher, Ingrid and the Harris'


Ingrid tells them she woke up and felt very swollen and Dr. Asher tells her that she is a bit swollen and there does look like there is some extra fluid on the scan, but she will run some more tests and Dr. Halstead reassures her that at this point, she can deliver a healthy 33 week old baby. She says she is without an OB right now. She tells them that she was told that the baby may have a rare genetic condition called spinal muscular atrophy as she tested positive early in her pregnancy for the screening, and she did not have any follow up testing.
Hannah and Will run some tests and realize the baby is anemic, but they also realize that the baby's blood type shows there is no way the baby could be Ingrid's. Ingrid tells them that she was a surrogate, but that when they got the test results about the spinal muscular atrophy, the family wanted to abort the baby, but she could not bring herself to do that, and so she had continued the pregnancy without their knowledge. They begin to treat the baby with a transfusion, and Will tells Hannah they have to contact the legal department and she reluctantly agrees to contact them. Legal contacts the Harris', who immediately come to the hospital to find out what is happening, and one can only imagine what that phone call must have been like for Legal to make or the Harris' to receive.
The Harris' are very excited to have a healthy baby. Ingrid has a bit of time with the baby and then seems to be having difficulty giving him up because she feels they did not want him, and it leaves you to wonder if there is going to be a custody dispute. Mrs. Harris comes in to speak to her and thank her and tell her how brave she is but Ingrid reveals that she had a feeling things would be okay because she had a friend who had received the same results and the baby was fine, but she did not tell them because she wanted to keep him. She hands him over to Mrs. Harris and tells her she will make a great mother.
At the end of the episode, Hannah accepts the coffee maker from Will and says it was sweet of him to keep it for her and she dismissed his kindness too quickly and she hopes that they can be friends. She tells him her ghosting him had nothing to do with him and how she felt about him, and hopes they can "turn the page". It certainly looks like Will still has feelings for her, but for now, perhaps friendship is the best plan. And if Dr. Hammer returns next season, it would be interesting to see this triangle develop.
Dr. Marcel, Dr. Charles, Dr. Richardson and Luis Pena
Dr. Richardson arrives as she is his regular psychiatrist and tells Luis she is concerned based on what they have been through together, and that he is risking his life and the reporter does not have his best interest in mind. When he continues to decline treatment, Lonnie goes to the court and gets a court order in order to provide treatment and have Dr. Marcel place a feeding tube. Dr. Marcel is upset by having to do this, and having to place Luis in soft restraints to put in the tube, but he tells him he is sorry but bound by the court order.
Lonnie is clearly upset by the outcome, and Daniel tries to comfort her. She is a bit resistant at first, but them allows him to provide her with comfort. It is interesting to see their relationship cross paths professionally now that they are involved personally, and while we have seen this not go well for other Gaffney couples, so far, this seems to be a relatively good partnership both on and off the job.
Dr. Archer, Dr. Choi and Gerald Simmons
Gerald's tests are not conclusive and he continues to be hypertensive and tachycardic, despite treatment. Ethan asks someone to bring him some of his father's photos and finds a picture of Gerald and his father. He notices that there is a difference in the color of his old appendix scar and goes to Dean and tells him he thinks that Gerald has a pheochromocytoma, which would explain his tachycardia, hypertension and the discoloration of the scar. They do a CT scan and find something on his kidney, and Dr. Archer takes him to the OR and confirms Dr. Choi was correct and they remove the tumor.
Dr. Scott, Maggie and Zoe Walsh

We first see Dr. Scott at his apartment with Milena. He is worried someone is following her, and she tells him not to worry and leaves. Dr. Scott then goes to work.
While waiting for her to sober up, Dylan's dad arrives to question him about the drug dealer he is seeing, and asks why she was leaving his apartment at 5am. Suddenly Zoe has a seizure, and they repeat her blood work and do another scan, but for some reason despite hydration and her being under constant observation, her blood alcohol level is increasing. Dylan looks at the CT scan from earlier again, and then goes in to speak with her parents. He tells them her alcohol level is increasing, and they cannot understand why, and Zoe says she told them she had not drank anything. Dr. Scott mentions a trend from a few years ago where people would soak a tampon in alcohol to absorb it another way, and when Zoe says she knows nothing about that, Dr. Scott tells her they can see she has a tampon in based on her scan. Her parents are concerned as she is making herself sick, and Dr. Scott says he has a feeling she knows what she is doing is wrong. Maggie takes her to the bathroom. Once the tampon is removed she begins to sober up, and her parents thank them and ask to get those resources they had asked for.
This has truly been one of the best seasons for some time with the medical complexity and ethical dilemmas within the storylines, and with the introduction of some amazing new characters also, this season will certain be one of the best we have seen from this show, and it will be exciting to see how the writers choose to end this landmark season.
What did you think of this episode of Chicago Med? Share your thoughts in the comments below.