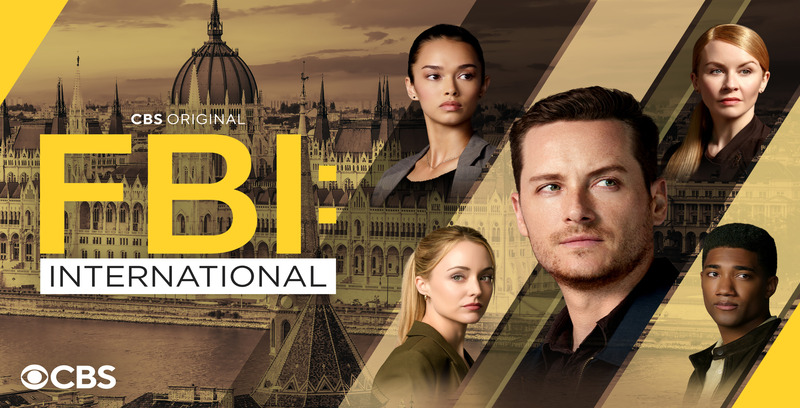 After an Olympic/winter hiatus, it is great for us to be back with the fly team and a new installment of FBI: International this week. Let us check in to see what was happening with our fly team the last time we saw them in action.

The episode opens with some men playing a card game together and having a great time. Suddenly someone is pounding on the door and an angry man enters, demanding to know where Sabina is. One of the men tells him to relax and that everything will be okay. Then all the men start beating on him, and he pulls a gun, and shoots one of the men. The men get the gun away and are about to shoot him, when an older woman arrives and tell them to take it outside. They shove him in the back of a car, but the police arrive and the men take off, and we discover the man in the back of the car is a New York City police detective.


The team meets Florin, who owns the bar and he asks Scott why they have not arrested the New York cop yet. Scott says they want to get all of the information and facts first of what happened last night. Scott asks if he knew the man who was shot and he says his name is Marius and he is his friend. They ask how he is doing and he says he is back in surgery with more bleeding. Scott asks if he was also at the bar and Florin says he was, and that Mark Douglas is a bad policeman. He was hanging around the bar and wanted everything for free including drinks and women. He says he turned up last night drunk asking about some girl he is crazy about, and Kellett asks what he was doing in the back of the car, and Florin says they were taking him to the police station. Scott asks who the girl was he was crazy about and Florin says her name was Sabina or something and he does not know who or where she is.
Scott and Jamie meet Deputy Inspector Rick Savrinn from NYPD, and he says the liaison program goes through his team in Intelligence and that Mark reports to him and he will get the information from Douglas. Scott and Jamie say he is not going near this, so Rick shares with them that Mark lost his wife in 9/11 and she was pregnant when she died. Mark was only 2 years on the job and never really got it back together after she died. He says he is a good guy and asks if they can cut him a break and Scott says they will do their best but he needs to stay out of it and Savrinn agrees.
Raines and Vo go with Katrin to the German Intelligence post, and they get to work with satellite images and database checks of the addresses and any players using those addresses, and Katrin says she will get them satellite access and encrypted radios for communication. Meanwhile Forrester and Kellett go to Douglas's apartment and find a man watching TV inside. The man is Vadim Cerban, a police officer from Transnistria. He tells them the apartment has already been thoroughly searched and tells Jamie they did not find the laptop or any files. Kellett then gets a phone call and she tells Forrester and Cerban that the man Douglas shot just died in surgery, and Cerban tells them this is not good for their American friend.
Forrester says they need details about the trafficking ring and what he knows, and Douglas says it is run out of the tavern, and they take the girls in the back and feed them the nanny job in New York story, and then rape them. Lt. Rusu interrupts them. He tells them the prosecutor has charged him with murder, and he is being transferred for arraignment. Forrester asks Rusu if the reports he asked for had been written up yet and he says yes, but when Scott asks why he has not received them, Lt. Rusu says that Inspector Savrinn wanted to read them first. Scott confronts him and says he told him to keep his nose out of things, and he says he saved him some time and that there is nothing helpful in the reports. Forrester asks why he is so bothered and worked up about this case, and he reveals that Mark is his cousin, and he has looked after him ever since his wife died. Scott tells him if he interferes one more time he will have him arrested for obstruction.
The team enters the tavern at 4:30am, and searches the premises. They find forged passports and nanny resumes and airline tickets to New York. Forrester goes to see Lt. Rusu and says that Douglas was on to something and that someone is protecting Florin's crew and the tavern, and it could even be him, but whoever it is, it is going to be a problem. Rusu tells Scott he should go have a smoke by the tree out back. Out back and alone, Scott tells Rusu that if he assists them, it will show the FBI that Transnistria is willing to cooperate and would go a long way to securing training and supplies he needs. Rusu says he wants to help but not at the cost of his own life, and Scott says if he gives them the names or numbers of who is involved, he can look into them on his end. Rusu gets a message that Douglas was attacked. Scott goes to the jail and the officer tells him Mark was stabbed but he has survived. As the paramedics take him to the hospital, Mark tells Scott to find Sabina and save the girls.
Scott called Jamie and says Timur has a lawyer he trusts in the prosecutor general's office and sends Jamie her number, and asks her to reach out and tell her she will have evidence to present to her soon. After he hangs up, Cerban stops him and holds a gun on him while other officers cuff him and they take him into a car. Cerban tells him he should have left when he had a chance. Scott finds himself with Cerban in an empty building. Cerban says that other countries have treated his country like a chew toy for centuries. Cerban says he will give him Douglas's laptop and files if he promises to keep his name out of it along with any corporation he gives to them will have to remain a secret. Forrester says if he was going to kill him, he would have already, but he knows if he kills a fed, he knows he cannot hide anywhere. Scott says he knows him taking him in cuffs was a show for the other cops. Scott says the deal will be he gives him the files and laptop, and he testifies against Florin and any other co-conspirators including anyone in New York. Cerban says he will be a dead man if he goes against Florin, and Scott says they will protect him and his family and give them a generous resettlement package. Scott tells him he now works for the FBI and he has adapted and survived and that is what he needs to do again.
Scott and Jamie sit together outside and reminisce about some time they had together, and Lt. Rusu comes to tell them Florin is cooperating and gives them the address for Sabina, and also that he is providing the names from New York. They go to Sabina's house and find out she has a family, and find out she was just working Mark for money.
Jamie and Scott let Mark know they have dismantled the trafficking ring, and that they found Sabina and she is safe and free, and she is there to thank him in person. Mark tells her he did it all for her, and she tells him she will never forget him, and Mark and Rick leave for New York.
Jubal lets the team know they arrested 8 people on expired VISA's, freed 10 women and have found 30 others who came through New York also, who they are locating to provide help too. Raines offers to swap Forrester's phone but he says he will do it back in Budapest.
Talk about leaving us on a cliff hanger as the Olympic/winter hiatus arrived as only the Wolf Universe can! It will be interesting to see where the writers will take us for the remainder of the season…what is to come with Scott and Jamie? What will contact with his mother mean for Scott and will contact continue between them? Will we see any further development of a possible relationship with Raines and Vo? Time will only tell, but we have many more episodes to explore cases with the Fly Team, and I for one cannot wait to see what is yet to come.