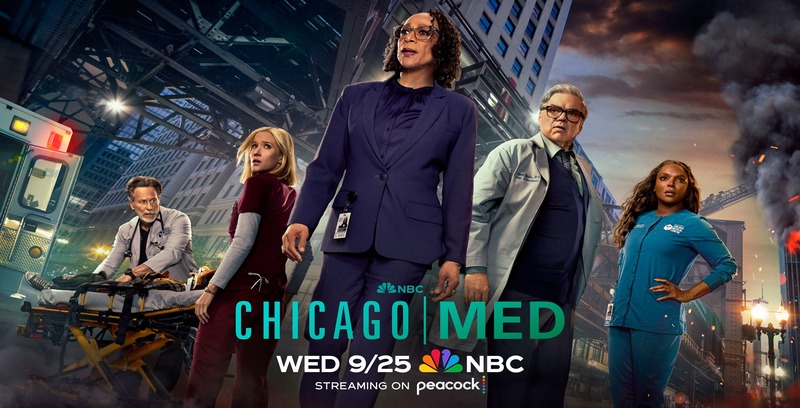 As we return from the Olympic and winter hiatus, the Chi-hard die hards will be sitting on the edge of their seats this week as all of our favorite One Chicago shows return with some much anticipated episodes. But before we return this week, let's recap what was happening with our friends at Gaffney before the break.

Dr Shentu and the Chicago Med staff


Shentu continues to create problems with his cautious politically correct approach when he tries to cancel a needed liver transplant for a patient, which potentially could have resulted in the viable not organ being used. Thankfully, Goodwin stepped in and made sure the procedure happened as needed.
It can be certain that many Chi-hards are anxiously awaiting the day Dr. Shentu makes a much-needed exit, and things can get back to the way they need to be, with Goodwin making appropriate and much needed difficult decisions in a fair and reasoned manner as she did before.
Dr. Choi, Dr. Charles, Nurse Felicia and Mr. Patrick Choi
Patrick Choi's nurse Felicia tells Ethan that his dad was hard to rouse this morning and that he is upset that she called Ethan. Patrick says he is fine and does not need a doctor and Felicia jumped the gun. Ethan insists on examining him. He says he does not ask questions and takes what the doctor give him when Ethan asks why he is on anticonvulsants. Patrick says he is fine and going to make lunch and invites Daniel and Ethan to join him.
Choi apologizes to Charles for the tuna with kimchi his dad made and Daniel says it is fine. Suddenly Felicia calls them back inside, as Patrick has passed out and Ethan cannot rouse him and Daniel calls an ambulance.
They get Patrick settled at home and Ethan confronts him about knowing about the tumor for a while and not telling him. Patrick says there is nothing anyone could to and that Ethan is not a brain surgeon and there is not much he could have done. Ethan says that he knows they don't talk much but there is so much that goes unsaid between them. His dad then says his car needs to get snow tires on and insists that Ethan go and get it done right now. Ethan get upset as he tries to take the car to the garage and Daniel tries to help and says to Ethan to at least let him drive to the shop.
They are at the car shop getting the tires done, when Felicia calls to tell them Patrick has died. Ethan tells Daniel he sent them to the shop because he did not want Ethan to see him die.
This storyline that paired Ethan and Daniel was a great addition to this episode, as we have spent many years watching the friendship grow between Dr. Charles and Dr. Choi as Ethan has learned to accept and deal more positively with mental health situations both for his patients and himself. It seemed only fitting that Daniel be the one to be there for Ethan during this time of loss, and we can only hope we will see more of this duo as the season continues.
Dr. Hammer, Dr. Halstead and Lisa and Jonah Bachman

Will and Stevie are then called in to see Goodwin and the hospital lawyer Peter Kalmick. They have received a legal document from the lawyer of Jonah Bachman, asking that he make all decisions for his wife and unborn child as she is not making decisions that are in their best interest. Stevie says she will not disregard what her patient wants and Will agrees. The hospital says they will honour her personal autonomy for now unless a judge orders a stay and they will keep Jonah away, and security posted at her door.
Lisa's lab work shows she is anemic and the risk of hemorrhage is high. The obstetrician on call is recommending that she have a c-section right away as she may have slightly separated her placenta from the uterine wall when she fell, but she says she will not accept blood unless she can be sure the donor is unvaccinated. Will says the hospital does not screen for that, and they feel that having a c-section without blood is ill advised so she says she wants to speak to her doula. Will asks Stevie if she still feels she should be making her own decisions.
Stevie talks to Jonah in the waiting room. She says he cannot share any information and asks if he is a viable blood donor for her, but he says he is vaccinated so he is not. Stevie reassures him that pregnancy can be very stressful for a woman, and that things may be different once the baby comes. Suddenly, Lisa and her baby are in distress and they have to take her for a crash c-section. She consents to the surgery but not to any blood transfusions.
The pediatrician lets Jonah, Will and Stevie know that the baby is doing well. Suddenly Lisa is crashing. They want to get her to the OR because she is hemorrhaging and they start to resuscitate her. They cannot give her blood though because she refused a transfusion, so there is nothing more they can do to resuscitate her, and she dies.
Jonah speaks to Stevie about what happened with Lisa and how she was not always like this. He went away for work for a month and when he came back she had become obsessed with the conspiracy theories and he says he should have tried harder to get through to her. He says he is unsure what to do now.
Will is in his suit and Stevie apologizes but says she is not going to the Gala and she is going to finalize her divorce. She says that when she left her husband, she just up and left and feels she owes him an explanation. She says she will see him when she gets back. Will says he is also thinking he won't go either due to the day they had. This growing friendship and understanding of one another is another great addition to the Chicago Med dynamic, and this female friendship is a newer angle for Will to traverse, as someone who is usually one to jump into romance. This is definitely a new direction to take Will's relationship with Stevie compared to seasons past, and will be fun to see explored for the remainder of this season.
Dr. Blake, Dr. Marcel, Goodwin and the liver transplant

Dr. Marcel sees another patient heading in for the liver transplant (Henry Adams) and he confronts Dr. Blake about why she did not tell him. She says it is an opportunity for another surgeon to get some experience. Marcel asks her if she is mad about what happened that morning, and she says she can fight her own battles and buy her own drinks. She says that he can watch from the observation area.
The team is in the OR and suddenly they all pass out. Marcel was observing and calls for help. The fire department is called and we get our first mini crossover with Capp and Tony from Squad 3. Marcel, Capp, Tony, Goodwin and the police are in front of the OR and Marcel wants to go in and get Blake and the team but Capp and Tony say it is to dangerous. They are trying to shut down the ventilation system and tell Marcel that once that happens, they will go in to get them. An officer puts on a mask from the prep area and suddenly becomes ill and Marcel realizes it is the masks that are the problem. He goes into the OR against the advice of Capp and Tony and begins to remove the masks from the staff. Capp and Tony join him and Marcel carries out Blake to get her medical help.
We get a second mini crossover with Kim Burgess from PD next. She lets Goodwin and Shentu know that a janitor found a watered up pair of masks in the men's room trash along with a vial of an unknown liquid that they have sent to the lab along with the tainted masks for testing. Goodwin lets her know the surgical team has all been treated and are stable in the ER, and Kim asks Goodwin to notify her when the OR team can be interviewed. Marcel tells them Mr. Adams is still good for the transplant and he has had him moved to another OR. Goodwin says they can do the transplant for Mr. Adams, if Marcel can assemble a team. Dr. Shentu disagrees and says to cancel the surgery and put him back on the list but Goodwin says no and the clock is ticking as Marcel points out the organ is only viable for another 4 hours. Shentu says Marcel will be one nurse short and Goodwin says she worked in the OR and offers to circulate for Marcel and he agrees.
Burgess fills in Marcel and Goodwin after the OR, as they arrest Chad McCorrey, the son of the first potential transplant patient. Burgess fills them in that the testing showed that what was sprinkled on the masks in the scrub room was carfentanyl to poison the team. They also pulled the same drug off the discarded scrubs they found. Burgess says it all came together when they found security footage of Mr. McCorrey moving about the surgical floor wearing scrubs. He poisoned the masks when they cancelled his mom's transplant surgery. Burgess lets them know she will eventually need statements from them both. Goodwin tells Marcel he did a good job today, and he tells her "You too".
Marcel goes to see Blake in the ER and she tells him to come sit with her. She says she never should have benched him but it turns out it was a good thing because he helped them and was able to help Mr. Adams too. They both say they are not going to the gala and she asks him to drive her home. Marcel agrees and Blake thanks him. That every growing romantic tension continues in this scene, and it begs the question of what will happen when Marcel drives her home...we will have to wait until the next episode to know for sure it appears.
Dr. Scott, Carmen, Darius and Tyrrell
Dr. Scott stops by to see Darius while he is having his chemo and he notes that Darius seems a bit short of breath. Tyrrell is upset and says they are doing fine but Carmen says she asked him to stop by. Tyrrell tells Dylan to stay away from his family like he asked.
Dylan returns to the ED and Maggie is wondering what is going on and Dylan her fills in that Blake's team appears to have been poisoned. Suddenly Darius comes in with Carmen and is having trouble breathing and has a fever. Dylan examines him and says his lungs do not sound good. Dr. Scott gives him oxygen, and they take an x-ray which shows he has pneumonia. He orders a variety of tests and Carmen tries to get ahold of Tyrrell.
Darius's oxygen level begins improving and Dylan explains what likely caused the pneumonia and he says he will call the oncologist and get everything set with his care. Carmen thanks him and hugs him, and Tyrrell comes in and see this and attacks Dr. Scott. Security takes Tyrrell for a walk, and Carmen goes back to Darius, upset and tearful.
So as we return to season 7 at Gaffney, there are many questions we will be anxiously waiting to be answered. What will happen with Stevie's divorce? Will something romantic begin to develop between Stevie and Will? Will Ethan return to the ED as chief? How will losing his father affect Ethan? What will happen with the Dylan, Carmen and Tyrrell triad...will Tyrrell ever be willing to forgive Dylan and let him help Darius? With so many questions, Chi-hards will surely be waiting with baited breath for our next new episode and to learn more about what is to come this year.
What did you think of this episode of Chicago Med? Share your thoughts in the comments below.