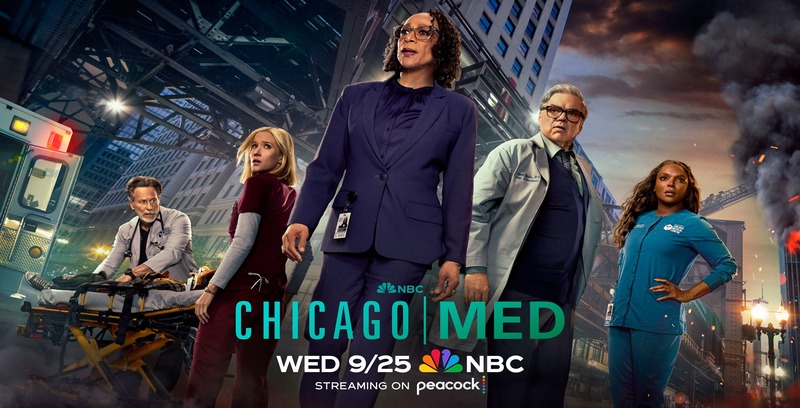 With the fallout of the Vascom scandal at Chicago Med, not only are the team navigating a political landscape, but the patient care still needs to happen. And this episode did not disappoint in outlining how our friends at Gaffney are manuevering through both sides of the situation for viewers.

Dr. Halstead and Dr. Hammer


Maggie assigns them to a patient together and they go in. Mr. Sunan, is from Haiti and does not speak English and his son Emmanuel is translating for them. They speak Haitian Creole. Emmanuel says his father has been off with dizziness and confusion, and he is finding him clumsy lately. Will and Stevie order some tests to ensure he did not faint and that it is not a cardiac issue.
Will comes and tells Stevie that the cardiac tests came back all normal, and he has a distal radius fracture that ortho is coming down to set it and Stevie is reviewing the CT. The hippocampus is diminished in size and they are thinking he may have early Alzheimer's and they ask for a Neuro consult.
Stevie says that Neuro has a medication they want to start today and they will monitor him and come up with the ongoing treatment plan. Emmanuel asks if there is no cure, and Stevie says unfortunately not and the best they can do is slow it down but there is no cure. His father's fiancé is on the way in and they are awaiting her arrival.
Stevie tries to convince Emmanuel to at least tell his fiancé Fabian, so that she knows what the future holds. She then approaches the fiancé and asks if Emmanuel told her about the diagnosis and she says yes and that it is a shock. She says she wants to respect their space but asks how she feels about him not sharing the diagnosis and she says she feels that it is the right choice, and she supports his decision. She knows it won't be easy but she is prepared, and in their culture there is nothing more important than family and that it is to bad that he will never know what his son did because he would be proud of his son for what he is doing.
Goodwin and Dr. Charles and Maggie and Dr. Randall Shentu
At the start of the episode, Sharon is being bombarded by the press about the Vascom case, and Daniel has to step in to help her get into the building. She says all this hoopla is the last thing she was thinking about when she called the FBI, and she is worried about the hospital, and all the files that are being seized and staff being interviewed. We also see her testing her blood sugar and it is continuing to remain very high. Certainly all of this stress is not helping her ongoing health issues, and it is definitely concerning that perhaps she may end up very ill at some point this season.
Dr. Randall Shentu then shows up at Sharon's office, and she finds out that he works for a consulting company, and the board brought him on to help with developing a reputation of transparency and helping to smoothly navigate this unfortunate situation. He commends her leadership for exposing Dr. Cooper's abuse of the Vascom. He says right now, Med is in trouble and if it gets worse, the patients will suffer and he doesn't want that. She says she will take him at his word. He also comments about Vanessa announcing that Maggie is her mother, and says he could only imagine her surprise.
By the end of the day, Sharon is upset and speaks to Daniel about how she felt what she was doing was the right decision for the hospital and Daniel says he absolutely believes that she did the right thing for the hospital. He says he is going to take her out for an expensive dinner. The friendship between Daniel and Sharon has to be one of the best parts of the Chicago Med community, and seeing these "besties" support each other is always a breath of fresh air and a welcome addition to any episode.
They are choosing dinner at the restaurant and Dr. Cooper approaches and Daniel tries to diffuse the situation and says to him that there is a time and place. Sharon says she is not interested in anything he has to say, but he says to come at him any time any place. It will be interesting to see if Dr. Cooper is brought to justice, and what the ultimate outcome will be for Sharon when it comes to the board, which includes Cooper's father-in-law.
Dr. Archer and Dr. Scott
As Archer enters the ED, he stops Will to congratulate him in a very condescending and snide way on his article in the paper and brings a copy for Will in case he wants to put it in his scrapbook or display it. Will tells Dean that he did not do if for the accolades and Archer says he is behind Will for putting himself out there and he is truly proud of him and has his back. Based on our past experiences with Archer, it is not a surprise that Will does not seem to think he can take Archer at his word, and while viewers may have been hopeful after his experience with mental health virtual reality that we may see some change or growth with Dr. Archer, this evolution will likely be slow and take time.
They are in the recovery room after his first round of surgery when the patient, Keith, starts to crash again. He is awake and Archer speaks with him and is blunt about the severity of his injuries and the man says that is ok but he wants to know if his family is coming and Dr. Scott says yes. Dr. Archer says to Dylan that he needs to call them back and tell them to hurry.
Archer is about to put Keith under again for more surgery, when he says he is going to get what he deserves. He reveals to Archer that he got in a fight a number of years ago and the other man died, and no one knew it was him so he didn't tell, so he murdered a man and now it is time to pay – a life for a life.
Archer goes to tell Marcel about his patient and that they have agreed to donation and that the kidney will be his.
Dr. Blake and Dr. Marcel
Blake says that Luke wants to help and needs his father and Marcel says he understands but based on his developmental ability, he does not feel it is right to pursue him as an option. Blake says they will take it to the ethics committee as Marcel feels it is not morally right. However, the ethics committee approves looking at Luke as a donor and Blake asks Marcel to do the lab tests. Crockett tries to take a blood sample from Luke but is not able to get Luke to co-operate with the blood draw, and Crockett abandons the attempt as Archer comes to ask if he needs help. He asks Marcel what is plan B and he says he doesn't have one yet.
After Archer find them a kidney, they are scrubbing for surgery and Crockett tells Blake he should have run PD by her and he understands if she wants to drop him from the team and she says she isn't dropping him but is ready to strangle him. She says that maybe it is because he wears his heart on his sleeve, or maybe because he pisses her off, but that she likes working with him. He says he likes working with her too, and she says lets go save Lawrences life. It seems that there is still something unspoken and unresolved between them since the kiss under the mistletoe though, and one can only wonder if this will develop into something, or become a complicated romantic situation that will end badly.
Blake and Archer talk after the transplant and she thanks him for saving them from an impossible choice and he says they were lucky.
And speaking of complicated romantic situations, Marcel runs into Avery and she says that she is working with some of the Vascom patients and families, and she offers to have him over for dinner but he declines and they say they will see each other around. It will be intersting to see what happens if Avery finds out about Marcel and her mother, and how that will affect how these characters move forward this season.
Vanessa and Dr. Charles
Vanessa asks Dr. Charles for his help and advice. She does not want to call DCFS, but Claudia said she was taking diet pills her mom gave her. She wants to get moms side of the story before she calls and does something she can't undo and Dr. Charles agrees and says they can talk to mom together when she arrives.
He asks about the pills and she says she found them on the internet and was trying to find a solution to get them to spring, so they could walk again. She said that having been an overweight teenager herself, she was trying to spare Claudia that pain. She says she is failing and Vanessa says no, they see a mother doing everything she can to help and protect her daughter.
Dr. Charles offers to help link them to a program at the hospital with nutrition and exercise, online and in person, and Vanessa says she will put together the info for her. Dr. Charles says holding off on DCFS was the right call and good work. We definitely need to see more of this partnership, as similar to the Scott/Charles duo, these two make a really great team.
So we close our time at Gaffney with some people growing closer, some unspoken romantic tensions and some ongoing workplace legal tension that will likely not be soon resolved. I for one cannot wait to see what the Wolf team has in store for all of us Chi-hards next week...How about you?
What did you think of this episode of Chicago Med? Share your thoughts in the comments below.