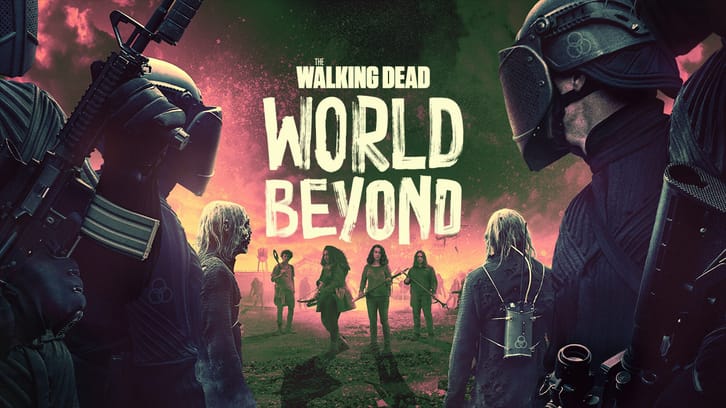 The Walking Dead: World Beyond "Blood and Lies" was written by Sinead Daly and directed by Lily Mariye, whose other credits include Criminal Minds, The Terror, and Prodigal Son. The episode starts to reveal the true depth of the CRM's corruption and misguided plans for the future. Huck (Annet Mahendru) looks like she's betraying them, but Lyla (Natalie Gold) really does – and pays for it with her life. Iris (Aliyah Royale) continues to be the most annoying character on the show…
The episode starts with a flashback to why Lyla (Natalie Gold) was late for dinner in the last episode – she was in the process of prepping her "subject." He pleads for his life, giving us the title of the episode – 'You can't build tomorrow on blood and lies.' In the present, Leo (Joe Holt) is testing the green liquid – it's chlorine mixed with something to make it green – and this is a nice scene as it's cut together with Lyla using the liquid as gas to kill her subject… horribly, of course. Lyla excuses herself from culpability as she says 'this is how we have tomorrow.' In her mind, it's all for the greater good.
Jadis (Pollyanna McIntosh) arrives where Silas (Hal Cumpston) is being held to interrogate him. She admires his big, strong feet – which are bare so he can't run away. She then gets to the point that he's not where he's supposed to be – Cull Facility 1. She asks him how he likes living there, and he says it's like a junkyard. Jadis replies, "you say that like it's a bad thing." I thought this was hilarious – and really loved the chemistry between McIntosh and Cumpston. Of course, it's a callback to Jadis's community that lived in a junkyard on
The Walking Dead
. Jadis is not stupid and recognizes that Silas is not like other people.
Dennis (Maximilian Osinski) arrives to collect Silas, and it quickly becomes apparent that there is bad blood between him and Jadis. He wants to know why he wasn't notified immediately about Silas. Jadis suggests that Silas might make a good soldier. Dennis concedes maybe. As they leave, Jadis tells Silas that if he disappoints her, she'll punish him AND Dennis.
They've discovered the missing vial, and Hope (Alexa Mansour) is hiding it when Mason (Will Meyers) walks in. Meanwhile, Lyla goes to warn Leo that the soldiers are coming, and she knows they took the vial. When Leo tries to lie, she tells him that he doesn't have to. Soldiers arrive at the door and she begs to be allowed to hide – and Leo lets her.
Iris is with Percy (Ted Sutherland) and sees the soldiers take Leo, and Felix (Nico Tortorella) insists on coming too and tells Iris to tell Hope. Iris finds Hope with Lyla, who says they have to trust her. She takes them to the lab and shows them everything. She tells them that she studies re-animation. And hasn't the Walking Dead universe already done this? Remember Milton with the Governor???
Iris cuts right to the chase and says, so you kill people. Lyla tells them that most of the subjects are people who were bitten in the wild. Then Lyla tells them about Omaha, and that Dr Abbott threatened to tell – and then he appears in her video chasing a rat… She decided that if she couldn't stop 100,000 people from dying she could use their deaths in her study. Lyla insists that she wants to help Leo because she cares about him. She told them she misplaced the vial. Hope tells her where it is, and she leaves them in the lab to go and get it. Iris is angry, and Hope tells her that she doesn't trust Lyla either, but they came there to keep their dad safe and this is how they have to do it.
Meanwhile, Jadis has Huck (Annet Mahendru) interrogating Leo. He tells them that Lyla was an hour late for dinner the night the vial went missing. Huck asks why he was with Lyla. He tells her because Lyla was kind, smart, and laughed at his jokes. Huck says you fell in love, and Leo says he did. Jadis jumps on his use of the past tense, and both Jadis and Huck accuse him of lying. Jadis tells the soldiers to find Lyla.
Hope and iris are arguing over Lyla in the lab. Iris says that Hope should have told her and hope says, 'like you did with the dead drop note?' Clearly, acting on your own instead of with the group never ends well. They see the soldiers coming in before they can leave and try to hide amongst the dead subjects. The soldiers luckily suck at finding anything and are called off just before they step on the two of them.
Leo tells Jadis that he's not covering up anything with Lyla. Jadis says that Huck helped her see it – so of course, Leo is pissed at Huck – but it does maintain her cover. Jadis also tells Leo that Lyla immediately told Kublek (Julia Ormond) about Hope's gifts after Leo told her. The soldiers bring Lyla in and she says she found the missing vial and then completely sells out Leo and the girls, telling Jadis everything. She tells Leo – no more lies. However, she also tells Jadis that she can't hurt Leo because he's vital to the re-animation project. Jadis insists that she's on the verge of a break through and she needs them.
Jadis says that she's proved herself to the CRM by making good deals for them. She offers to let Leo walk. She asks him if they have a deal and if he's motivated. Leo says he's ready to save whatever is left – whatever "it" is. Jadis insists that it's life – even if some of them will die.
They go to see Lyla's subject. She says he's stayed dead for 8 hours – the longest so far. However, when they get to the lab, the clock is just before 8 hours, and he's re-animated. Jadis tells Huck to remove the restraints and tells Lyla that she's lied to her and compromised valuable research. The lock Lyla in the room with the loose walker.
As Jadis and Huck look on, Jadis reads Lyla's research – a rat will eventually get tired but the dead won't. Jadis says she couldn't have said it better herself – Lyla is clearly the rat in every sense of the word. We get a classic blood splash when the walker eventually catches up with Lyla… Jadis tells Huck that Leo is the better bet – he's smarter and has two easy to squeeze pressure points: Hope and Iris. Jadis calls Lyla another tragic accident. She tells Huck that her mother will be happy that she proved her loyalty, and she should now let Huck in on the whole plan. Omaha was just the beginning. It's all a tactical operation to secure the future.
Silas tells Dennis that he wasn't lost at the facility. Dennis says he knows that Silas was looking for his friends. Silas is surprised that Dennis covered for him. Silas asks Dennis – "what if the CRM is not what you think it is?" Dennis asks why he'd say that. Silas says he thinks Dennis is a good soldier, and Dennis tells him he could be too.
Huck goes home and finds Percy waiting for her in the dark with a knife. This felt like a really pointless, lazy scene to me. Huck is tired, and when Percy gets her gun, she tells him to just go ahead and shoot her – but first she has something that she needs to tell him. Percy is a little shocked when she just gives up. Yeah. Me too… and then Percy seemingly does nothing.
Percy goes back to the others and tells them there is no alliance and the CRM is planning to take out Portland. Hope insists that they have to get the research and scientists out and destroy the facility and the gas.
The girls go to spend the evening with their boyfriends – and this really doesn't feel like a Walking Dead show. Iris knows Percy went to kill Huck. He tells her that he wanted to but didn't because of Iris. Which might have been true of the old Iris, but I feel like this Iris would have been ok with it. Even if it blew up all over the rest of them. And of course, she's going to have sex with him – because what you really need while trying to carry out this plan and then exist in the wilderness is to be pregnant… GAH!!!!! Meanwhile, Hope spends the evening with Mason and discovers that his father is Major General Beal!
Huck goes to Dennis and tells him that it was all bullshit and nothing they did mattered. She then tells him about Portland. The episode ends with Silas coming upon the two of them. He has his walker-killing weapon – and it looks like he wants to use it on Huck…
So we lost our first "major" character this season – and I'm betting the bodies will now start to pile up. We finally learn the "secret" and it wasn't exactly shocking. Pollyanna McIntosh is always fun to watch – and I loved her chemistry with Hal Cumpston. I have to say that Hope's plan doesn't have much hope. What did you think of the episode? Were you surprised by anything in this episode? Let me know your thoughts in the comments below!