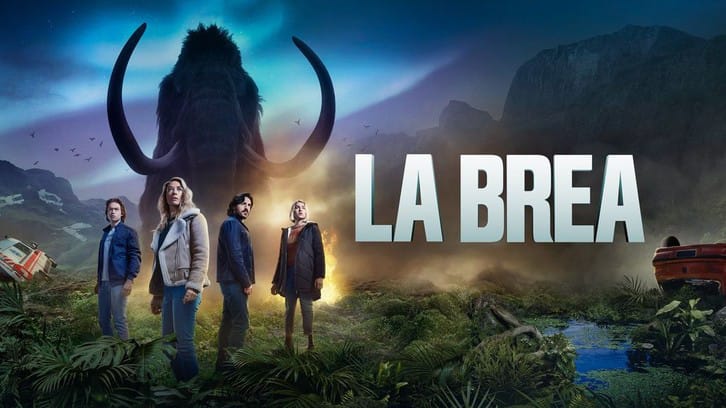 The sixth episode of La Brea is focused around the new hope the survivors have that they will be able to finally escape the sinkhole and get back to their lives. But early on, that hope is scuppered for the viewers who can only sit and deal with the growing sense of inevitability and dread which is ultimately going to result in some pretty emotional ramifications for a couple of characters in the next episode.
We start with Eve burying the letter from the end of the last episode and experiencing a flashback from three months ago when she packed up to leave for Los Angeles while Gavin begged her to stay. She is at the point where she can't cope with his constant drinking anymore and is all out of faith. It's a pretty poetic narrative choice to set the tone for the episode. There's a massive theme of faith and belief and this scene is beautifully juxtaposed with her choice to believe in him during the present day.
The survivors figure out - based on Scott's finger calculations and Diana's prior experience - that the light will close by the time night falls and it's now or never for an escape attempt. Diana is understandably desperate to escape the past after being trapped there for three years but that desperation unfortunately comes to odds with Eve and Marybeth's insistence on saving their sons.
The reason they're so desperate to save their sons was because Gavin had discovered at the excavation site that Levi's plane had suddenly appeared, wrecked and surrounded by the remains of dead bodies. Naturally, he takes immediate action with the help of Dr. Nathan and sends a drone into the light with a message for Eve, Josh, Levi and the other survivors, telling them that their escape attempt won't work and promising that he was on his way.
With this knowledge, Levi and Diana are pretty sure they can identify the problem that causes them to crash and everyone else is prepared to take that risk. In their eyes, it's all worth it if they can escape the sinkhole. Eve and Marybeth do not have the same faith in the plane and don't want to risk the lives of their sons and Eve is also adamant that Gavin will without a doubt be coming to save them though Josh is not convinced at all that he'll come through for them.
It's a difficult situation. We will never know if Levi and Diana had fixed the problem or simply fixed one problem only to have another one crop up during takeoff. The plane may have worked, the plane may not have worked, but one thing's for sure, absolutely no one is going to be very happy with Eve or Marybeth. They may have been right to do it, we'll never know that either, but with the plane's fuel tank destroyed and Diana dead, I don't think anyone's going to be too forgiving any time soon. It's going to be hard for Dr. Nathan when she finds out as well seeing as she's spent three years trying to find her fiancee.
And is anyone really surprised that Gavin didn't manage to execute his plan to fly down into the hole? Not that he didn't try his damnedest but Izzy eventually swayed him, scared of losing him as well. The fate of this most recent rescue attempt was sealed by Eve's determined belief that he would come through for them. If he had succeeded, it would have lessened the repercussions of her actions in the episode significantly but god it would have been nice to avoid the awkwardness of everyone watching the light disappear, all knowing without a shadow of a doubt that Gavin wouldn't be coming. The worst development for Eve on that front is that Josh is now angry at both of his parents and is even more sure than ever that his less than stellar opinion of his dad is justified.
What is Dr. Aldridge's deal anyway? Is it possible she has visions as well? It'll be interesting to learn how exactly she knew where to find the site the survivors had set up in thousands of years ago and at the end of the episode, she says some pretty mysterious things to him. She tells him that everything that's happened to him is for a reason, spouts some stuff about destiny and tells him to go back to the beginning, giving him the date of November 16 1988. I feel like we're really starting to get close to answers revealing why Gavin of all people is having these visions and I'm excited to learn the significance of that date.
Speaking of dates, my jaw dropped at that gold Scott and Lucas found. 1863! Perhaps that year is the origin of the community living in the fort? It provides another puzzle piece to the timeline of the sinkholes and the characters are slowly starting to get clued in to the fact that there's a lot more to this world than they knew. I am sick to death of Lucas though but at least he doesn't have to be an asshole about the drugs now he's got a chest full of gold. I wonder if someone's going to come looking for it.
The only other thing of note in this episode is Veronica knocks Ty out when he comes looking for her, armed with the knowledge that she too was kidnapped by Aaron and it has plainly caused a lot of trauma for her. This is also something that's going to be addressed in the next episode. Hopefully someone realises pretty early on that he hasn't returned, assuming they're not all preoccupied with their anger towards Eve and Marybeth.
What did you think of the episode? Were Eve and Marybeth right to take the action they did or do you think Levi and Diana had fixed the problem? Sound off in the comments below!