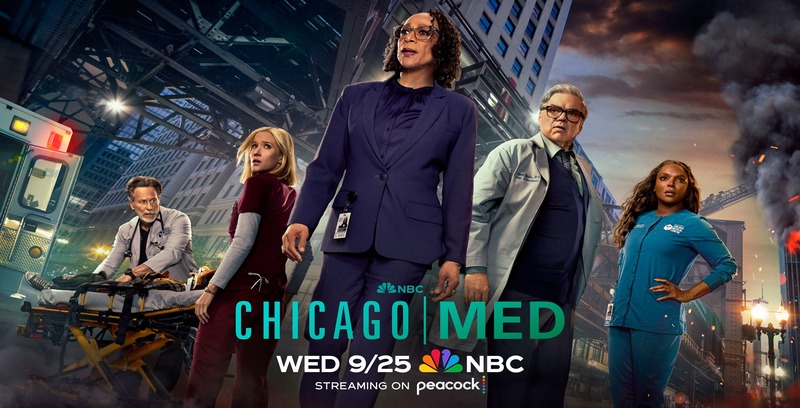 Dr. Scott and Dr. Charles treat an overdose patient (and their battle with Dr. Archer)


When Dr. Charles joins in the assessment with Dr. Scott, we find out that the patient says she was drinking and was talking to her mom and they don't have a relationship, and this is why she acted impulsively. She keeps asking about when she can leave, and shares that she is heading to Congo, and she is a human rights attorney for UNICEF trying to help save children in foreign countries.
Ultimately, they do have to send her to the state hospital, which she is very upset to hear, but Dr. Scott and Dr. Charles work together and speak with colleagues and former colleagues from PD, and make arrangements for an easier transition where they can make her feels safe. As she is leaving the ED with two police officers, Dr. Charles tells Dr. Scott that while this was not what they wanted, they had done their best to get her treatment she needed and make her feel safe, and sometimes you have to focus on the wins.
As always, Dr. Charles has some wonderful words of wisdom, and I cannot wait to see more of this dynamic duo in the season to come, and feel that they are well suited to work collaboratively with patients experiencing emotional distress.
Dr. Halstead and Dr. Hammer treat a patient with Addison's Disease
Stevie and Will start discussing possible causes and Will is wondering if mom has Munchhausen by Proxy because she is so controlling, but Stevie disagrees so they decide they need to look at other possibilities also. As Will's suspicions grow, they decide to have a social worker come to meet with them, and at this point the mother becomes infuriated, and says she knows they are blaming her and think she is hurting her son, and she is not. Brandon sticks up for her and they say they are trying to help Brandon, but she demands to speak to their supervisor. At this point Brandon breaks down and says he took extra meds because he does not want to do the trial.
Will tells Brandon there is something he can do, and presents him with an option. Brandon tells his mom that he is seeking counsel to become emancipated as he does not want to do the trial. His mother is furious and Stevie is also very angry with Will, saying he is tearing the family apart and that he was always sticking his nose where it did not belong, just like he always has. I found this comment very interesting, as perhaps this is the start of our Chicago Med writers leading us into some of the back story of Will and Stevie's relationship in med school. When Will asks why she is sticking up for Brandon's mother, she says his mom needs someone in her corner too and Will says she needs to remember Brandon is the patient and their job is to protect him and present all the options to him.
The story concludes with Brandon's mom agreeing to let Brandon not do the trial. Will tells Stevie that he heard that she talked to mom, and we get to see a glimpse of some flirting between these 2 characters as she says if Will had spent more time on studying vs his hair he would be less broke. This was some fun banter and enjoyable to watch, but Dr. Hammer better be careful what she says about Will's hair, because it would be fair to say that it has its own very dedicated fan base that will be very offended by any negative hair comments.
Dr. Archer, Vanessa and Dr. Marcel
Dr. Archer seems to feel that Vanessa is showing good initiative and has her join him when a trauma comes in. There are no rooms available so they have to take 2 patients to the Hybrid OR Room and bring in stretchers to be able to treat them. Archer and Vanessa are dealing with a motorcycle victim who was hit by a car and Dr. Marcel is treating the woman who hit him. While an ED can be extremely busy and in this case it could have been a matter of life and death, I do wonder about the legal and ethical implications however of treating two people from the same accident in the same room. If I recall correctly, Ambulance 61 received a disciplinary action against them in one of the early seasons by transporting two victims from the same accident (a child who was hit and the man that hit her) in the same ambulance, even though it was critical. I am curious if those same concerns would not apply in this scenario also. However, just like with Ambo 61, they needed to do what needed to be done to help the patients, so perhaps we can overlook that detail for now.
Vanessa talks to Marcel, and he encourages Vanessa to stand strong if she feels something is a good idea, and that she should talk to Archer again about presenting the graft as an option to the patient. He says her idea was not dumb and tells her that it is what he would have done. Vanessa decides to take the plunge and talks to Archer, trying to advocate for the patient and stating she had discussed the idea with Dr. Marcel. Dr. Archer deals with the situation in his all to familiar passive aggressive way, and says to present the option to family and if they agree she and Marcel can take case and also take the responsibility for the treatment and the outcome, no matter how good or bad it may be.
Marcel and Vanessa complete the OR, and the outcome for the patient is good. Marcel saves his arm, and they both recognize that they seem to make a good team. Vanessa is thankful for his advice, and she mentions to him the mentor program that Goodwin had been speaking with Marcel about, stating she is not matched with anyone and she asks him to be her advisor, to which he agrees. I think this will create a wonderfully new rich layer to the dynamics of the ED, since we know that Vanessa ultimately reports to Archer, and he and Marcel do not often see eye to eye. However I think this new mentoring role is a wonderful way for us to continue to see the softer, kind and caring side of Dr. Marcel, and I am sure that many fans have been ready and waiting to see more of this this season.
Goodwin, Will and the Dr. Cooper Investigation
It definitely was a week of highs, lows, happiness, sadness, stress and tension all rolled into one hour like only our One Chicago franchise can deliver. It seems that there will be a lot of new dynamics to be explored as we climb aboard the Chicago Med roller coaster for Season 7. I know I am in line and cannot wait for the ride…how about you?
What did you think of this episode of Chicago Med? Share your thoughts in the comments below.