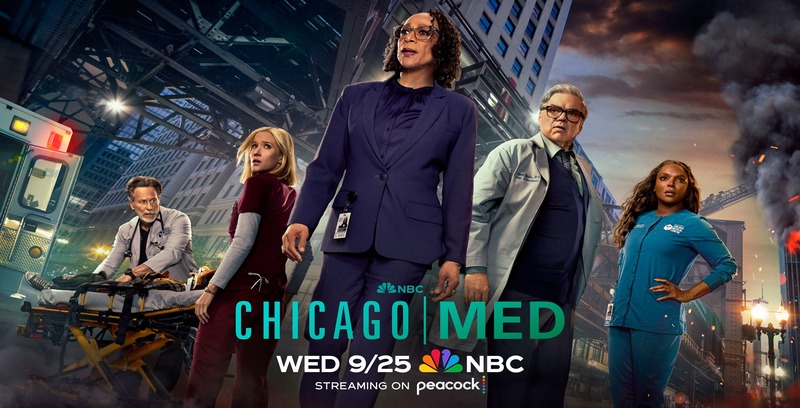 Season seven is definitely moving Chicago Med in a strong direction with compelling new characters and storylines. Once again this week, our Chicago Med team dealt with several complicated patient situations, navigating through a variety of social and ethical issues, mixed in with a little drama and heartache.

Dr. Marcel and Mr. Kumar


It is also nice to see that the kind and sensitive Marcel appears to be here to stay. He seems to care about Vanessa's overall well-being as her mentor, including making sure she is not spreading herself to thin and is eating and sleeping. It is no wonder she has developed a bit of a crush on him. I am glad that the years of character development that the One Chicago writers have afforded this character is going to continue to grow this season and I am excited to see what is to come from Marcel in the weeks to come.
Dr. Scott, Dr. Charles and Roland
Dr. Halstead, Dr. Archer, Dr. Cooper and Peter
We see Dr. Archer easedropping on Dr. Halstead and his meeting with the Vasic rep, and "accidentally" dropping in on his practice run with Dr. Cooper and the field rep to present about the Vascom. Dr. Archer is not a fan of this expensive equipment and also we know he has been clear he is not a fan of Dr. Halstead either. Dr. Archer states he prefers older less expensive hemodynamic devices.
Goodwin tells Will that he has always kept the patients best interest in mind and if he ever feels he is compromising his ethics that they will stop the ruse and plan to expose Dr. Cooper. I find it interesting that when he feels he is acting in the best interest of his patient and their rights, Will is willing to go to the mat and take a lot of risks with no remorse, but he is very hesitant and feeling guilt with this situation now.
Dr. Hammer, Vanessa and Ashley

Dr. Hammer is suspicious that the diagnosis is not correct and she and Vanessa investigate further and discover that her tumors may all be benign. After presenting her reasoning to Ashley, she grants consent to do the biopsy and it turns out the tumors are Pyelocytic Astrocytoma, which is benign. They are able to give her her life back after three decades of feeling that she was on borrowed time. I enjoy that Dr. Hammer is willing to do the extra leg work to ensure patients have the correct diagnosis.
As this episode concluded, we see friendships and rivalries growing, alliances forming, and doctors and nurses working to provide the best care possible to patients, which just goes to demonstrate the level of research and realism that our Chicago Med writers infuse into every episode. As the Chicago Med family transforms this year, I for one cannot wait to see more. How about you?
What did you think of this episode of Chicago Med? Share your thoughts in the comments below.