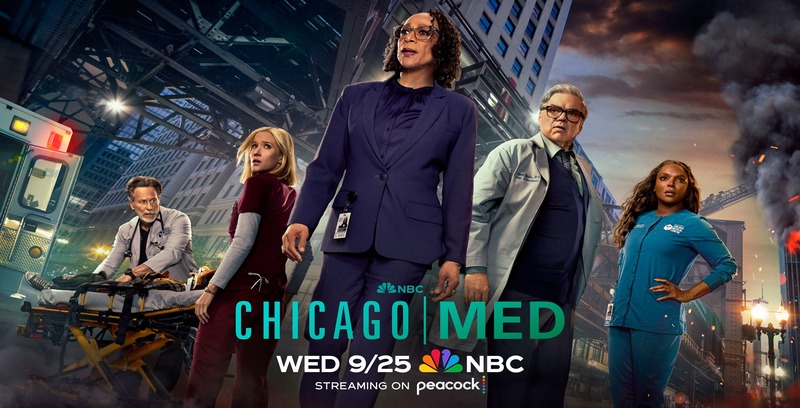 As the season moves forward, we are learning more about our new cast members and their back-stories, and seeing how they blend into the Med Family. In addition, what we are learning is making for a very exciting season, and definitely helping us fall in love with these new family members swiftly and wholeheartedly.

This week we again follow several patient stories, and see some developments in some of our non-patient storylines that have been keeping us on the edge of our seats. So buckle in for another wild ride folks!

Dr. Scott, his sister Zora and Kevin Atwater


Dr. Scott keeps asking for updates on the boy throughout the episode, and eventually before the conclusion of the episode, he finds out that the boy survived the surgery and goes up to see him. Dr. Archer tells him if he had not been there, the boy would have surely died and that he saved his life. Go Dr. Scott!! What a welcome addition to the family!
Dr. Marcel, Vanessa and Dr. Charles
We meet Gina, whose friend has brought her in. It is the first time they have seen each other since the start of COVID and Gina has a huge growth on the side of her neck. Marcel and Vanessa get a biopsy, and the growth is benign but because of the size, and how it is encapsulating the vessels in her chest and neck, they are recommending surgery to remove it. She asks about medications, and they let her know there is a medical option with radioactive iodine but with how far advanced the tumor is, they do not feel it will work, but she insists she wants to try the meds first. Vanessa is very concerned as she and Marcel discuss that the medications would take far too long and likely have little effect, and she is not sure Gina understands how serious this is. Marcel tells Vanessa that they need to page Dr. Charles.
They discuss about disassociation with our future selves, and how could they make her future-self more tangible to her, as that would help her. With the help of Dr. Charles, Vanessa, Marcel and Anna's age filter apps, Dr. Charles presents her with an aged picture of herself and works through talking to her about who that person is and what her hopes are for the future. She talks about her fear about possibly not having a future. Eventually after working through the exercise with them, she agrees to the surgery.
Later, when Vanessa goes in to see Marcel in the Doctors Lounge, he is looking at an aged picture of himself and thinking that perhaps he needs to think a bit more ahead than he has been and where he might want to end up.
Dr. Hammer, Maggie, Goodwin and the Financial Donors
When our episode opens, Dr. Hammer's mother is sitting in a diner and the server comes up and rudely tells her she needs to order or leave. Stevie enters and sharply says to the server, "How about we try that again and how about a 'Good Morning, What can I get you'", and she apologizes and goes to get them coffee. Stevie brings her mother her meds and she and her mother argue as her mother wants money to fix up her van, and Stevie wants the money to go to rent and heat. Her mother says the van has been her home for many a winter and Stevie says that does not make it right. Eventually her mother gets up to leave as the server is returning, and says to them both that she does not want to be somewhere she is not welcome.
Maggie is surprised because Goodwin is usually such a good judge of character. She goes to xray and while there, he asks Dr. Hammer if she is a runner, makes some inappropriate comments about women's bodies and grabs her arm, trying to tell her it is a compliment and not letting go when she tells him too. Dr. Hammer pushes him away and he falls.
Dr. Hammer has to go and meet with the hospital attorney and Goodwin, and despite the attorney's dismay, Goodwin says Stevie will have full support of the hospital if she wants to press charges, but Stevie says she does not. Goodwin asks for permission to speak to Jim Foster, and when they return to the ED, he is furious and says he is pulling his support for the hospital, and Goodwin tries to smooth things over. Elaine says he recently was accused of being inappropriate with a graduate student and this has never happened and she does not know who her husband is any more and he is not the man she married. She apologizes to Dr. Hammer.
Dr. Hammer reflects on what happened that day, and she goes to see her mother at the homeless encampment, and tells her she can have the money and it is hers, whether she wants to use it for rent or to fix up her van. She also asks if they can go get some dinner and eat it together, and she does not care if they eat at the restaurant or in her tent there. They get in the car to go get dinner.
I feel like the more we see an exploration of Dr. Hammer's relationship with her mother, the more we are learning about why she acts and reacts the way she does to others, and it will be exciting to see as more is revealed and perhaps her colleagues learn of her mother's situation, what the season will bring.
Dr. Scott and Dr. Halstead and a Lupus Patient and Blogger
As they test her, Dr. Halstead goes into detective mode and checks out her website, and indeed, she has been lying to her followers about her illness. He tells Dr. Scott that she says she is collecting donations for Lupus research and that if she is pocketing those donations it is a crime. When they speak with her, she is concerned because the website was helping people and that telling them the truth would dilute the message, and Will starts to go down the path of discussing that messaging is key when pursuing donations, and Dylan cuts this off. She suddenly gets a bad headache and Dr. Scott orders a CT.
Dylan spends some time with Candace and she tells him that she found a community after her diagnosis, and she felt that telling the truth made her seem like she was bragging or that she would become an outsider, and they speak about what it would mean to come clean to them. Dylan tells her that even though she is worried that her message will lose impact if not delivered from the trenches, walking a path that is not hers will have consequences too. Dr. Scott has such a wonderful approach with all of his patients of helping them to identify the best path without trying to tell them what to do, and I hope to see more of him partnered with Dr. Charles this season, who also has a similar way about him.
After Dylan discharges her, she decides it is time and comes clean online to a varied response, and Dylan shows Will. It is at that point that Will reveals that he ran some additional tests and that she actually is no longer in remission, and the inflammation in her optic nerves caused the peripheral loss of vision, which is why she could not see the car and was hit by it. They call her back in and Candace says maybe it is her punishment for crying wolf so long, and that the responses to her post are so angry. Dylan says that she may feel like she lost her tribe, but those in the trenches with her will come around and that she has spoken her truth, which is what matters most.
Dr. Archer vs Dr. Charles

And for all of those cheering on Dr. Charles in the revolt against Dr. Archer's drive thru ED, how will we feel if this ends up being something that ends up harming his role in the department. I know that I would be devastated!
Goodwin, Dr. Halstead and Dr. Cooper

We also get to see a nice dose of our favorite BFFs, Daniel Charles and Sharon Goodwin. Dr. Charles checks in on Goodwin and her stress and diabetes, and she reassures him of all she is doing and he is glad that she has Will's help to find out the truth about what is going on. For our long time Chicago Med fans, with all the new characters and changes that have been flooding Gaffney this season, it is comforting to see that some things do not change, and that we can still rely on old friends to care and take care of one another.
It seems that we are going to have a very exciting season ahead as we anxiously await the return of Dr. Choi and hope that Dr. Archer does not destroy the Chicago Med ED family. It seems we will see Will follow in his big brothers footsteps as a makeshift detective, watch Marcel mentor the next generation of medical minds, and see the ED colleagues both new and old continue to help patients both physically and mentally in the weeks to come.
What did you think of this episode of Chicago Med? Share your thoughts in the comments below.