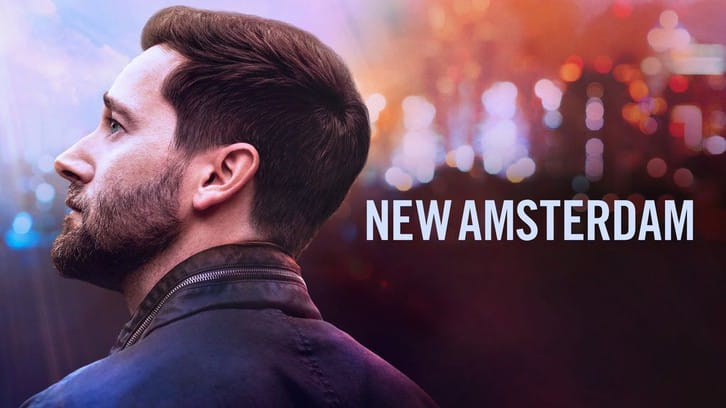 New Amsterdam, Season Four Episode One, "More Joy," brings us back to New Amsterdam for chaos truly fitting for the hospital.
Max is swooning. Max is on cloud nine, floating on air, living his best life. He talks about how he wants more joy in the hospital, because if he's feeling it, why shouldn't everyone else?
We'll get to exactly why later, but first, as soon as Max tells more than one person about wanting more joy, an area of the hospital blows up.
Everyone is evacuated, and holy cannoli, the hospital is on fire.
This story, about a man who was so affected by his wife dying of COVID, of not being able to visit her and wanting to retaliate, unfortunately probably makes sense to a lot of people right now.
Something New Amsterdam usually gets right is showing every spectrum of an incident -- the grief, the sadness, the anger, sometimes the happiness.
This is definitely one of those times.
Unfortunately, it gets a little too personal for Max when he realizes the third location the arsonist will go after is right below the daycare, where Luna is.
More on this later, though.
Tyler Labine as Iggy Frome in New Amsterdam
With this arsonist comes Iggy's chance to step back into his original role as a psychiatrist, and it's clear the entire time he's involved that he's uncomfortable.
Iggy took a step back for a reason, and I think that this, showing us that he's not great with patients again in the sense of mental health, is what the audience needed to see to get on board with Iggy stepping back.
Personally, I'm proud of him that he recognized what he needed to do and did it.
We've also got Leyla's first day as a resident, and she's on Bloom's rotation, which turns into an, uh, yikes moment very quickly. Lauren essentially favors Leyla, complimenting her and telling everyone they're dating.
Leyla isn't one to let this pass, though. She quickly calls Lauren out and tells her she wants to be treated equally, whether she's Lauren's girlfriend or not.
Lauren only realizes what she means when she figures out herself that her patient, Brandon, has taken the wrong dosage of his medications because he can't read.
Janet Montgomery as Lauren Bloom in New Amsterdam
In a heartbreaking, vulnerable scene, Lauren talks to Brandan about how she's here to help him no matter what, or when, because he's her patient now.
It's so sweet and it really shows how much Lauren cares about her patients because she sees herself in all of them.
Can we talk about how good Dr. Wilder is? Played by Sandra Mae Frank (Zoey's Extraordinary Playlist), Dr. Wilder seems like she would be a perfect fit for New Amsterdam, and I am truly hoping they find a way to bring her back permanently.
Okay. Let's talk about Max and Helen.
Between their beautiful night together, and their moments throughout that night and into the next day, I am thrilled to see them in love and together.
Buuuuut. This doesn't last very long. Helen tells Max that she needs to be in London, that she doesn't know herself if she's not in London because she's unknowingly sheltering so much of herself in New York.
This was absolutely devastating. For viewers, and I'm sure for Max, who loves her for all of who she is, because he knows all of her.
They talk about long-distance, spending weekends together and I'm sure FaceTiming, but that quickly becomes complicated when neither of them has similar weekends open.
Helen and Max are in love, and they've said as much, but it's incredibly hard because they're both fighting for it, they just don't necessarily know
how
.
Ryan Eggold and Freema Agyeman as Max Goodwin and Helen Sharp in New Amsterdam
The episode ends, much to my agony, with Max telling Helen he's going to move to London with her. That she's his joy and he needs more of that.
Which is sweet. It's a beautiful moment… but it will never work out. There's no way Max can leave New Amsterdam. Luna's home. Georgia's home.
Hopefully, given that the writers have put Max and Helen together, they'll stay together, and there will be no woman giving up her career for Max, or no Max leaving what he loves to be with Helen.
I believe in the writers. I hope they believe in themselves.
What did you think of New Amsterdam? What are your thoughts on Helen and Max finally being together? When the heck did Luna get so big?! Let me know in the comments below!