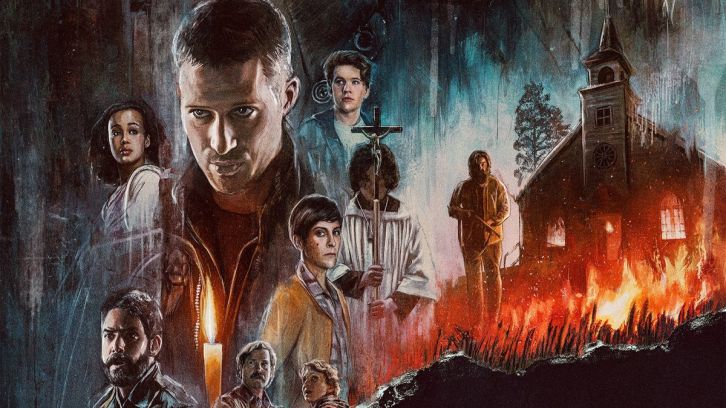 THIS REVIEW CONTAINS SPOILERS, QUOTES, AND IMAGES FROM MIDNIGHT MASS.
WE ADVISE YOU TO WATCH IT FIRST, THEN READ THE ARTICLE!
Who will save us from ourselves?
It starts with the outcome of a car accident. Tara-Beth, a young woman, is dead. Riley Flynn, drunk and mumbling words, shockingly watches as his life changes after his actions led to someone's death. He is sent to prison. He has bad dreams about Tara. He is at rock bottom, feeling isolated, guilty, and faithless.
Four years later, Riley returns home. His family lives on Crockett Island, an isolated place whose population is small and divided. Two other beings also arrive on the island shortly before: Father Paul, a charismatic priest, and his angelic partner; they bring life-changing omens with them.
"He makes the sun rise on the evil and the good."
This is a tale about faith. It also deals with redemption, grief, religious fanaticism, death, and life. Here, Mike Flanagan proposes a horror story that doesn't rely too much on action sequences and jumpscares. Instead, the miniseries focus on people reflecting, talking, and discussing with each other, especially on the first episodes, while an unsettling atmosphere and disturbing moments slowly steal the spotlight, culminating in two final episodes filled with crazy, dazzling, emotional moments. This means Midnight Mass is mostly dialogue-driven, which may not work for everyone, especially when you don't know what's to come and you're expecting a more typical kind of horror.
However, to say it worked for me wouldn't be enough. I was left with so many feelings and impressions after I finished this show that I could talk about it for hours. I genuinely love it. While the supernatural plot slowly burns, the island faces a horror that hides in plain sight, walks in the light, and is very human, embodied by Bev Keane, a character created to bring out the worst in the viewers — and in the other characters too, I guess. Behind her calm, forcefully educated manners, Bev is a self-righteous, hypocritical woman who uses religion to fulfill her need to feel unique — like she was destined to walk through a higher and mightier path.
Father Paul makes many mistakes throughout the story, such as bringing chaos (and a deadly creature) to the island and starting the whole thing (also, he kills someone along the way,) but the ultimate evil haunting the island is represented by Bev. Samantha Sloyan's performance is pure gold. She brings to life a hateful character without making a caricature of her — Bev is nuanced and complex, and that's so important for this to work.
On the other hand, Kate Siegel wonderfully plays Erin Greene, Crockett's best teacher and final hero. Erin is a Christian who just wants to go to church and have some moments of faith — she's the opposite of Bev. Erin is my favorite character played by Kate so far. She has so many intense moments from episode 4 to the end, when the weight of the world falls right on her shoulders, and she still stands for what she believes and fights for it. Also, Erin's final monologue will be stuck in my head for a long time.
"Speaking for myself? (...) Myself. My self. That's the problem. That's the whole problem with the whole thing. That word, "self." That's not the word."
Rahul Kohli plays Sheriff Hassan, a Muslim man who lost his wife and decided to move to the island with his son, Ali. The Sheriff is a tragic figure, and one of my favorite characters of Midnight Mass. He's trying to be accepted, he's trying to be a good father, he's trying to be a good friend to Joe, he's also trying to move on from the past, build a new life, and overcome all the prejudice and hate, but there's so much against him. It is impossible to not root for his success. Rahul is fantastic, bringing to life a serious and responsible sheriff that also looks so exhausted and vulnerable.
Hamish Linklater is Father Paul. His acting of a man full of light and darkness, capable of horrible things, but also heartful, caring, and good, is electrifying. Whenever he's celebrating masses, discussing with Riley, and talking to Mildred, Sarah, or Bev, there's heart, soul, flesh, and blood. He's intense, uncertain, regretful, aching, but also full of love, and that makes him dangerous and tragic.
Finally, Zach Gilford is Riley, a man struggling with addiction, guilt, and faith. His relationships with Erin and Paul are at the core of Midnight Mass. With the first, he experiences a calm, peaceful involvement — their growing love is so quiet, mature, and graceful to watch. On the other hand, whenever he's talking to Paul, Riley is at war with himself. Their dialogues are rich with philosophical questions and powerful ideas, and they captivated me a lot.
"And I remember there is no point where any of that ends and I begin. I remember I am energy. Not memory. Not self."
While these five are the main driving force behind the story, there are at least other eleven characters/actors worthy of recognition — this entire cast is fantastic. For this story to be so poignant and raw, we needed characters just as intense. Here everyone plays an important role somehow to sustain the plots and engage the viewers while the main topics are explored.
Such a stellar group of people means that there are so many good scenes. I think every main character has at least one outstanding minute to shine, so I selected some standout moments that are still in my head:
Leeza confronts Joe and forgives him, an emotionally heavy scene delivered by Annarah Cymone and Robert Longstreet.

The parents' meeting. Bev discusses with the Sheriff about giving the Holy Bible to students. Erin stands by Hassan, while Wade and Dolly quietly agree with what Keane has to say.

The cave scene, when the creature makes its first appearance. I got goosebumps watching it.
Erin and Riley talk about her baby. This beautiful dialogue makes me emotional every time I rewatch it.

The end of episode four, whose jumpscare left me screaming, and then the end of episode five, which left me screaming along with Erin. Riley forgiving himself and seeing a forgiving Tara was heartwarming and heartbreaking at the same time.

Erin, Sarah, and Mildred join the group walking to church. They know the truth, they know something awful is about to happen, and there's tension, fear, and lots of bravery about what they decide to do.

The midnight mass sequence. The whole show was leading to this dreadful, morbid, gory moment, and it was so beautifully executed. A true masterpiece.

Erin shots Bev. Later, Annie has a little talk with Bev and says everything we wanted to say to her. Iconic, truly.

Annie and Ed Flynn decide to remain faithful to who they are, not killing anyone and just staying together until the end. That part was so meaningful, I cried a bit. Kudos to Kristin Lehman and Henry Thomas.

Bev refuses to help a miserable and confused man who just saw his family die in the worst possible way. I was angry before, but after this, I lost it all. Truly infuriating.

Sarah refuses to drink the blood and accepts death. Painful to watch, because I already loved Annabeth Gish's character and loved her even more — she did that just after discovering her dad's identity. Heartbreaking scene delivered by Annabeth, Hamish, and Alex Essoe.

Wade and Dolly are looking for their daughter Leeza. They'll never see her again, and they know they have a part in it. Reality bites, and it's painful. Great work, Michael Trucco and Crystal Balint.

When the creature is about to realize what Erin is doing, she grabs its head and puts it back on her neck. And then, Riley returns to one final memorable sequence: Erin's monologue. Impactful, magnificent, unforgettable. I think people will talk about it for years.

Everyone is about to die. Also, everybody is singing. While Nearer my God to Thee plays and the people prepare for sunrise, Bev is the only one not at peace with herself. This entire sequence brought tears to my eyes and closed this journey in a heavenly way.
"And that's what we're talking about when we say God. The one. The cosmos and its infinite dream. We are the cosmos dreaming of itself. It's simply a dream that I think is my life, every time."
The soundtrack is amazing, from the musical score created by The Newton Brothers, to songs like And the Grass Won't Pay no Mind, by Neil Diamond. I'll be listening to some of these songs on repeat for a while. Also, a thing that I found strange was the ageing makeup on some characters — especially Mildred. We discover the reason why it had to be like that in the end, and Covid restrictions probably influenced the choice to not hire old actors, so it's an understandable (though not always believable) choice.
Finally, something that still resonates with me is that there are many religious people among the good guys. Erin, the Sheriff, Mildred, Annie, Ed, they are all believers of some kind. Still, they fight against the madness. When I started watching this miniseries, it seemed to me that its biggest conflict would be between faithful and unfaithful, believers and nonbelievers. But then, in the end, I don't think that's it. What I feel Midnight Mass is saying is, okay, we all believe in something — religion, science, nature, anything, but what is it for? Does faith move you like it moved Erin, or does it turn you into someone like Bev?
"There is no time. There is no death. Life is a dream. It's a wish."
I loved this whole journey. It was awesome to live on the island for a while, and I will be certainly revisiting it many times in the future. What about you? Did you enjoy Midnight Mass? What are your favorite moments?
You can watch Midnight Mass on Netflix. Thanks for reading, and see you soon.