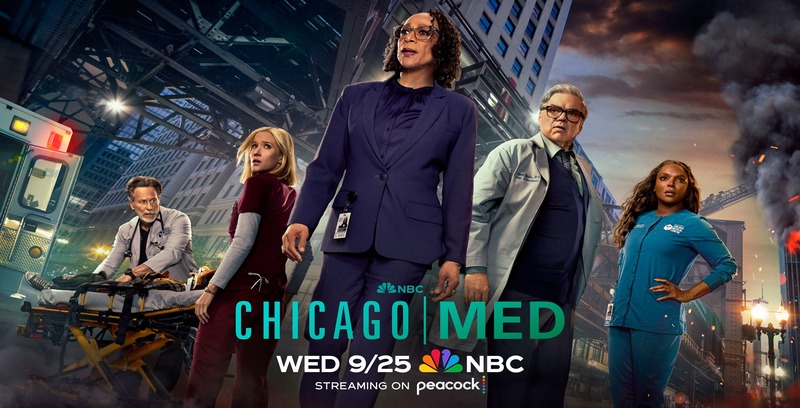 Unlike our other One Chicago shows, Chicago Med does have a short time lapse between when Season 6 ended and Season 7 began. However, for the evolution of the storyline, this was a necessary step.

In the season premiere of Chicago Med, we have several storylines intertwining throughout the episode, providing an introduction of new characters, closure on some past storylines and the continuation of others from Season 6, and the ongoing development and evolution of some of our character stories, interactions and conflicts in a way only Wolf Entertainment writers can deliver.

Goodbye Natalie...

We open on a scene with Will helping Natalie to pack up the last of her stuff before moving. She and Will have a long tender hug goodbye, she reassures him she will be fine and tells him he needs to call Goodwin and Chicago Med needs him. This was definitely an unexpected beginning to this season, as we know that Torrey DeVitto has left the show. However, it was wonderful from the viewer perspective to have some closure on Natalie and Will's storyline from last season, and know that things ended on good terms and Natalie and Owen are okay.

Dr. Archer and Dr. Charles - part one


Meeting Dr. Dylan Scott
Sharon Goodwin and Dr. Halstead
Next, we see Will and Sharon Goodwin in her office, where Will expresses his desire to return to Gaffney, and Goodwin is willing to have him return under one condition. Goodwin wants him to engage in an investigation of another doctor (Dr. Cooper) who is suspected of taking kickbacks by utilizing a particular equipment (Vascon) and perhaps more often than it is warranted. Goodwin needs solid proof, preferable on tape, as his father in law is on the board of directors at the hospital. Will objects, but Goodwin states this is his only way to return. Personally, this scene felt very strange as this type of suspicion and deception is quite unlike the Goodwin we have known the last 6 seasons, who could be tough but always backed her staff. Perhaps it is COVID fatigue or the financial state of the hospital, but this is certainly a new side of Sharon we have not seen before, and I am curious what other changes we will see in her in the season to come.
Welcome back Dr. Halstead...sort of...
We also have another uncomfortable moment with Dr. Archer as he and Will have a bit of a passive aggressive conversation, Archer reaffirming for Will that he did not want him back and Will commenting on Archer being Interim Chief, which is what he wanted all along. It is clear that there will be a great deal of tension between these two characters this season, which will definitely make for some interesting interdepartmental turmoil for the ED.
Will and Marcel treat a former Kender Trial patient
Dr. Archer, Vanessa and Dr. Charles treat Gemma and Emma
Dr. Charles proposes some ideas to Gemma and Emma regarding how they identify as one person and what might be some treatment options that would allow Gemma to receive the lifesaving treatment she needs, despite the fact that Dr. Archer disagrees with the approach. Archer indicates that he feels the concerns and not choosing surgery is silly. In the end, the girls end up trying to deceive the doctors into giving Emma the same treatment as what Gemma needed (an operation to remove the ovary) so that they could still match, and Dr. Charles stops the surgery in time, but not before Archer has made an incision in Emma's abdomen. Dr. Archer is furious and again he and Dr. Charles butt heads about the best way to treat the patient. It is clear that Dr. Archer has very strong feelings about psychiatry and mental health patients, which is a very interesting storyline for Chicago Med writers to be exploring more with these characters, due to the increase in mental health distress overall in society with our pandemic, and the ongoing stigma that mental health patients have always endured. We have touched on this theme of mental health stigma throughout the years on Chicago Med. I do find it interesting that Dr. Archer trained Dr. Choi, and we have seen similar ethical battles between Ethan and Dr. Charles about the treatment of mental health patients in the past, like a bulimia patient in Season 3 and a plastic surgeon operating on himself in season 6. Perhaps Dr. Archer's views on mental health or the stigma of mental health conditions in the military have had an effect on both the practice of Dr. Choi and Dr. Archer.
Let's meet Dr. Hammer and Dr. Scott
And in the end...

At the end of the episode, we see Will and Marcel discussing Natalie leaving and discussing how they both miss her. It was a great note to conclude on with these two characters, as perhaps they are starting to understand one another, share that sadness and start to move forward as friends and colleagues. With Archer on the loose, the doctors of Chicago Med ED will need as many alliances as they can.

By the end of the episode, Chicago Med writers left us with a little closure, many strong emotions and questions, and have definitely set the stage for an exciting season ahead that will keep us glued to our screens on Wednesday nights. With a number of character changes this season, there is a unique opportunity for the show to evolve and explore even more new and different storylines, and provide opportunities for character development and growth. And if anyone can deliver a successful and exhilarating transition through these changes, it is the cast and crew of Chicago Med and Wolf Entertainment. I for one cannot wait to see what lies ahead.

Let us know your thoughts on this first episode of Chicago Med Season 7 and what your predictions or hopes are for the season ahead.