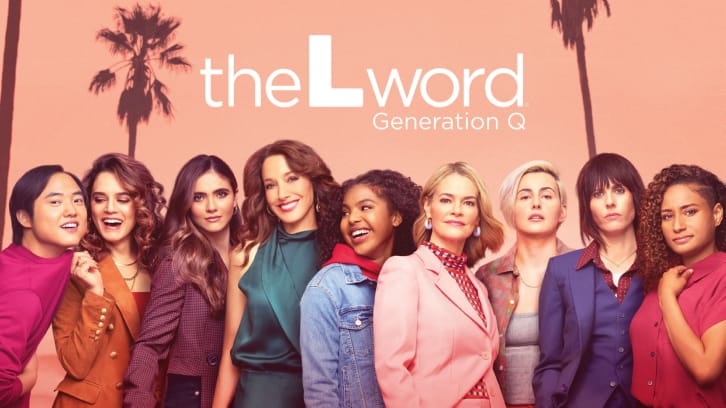 The Wedding´s still going? Let´s go lesbians, we are back. I want to starts by saying that The L word was never meant to have the greatest plot or be the best show on television, and that´s okay, i have come to terms with the fact that they are only a group of sapphics talking, laughing, loving, breathing, fighting, fucking, etc. Even after 17 years, it is still the only ensemble lesbian drama on TV. Generation Q however gives us a bigger glance at the queer experience and includes more letters from the acronym. It is still the show i will want to watch regardless of anything. Season two starts right in the middle of that drama that we know and kind of love.

First we see Sophie (Rosanny Zayas) rushing towards an event, let´s remember last season´s bigger questions in a very Sophie´s choice type of way after she cheated on Dani (Arienne Mandi) with Finley (Jacqueline Toboni) is whom she went on the plane with. The show tells us that she went with her fiancé. Will Alice (Leisha Hailey) and Nat (Stephanie Allynne) will stop having threesomes? or will Shane (Kate Moennig) ever stop being Shane? i mean all of this time and i still feel like i´m watching a twenty something make the same mistakes over and over, wait, is this what being an adult is? not learning anything but kinda and then even after knowing better you still choose the worse scenario? oh boy. Shane, please. Anyway, she´s hanging out with Tess (Jamie Clayton) at an underground poker club run by Eddie (Lena Waithe) but she also ends up burning that bridge trying to sleep with her wife.

Same old, same old.
Relationship drama is The L Word extended universe's thing. No one really comes to this show expecting fairytale endings and functional, healthy relationships with good communication. Which brings us to Bette (Jennifer Beal) who resists growth as much as anyone else on this show, still in love with her ex wife Tina (Laurel Holloman) now engaged to Carrie (Rosie O´Donell), Bette´s biggest opposite if there ever was one. New conflict with the family as Bette´s and Tina´s daughter Angie (Jordan Hull) wants to know who´s her biological father, going against her mom´s wishes to do this until she turns eighteen. Alice and Nat run into Gigi (Sepideh Moafi) at school and decide the best thing to do to keep her busy is getting her a girlfriend and i for one am not opposed to that, even better? They set her up with Bette. While Dani´s still figuring out some wedding stuff, Micah (Leo Sheng) was going to help but he´s at the "gym" which is code for having sex with Jose (Freddy Miyares) the married guy from last season. I do not approve.
Sophie´s still conflicted about telling Dani the truth, now pressured by her sister MAribel (Jillian Mercado) and Micah whom she just told over this now, let´s go to Angie and Jordi (Sophie Giannamore) because they are freaking adorable, Jordie suggests that she tries the genetics test if meeting the donor is totally off the table. Cut to The Zakarian Gallery where Bette´s being offered a job by the owner Isaac (Griffin Dunne), she eventually agrees and already has an office with her name on it. And is now back where she started in Season 1: trying to make an exclusive, white industry less exclusive and less white.
Sophie´s Choice.
The big event of the episode, wedding time. It´s all going smoothly and with no conflict so far, but this is the L Word so of course they would leave Finley´s arrival until the last few minutes, before another word can be spoken, before another vow can be made and never unbroken whe walks down the aisle towards the brides while the audience gasps in horror and disbelief. Right after Finley tells Sophie she loves her and she can answer... THE END.
Pairings i will not mind seeing together this season:

Bette x Gigi
Gigi x Dani
Shane x Tess
What did you guys think of the episode?