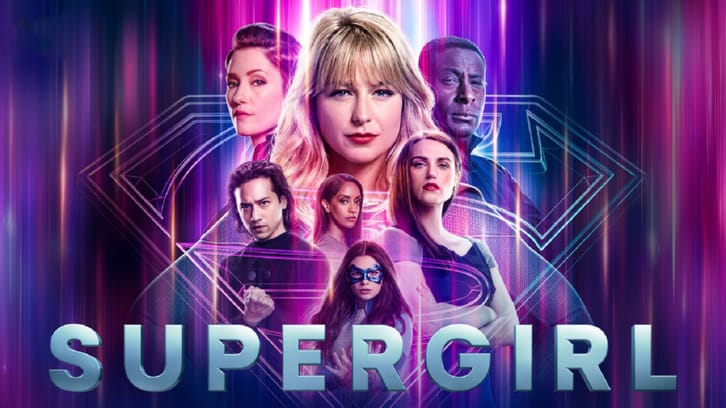 Kicking off my first assignment as the new full-time Supergirl reviewer for Spoiler TV with a short series of articles to refresh everyone's memory as to what has happened so far in season 6 prior to the show's new episodes premiere on Tuesday, August 24.

Supergirl
episodes discussed,
Lost Souls
,
Prom Night
, and
Prom, Again!
serve as stark reminders of just how good the show can be. It's just a shame that producers have waited until the show's final season and final episodes to recognize what makes the show work. While not perfect these episodes were some of the strongest of the series and that's primarily due to the fact that they maintained a singular, powerful focus. The plot was more cohesive than usual but the focus on the characters, character connections and emotional bonds was very prevalent in a good way. All threads were connected by the characters' individual bond to Supergirl. Yes, she still very much feels like the center, the largest presence, which is definitely a step up for the show compared to recent seasons.
Two of the episodes,
Prom Night
and
Prom, Again
recapture the essence of the Danvers Sisters relationship as the show time travels back to Midvale. In doing so, not only are we given a different take on how their bond came to be so powerful as so beautifully depicted in the original season 3 classic episode,
Midvale
, but the episodes are a fitting showcase for Nicole Maines and Jesse Rath who give their strongest performances in the series thus far. The icing on the cake is the return of the perfectly cast Izabella Vidovic and Olivia Nikkanen as young Kara and Alex. These two share the same kind of electric chemistry their character's older counterparts, Melissa and Chyler, share, thus making their scenes together golden.
Episode 4 – Lost Souls
By far the Phantom Zone segments in this episode are the strongest thus far. The show opens and closes with Supergirl, her father, Zor-El (who in my estimation is acting extremely odd thus not getting my complete trust just yet), and new "friend", Nxly as they work together to find a way to escape. They've traveled to another pocket of the Zone in search of a Quantum mirror that will be their way home. Their efforts end with Supergirl having to smash the mirror to prevent the duplicitous Nxly from escaping to wreak havoc on Earth, Zor-El injured and the whole facility exploding as Supergirl and her father escape.
On Earth, Alex and the Super friends, which now includes Lena, are in a race to battle the Phantoms who have escaped the Zone and are now turning humans into Phantom-like zombies. They must defeat the Phantoms and destroy its nest to restore the souls to everyone who has been affected so far, but to do so they must make the difficult decision to sacrifice the last remaining bit of Supergirl's DNA which Lena (Katie McGrath) was going to use to make a tracking device to find the Girl of Steel inside the Phantom Zone. In a final showdown, it is Alex, channeling
Alien
's Ellen Ripley who is the last Super friend standing in battle to defeat the Phantoms and rescue all the souls lost in National City.
This episode features good but not great writing, solid performances (a particularly strong episode for Chyler Leigh's Alex), multiple movie references, but it still keeps with the same theme of the team working together for a common goal of rescuing Supergirl. It also serves as the perfect set up for the two Midvale episodes. After the debacle of the Lex trial episode, this outing is the culmination of the show slowly building in quality and intensity.
Lost Souls
checks most of the boxes for the perfect balance of danger, action, and powerful emotional beats. Biggest thing this episode they all work as a team Alex/Lena, M'Gann/Nia. One of if not the strongest scene in the episode is one between Leigh's Alex and McGrath's Lena where she tells her to re-calibrate the device. This was the first of several moments where Alex demonstrated what it meant to be a true hero, even without a cape. A standout moment of that scene is where Lena, torn over her own guilt for harming Kara in the past, struggles to decide between Kara and the lost souls. Alex takes the device from Lena-despite knowing it may cost her a final link to her missing sister. It was a choice only Alex could make but she still made it easy on Lena by not giving her the weight of the choice-another sacrificial leadership decision on Alex's part. They have another nice moment on a balcony after the mission is over where Lena comes to Alex to admit she was right, and again Alex goes easy on Lena telling her she does belong on the team. The show wants to rush Lena's redemption and declare her a hero without the storytelling satisfaction of having her earn it. She's made a start but has a way to go.
The trek to the Phantom's lair is a nicely edited and choreographed segment. It is ironic that Alex, the person without powers is leading the way through this lair. It's a powerful moment during the final fight to the chrysalis when Nia calls her Sentinel. Alex is, as always, the ultimate badass. When she looks at the device as the light goes out, Leigh just grabs you with emotion as Alex loses her last connection to her sister. Nicole Maines also does some strong work this episode struggling to interpret why her dreams keep showing Alex and Kara in high school in Midvale, nicely foreshadowing the upcoming time-travel episodes.
Episode 5 - Prom Night
Brainy and Nia time travel back to Midvale, 2009, in order to obtain a piece of Supergirl's DNA to use in a Phantom Zone tracker. Future Alex tells them the only other time she remembers Kara having a solar flare and bleeding was after she punched out a meteor that threatened the town and her high school prom. It's revealed that as a result of Crisis this version of Midvale includes a very much alive version of Kenny Li, who is now Kara's boyfriend. Due to a ship malfunction or Brainy's time traveling miscalculation Brainy and Nia arrive a day early and unintentionally cross paths with a young Alex and Kara, who help hide their presence. Meanwhile, Alex, home from college, is trying to get Kara and Kenny to tone down their "Scooby-Dooing" helping people, because they are drawing too much attention to the town and themselves. That attention arrives in the form of a very young, enterprising Daily Planet reporter, C.J. Grant. The episode ends on a cliff hanger with Brainy and Nia being captured by an alien zookeeper who has come to Midvale in search of a Kryptonian for his collection.
This may be the lone example of rewriting Supergirl history after Crisis that actually works. The show hits its stride for the season with this episode. It was an exceptionally good showcase for both Rath and Maines. Yes, they have been a highlight this season, most characters have gotten good development thus far, but this was their time to shine, and they took full advantage of the opportunity. Rath displays stellar comedic chops as Brainy tries to balance keeping the timeline straight and fitting in with the Midvale high school students, while also attempting to keep his emotions in check. Maines has some very touching moments as Nia struggles with the urge to reach out to her mother, whom she knows is still alive at this time, to help her with her dreams. She also has some very lovely scenes with Vidovic as Nia and young Kara bond over being young aliens. Vidovic and Nikkanen again create magic as Kara and Alex, particularly in an argument in the family garage that gives us more insight to the struggles the sisters first faced in their relationship.
Bottom line this episode was the show cooking on all cylinders. A major highlight was Vidovic and Nikkanen as young Kara and Alex, reprising their roles from what many fans declare to be the ultimate
Supergirl
episode
Midvale
. The two don't miss a beat picking up what appears to be a few years later in the Danvers Sisters lives. Also deserving of note is the casting of Eliza Helm as a young, C.J. Grant. Helm nails the role as she gives startling yet entertaining glimpses of how the character became the iconic character created by Calista Flockhart.
Episode 6 - Prom, Again!
The quest for a piece of Kara's DNA continues as Brainy and Nia's trip back to Midvale, 2009 grows more complicated and bizarre. They escape their captors in time to join Kara and Kenny at the Midvale prom while waiting for Kara to solar flare while punching an approaching meteor. In order to get the DNA, they need, Brainy and Nia take a mini time travel to reset events they inadvertently cause, but their mission is complicated when Kara stows away with them. Ultimately, it's mission accomplished. Alex and Kara work out some issues between them; Kara and Kenny make plans for their lives after high school; C.J. Grant rebrands herself "Cat" and begins her media empire; and Brainy and Nia grow closer, continuing their reconciliation after last season's breakup, and head back to the present so the Super friends can rescue Supergirl.
Prom, Again!
is the perfect companion piece to
Prom Night
, beautifully directed by
Supergirl
star Chyler Leigh in her directorial debut. They are a strong pair of episodes, with a literal old school vibe. They effectively tapped into the focus on Supergirl by showing Kara's legacy and impact on others like Nia and Kenny with amazing performances in both episodes. Although the presence of Cat Grant in these episodes wasn't 100% needed, it made sense to find some way to include her in the final season and a flashback episode was the best way to do that. Reviving Kenny Li worked as it provided another dimension of insight into Kara's youth. The scenes between the younger versions of Kara and Alex laid the emotional foundation for later scenes and arcs this season.
The biggest plus for
Prom, Again!
was its director, Chyler Leigh. Her knowledge, love and passion for these characters allowed her to bring added depth and nuance to the story. Each character was given their moments in the sun so to speak. A lovely, tender moment where Brainy and Nia dance before the prom; Alex telling Kara it was ok to take her mask off for a night; Cat's sarcastic encounter with the zoo keeping aliens; Kara and Kenny deciding on their futures; Nia reassuring Kara that she would do great "supering in space"; protective Alex both at the alien ship and in an eerily familiar pose leaning over her unconscious sister-- all are standout moments from the episode. Leigh's attention to detail and emotional beats easily put his episode and
Prom Night
high on the list of some of
Supergirl
's finest hours. The two-parter was definitely the highlight of the season's first seven episodes.
Supergirl
's season 6 so far,
Fear Knot
. This episode was expertly directed by J'onn J'onzz himself, David Harewood, who brings us the emotional Danvers Sisters reunion we have been waiting for and sets up storylines for the remainder of the season and the series.
What are your thoughts on this first group of episodes of season 6 of
Supergirl>? Share them in the comments below.