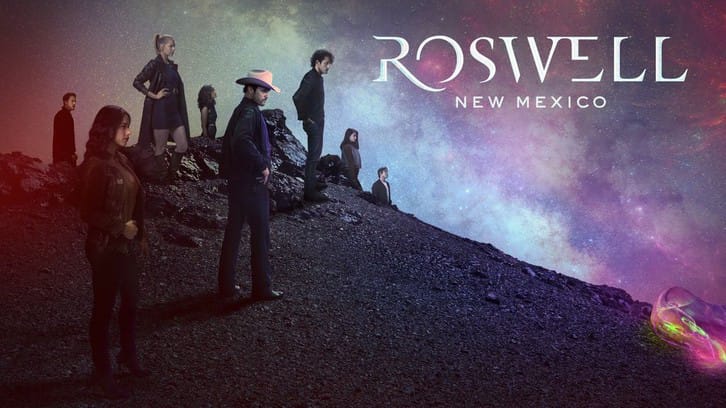 This week on Roswell New Mexico, Liz returns. She and Max apologize to each other, she finds out he's dying but he refuses to tell her about being a clone. Maria tries to figure out her vision but it turns out nothing is certain. Alex starts at Deep Sky. Michael continues to mope about being the Dictator's son. Max confronts Jones, who then breaks out.
Hot and cold: Max and Liz sort of gave me whiplash this week. First, they're extremely distant from each other. Then they sort of makeup by apologizing for what happened last season, only for Max to completely push her away again. She already knows he's dying, why is knowing about Jones so much worse? I can understand wanting to keep her out of it in order to keep her safe, but this is Liz we're talking about. If Max thinks she's going to let this go, then clearly he doesn't know her at all. Also, if anyone can figure out how to use Jones to save Max, it's her. Though, I'm guessing that would be a bit difficult with him now on the loose. Which reminds me, I'm willing to bet that Liz is going to run into him, thinking it's Max. This is why you tell people stuff, Max.
Preparing to exit: I've said it in the past two weeks and I grow more and more convinced each week. They are setting up Kyle's exit. He's either going to leave for New York or he's the one who gets killed. He's kind of on the sidelines of everyone's storylines at the moment. He's clearly stated (and was right to do so) that he's just about done with everyone using him. I'm not sure he'd actually leave while Maria's health is still in danger, which is why I fear he's the one who gets killed. It would make the most sense based on the vision that we've seen. As for the part where they cover up the murder, I have a different theory about that. Regardless of who gets killed, I think it will be Jones who does the murdering. Why would they need to cover that up? Because the killer looks like Max. Boom, there, I solved it.
I'm a little lost: Things regarding the vision got a bit confusing there. So the church was on fire. What does this mean? Was the vision prevented? Was it wrong? I thought it was the former but I think everyone would've been happier if it had been. And why didn't we actually get to see it? Are the writers hiding something?
Pushing the right buttons
: I've never been a huge fan of Michael and Alex. I've always liked them but not at shipper levels. But their scene together this week really stood out. After Isobel and Max, essentially the two people closest to him, fail to talk Michael down, Alex knows exactly what to say to break him out of his "I'm a monster" funk. Alex knows all about terrible fathers so there really was no one better to talk to him, but still, it shows how well he knows Michael. He immediately recognized what Michael was doing. This scene also showed just how far Alex has come. His dad used to be such a huge issue for him. Yet now he can not only talk about it but use it to help other people.
Honorable mention: I really love the dynamic between Liz and Rosa, especially now that they seem to be more on equal footing. Last season, Liz was always taking care of Rosa and trying to protect her from herself. But now Rosa seems to have a handle on things so they can actually go back to being sisters and helping each other out instead. I especially love the pancake scene.
Best quotes: Kyle: "I'm in a nightmare. There's another you? How? You know, I don't even want to know."
Isobel: "Brooding Valenti, my favorite. To whom do I owe this pleasure?" Kyle: "Besides the clone in the desert who no one mentioned till today?"
That's it for this week. Check in again next week for an all-new review and let me know in the comments what you thought of this week's episode.
Please be respectful in the comments, any unnecessary rudeness isn't welcome.