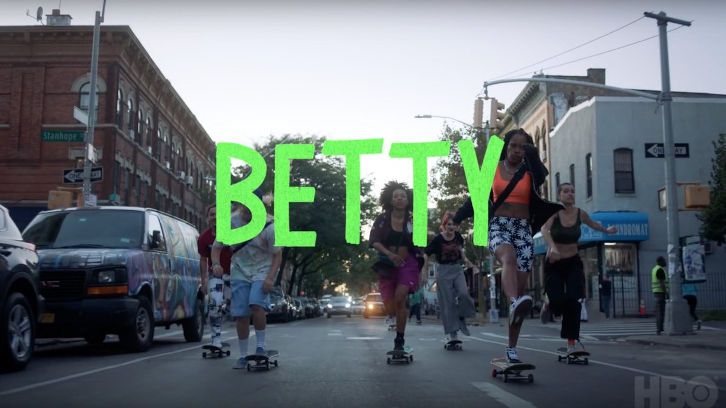 Back in May 1, 2020 when Season 1 of Betty premiered i wasn´t aware of the show, luckily it took a few months for me to hear about it, so i was able to binge all six episodes on the same day, i completely fell in love with it, because it was just a big warm hug i needed during the first months into the pandemic. You´ll definitely notice that the show is not about anything more than vibing while skating in New York. Betty is a sort of sequel/spin off of Crystal Moselle´s movie Skate Kitchen written and directed by her but you won´t belost if you skip it and get directly into the show.

Season 2 of Betty, a fun and charming HBO dramedy about this group of female skateboarder friends, clearly filmed in those really cold and hard months of New York when the city was largely shutdown due to the pandemic, i for one was not fully on board with shows and movies taking on this subject or to see anything else about it as part of their storylines, but i didn´t care because it kinda works on the show, it seems like it clears the streets for the girls so they have more space to just skate, which is basically all they want. On the other hand, i think Covid could have made it more complicated for the way the characters interacted with each other regarding their own storylines and what Crystal wanted to do with them, specially because a lot of what they care about exists in spaces controlled by men, now more than ever.

However, Crystal manages to make an even better season, the story is definitely more plot driven, showing the girls chasing different goals. We have Janay (Dede Lovelace) trying to find a new place to skate, Kirt (Nina Moran) still recovering of her broken leg but also becoming some sort of a life guide on how to treat women to her male friends, Indigo (Ajani Russell) trying to pay off her debt to her mother because of the stolen check from season 1, Honeybear (Kabrina Adams) struggling with her girlfriend after she insists to bring a third person into their relationship, but never using words of course, and Camille (Rachelle Vinberg) is navigating on how to be respected while making videos for an appareal company that clearly does not care about skateboard at all. A lot of the characters arcs this season involve a spiritual quest, the perils of selling out when all of the odds are already against you and you don´t have a better option and different ways women are sexually exploited and disrespected. As before, Betty remains mostly a comedy in how they handle these subjects but an unexpected potent drama that sneaks up on you.
Kirt is a big part of those laughs, specially as her lessons to the skater boys about how to treat women better go off the rails. But there´s also a bit of a dark storyline with Indigo when she attempts to become a "sugar baby" spending time with rich older man in an unspoken financial arrangement that doesn´t necessarily require sex but you can see it navigate in this thin line that stays uncomfortable for us watchers and dangerous for the women involved, specially Indigo. I don´t really know anything about New York but i can imagine Janay looking for an indoor skate place has some city humour intention which ties up with a reference to Skate Kitchen as the place where her cousin Jzabel (Roblé Ali) cooks for the homeless. Which also props to the creators that make us feel like we are a part of the city even if we´ve never been there. Honestly one of the best things about the show is that the stakes are super low, however not the emotional ones, those can sneak up on you at any given moment, from Kirt´s rare serious moment when she says: "I'm just a person who has emotions that make me feel so damn much." To Indigo´s scene where she allows a man a sexual advance towards her for money, making her spiral and blow up at everyone.
We also got to see Honeybear struggle to communicate with her girlfriend Ash (Katerina Tattenbaum) as we clearly read between the lines of not wanting to have an open relationship but also not knowing how to say so. One of my favorites from this season has to be Camille, because even in only 12 episodes counting season 1, we can clearly see her character development from this shy girl looking for everybody´s approval, mostly from men, by the end of season 2 we hear her say: "I'm over feeling like I have to prove myself to these people and to everybody," she genuinely just cares about skating for it´s own sake. And also, even thought her character is not gay, nor do we have conformation she is, this world feels very queer, and very special, all the different women making it are responsable for it so big shout out to Crystal Moselle and writer Sabaah Folayan, thank you for a great season of Betty. What do you guys think? what are some of your favorite moments from this season? Let me know in the comments below.