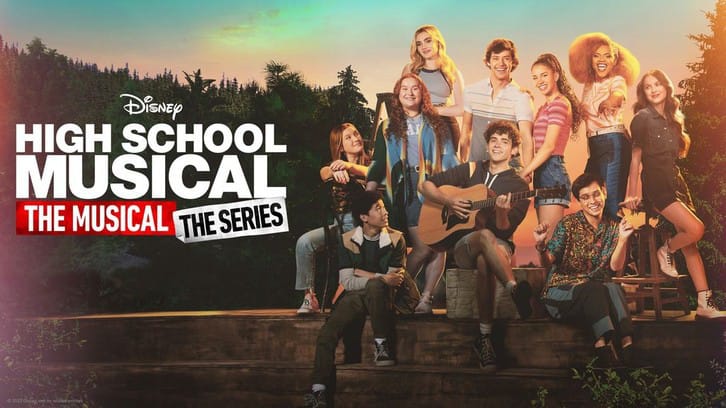 It's the season finale, and the end of Beauty and the Beast for the Wildcats. Time for one last song, which I instantly put on repeat after watching the episode, but more importantly, it's time to find out how the Wildcats will end their semester and where their journeys will take them next. Let's dive in!
The cliffhanger from the previous episode is resolved at the start of the episode. Unfortunately, we don't get to see what the Beast's transformation ultimately looked like. We merely hear that it was "passable", though the Menkies judge looks quite pleased with the performance. It's a shame the writers decided to skip the transformation itself, as I really would've liked to see it after all that build up to it.
Big Red and Ashlyn
Something we did get to see was what Big Red has been up to when he wasn't on stage last episode. As it turns out, he was creating a sign with Ashlyn's name in lights. While this couple doesn't get much screentime in the finale, this moment still closes their story of the season quite wonderfully. Ashlyn needed an episode to come around to Big Red's aspirations in life, but ultimately showed her support for him by wearing a shirt of his parents' pizza shop. Big Red similarly struggled with Ashlyn's bigger dreams, but his insecurities were more about feeling like he wasn't enough for her. In the finale, he shows her that he fully supports her dreams and that he believes she can achieve them. It's heartwarming, and it bodes well for their future as a couple.
Kourtney and Howie
Kourtney and Howie also get their moment in this episode. Howie explains to her that his nervousness in the last episode was actually about him being intimidated by how talented she was. Given how talented Kourtney is, that's a very understandable reason. His explanation removes any last doubts Kourtney has about them as a couple, and she invites him to the afterparty at Slices. While this is certainly a sweet scene, I have a hard time fully believing Howie. With the truth about what happened to Ricky's harness still up in the air, I can't help but wonder if Howie was involved in that scheme. I really hope he wasn't, but this scene didn't manage to erase my doubts.
Mr Mazzara and Miss Jenn
The mysterious phone call Mr Mazzara received in the previous episode turns out to be from Caltech. To thank him for what he's done for him, EJ got his father to recommend Mr Mazzara for a spot in Caltech's doctorial robotics program. It's a sweet moment that highlights EJ's character growth. Mr Mazzara helped EJ really look at the people around him and find purpose in life beyond going to Duke, and in turn EJ wants to help him make his dream of going to Caltech come true. But Mr Mazzara can't just accept the offer so easily. Miss Jenn is still a reason for him to want to stay at East High. And after two seasons of a slow build up, he finally tells her so.
They have both been wondering what this thing was between them, and now all cards are on the table. But Miss Jenn, just like Mr Mazzara, is caught between two offers. Earlier, she talked with Ricky. They acknowledged that what she said to him earlier was wrong, but he has already forgiven her. In fact, he has come to realise that no one should tell others who they can or can't take a chance on. Which is why he gives Miss Jenn his blessing to date his dad if she wants to. So now it's up to Miss Jenn to decide what she wants for herself. She certainly has two great options now.
Another big moment for Miss Jenn comes when she presents the envelope with the Menkies nominations to the Wildcats. The group already discussed what they wanted to do amongst themselves, and they bravely tell Miss Jenn that they don't want to compete anymore. Earlier in the season, Miss Jenn probably would've been angry or would've tried to convince them to keep going. But after her horrible remark to Ricky during the show, she's come to realise that she put her personal issues over the wellbeing of the group. She wasn't lifting up her students anymore. So when they tell her they don't want to compete anymore, she's relieved. Because at the end of the day, it's all about having fun and being the best versions of themselves. Sure, I was a little curious what the Menkies judge thought of their performance. But I always prefer character development over plot, and I think this writing choice was the right one, as it closed Miss Jenn's arc of the season perfectly. Why should it matter what a nameless judge thinks of the Wildcats? They put on a great performance that they can be proud of, and that's all that matters.

Ricky and Nini
Just like in last season's finale, Ricky and Nini end up in the dressing room together. This time, it's to give each other the cards they wrote for each other. As they read them out loud, they realise they are quite literally on the same page, having both written almost the exact same thing for each other. For so long, it felt like they were out of sync. But in this moment, it seems that's no longer true. However, it's just for a moment, as Nini remarks in a callback to 1x10.
Ricky and Nini are still on different paths right now, and they have a long way to go before they could even consider the possibility of becoming an us again. They both know this, and it's a testament to how much Ricky has grown this season that he lets Nini leave the room without trying to fight for them one last time.

Nini's road is about finding out who she wants to be. The finale helps her do so in two ways. Nini consoles a heartbroken Gina and helps her regain some of her confidence. Gina tells Nini that she's been lifting people up all day, and the two finally clear the air in regards to the cholates incident. It's a really sweet moment between these two former rivals and shows just how far they've come. I'm glad that the finale took the time to solidify a friendship between the two of them. Hopefully we'll see more of that next season. And speaking of that friendship, it leads to a new opportunity for Nini. Gina gives her Jamie's number, who could potentially help Nini get a proper start on a career in music. It seems Nini may very well be on the same path as Olivia Rodrigo.
Ricky, on the other hand, wants to believe people are worth giving a second chance. His story this season was about letting go of his first love. Now he's ready for a second chance. Which is why, after Lily tells him she likes him, he decides to give her a call. However, the secret that she stole his harness still looms over them. He has no idea that she hasn't changed much at all. Their romance seems doomed from the start, but I'm still excited to see where this story will take both Ricky and Lily in the next season.

EJ and Gina
EJ still thinks Gina only sees him as a brother-figure, so when she excitedly comes up to him and tells him she's ready to head out, he cancels their date. While both try to play it cool, it's clear the cancelation hurts both of them. In her scene with Nini, Gina is in tears and has once again started doubting herself. She said she had this "big dumb plan" to go on a date with EJ and then calls her own energy "off-putting". Her state of mind in this scene reminded me a lot of the scene in which she confessed her feelings to Ricky. She was crying the entire time and called herself stupid for doing so. Both rejections hit her hard, and it's heartbreaking to watch it impact her self-esteem in such a big way.
Thankfully, the finale doesn't end with Gina still in that state of mind. After EJ sneaks out of the afterparty, Ashlyn comes to talk to Gina and says she would've given her different advice if she'd known she saw EJ as a big brother. This immediately clears up the miscommunication between EJ and Gina, and Gina rushes outside to speak her truth to EJ. While her previous confession of feelings left her crying and heartbroken, this time she's happy and a little nervous as she asks EJ if he'll be her first kiss. And he, of course, reciprocates, as her words finally restore his confidence and let him know that she feels the same way he does. The two start running towards each other, just before the season ends in what may just be the most frustrating cliffhanger I've ever seen. While I get that the writers wanted to leave their first kiss up to the imagination, I'd be lying if I said I didn't really want to see it. Here's hoping season 3 will more than make up for that one missed kiss!
All in all, I think the finale was a rewarding end to a fantastic season! It had great songs that I will be replaying for a long time, incredible performances from its cast, and great character development that was a joy to watch. Hopefully we'll get a third season! I certainly want to see more of this wonderful and heartwarming story.
What did you think of Second Chances? Let us know in the comments!