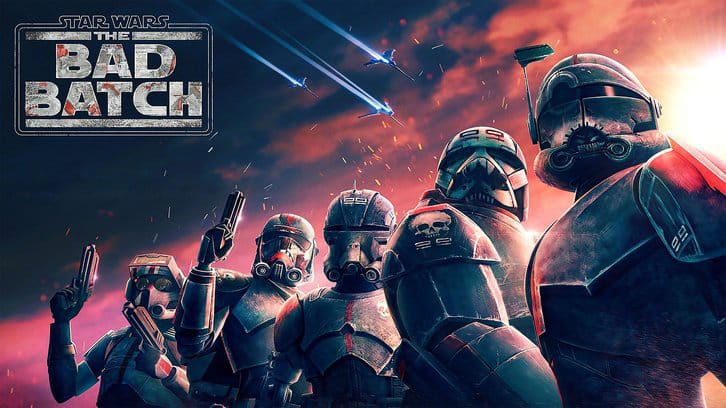 The Bad Batch 1x12 "Rescue on Ryloth" – Review:

Rescue on Ryloth is an exciting continuation of the two-episode Ryloth arc that has dominated much of this Bad Batch first series. Hera brings in Task Force 99 for a conflict that sees the team eventually rescue her parents, captives of the Empire who have taken control over the planet whilst also planting seeds at a deeper Clone rebellion – even if the issues that I have with the series remain in that the Batch themselves are more background characters than anything else.

Crosshair is a sinister villain as ever and really adds to the threat level that the Ryloth group face especially as he knows the Task Force 99's tactics and can counter them at any given turn, he's a watchful observer, lurking in the shadows and acting incredibly menacingly whenever he's on screen. We know what he's capable of – but the real MVP of this episode is Howzer, the Clone Captain on Ryloth.

Although we don't know too much about him thus so far, it's a test of morals that more than just Task Force 99 have to live with – and his conflict between Cham and Eleni and Admiral Rampart represents a fascinating moral dilemma -after all, why are they being asked to now occupy a planet that it was their job to liberate from the separatists? We're seeing very much these characters at the start of the transitional phase before they became heartless Imperial soldiers – the inhibitor chip is very much not completely active in Howzer and very much not operational 24/7 like it is with Crosshair. Whether that lasts, we'll see – but at least they didn't go down the route that I was expecting and have Howzer be killed by Crosshair straight away.

I'm not wholly convinced by this constant need to push Hunter to the sidelines and create a divide between Hunter and Omega just yet. Hunter being reluctant to get involved in the Ryloth rescue because it's dangerous puts him at odds with almost every mission that the Bad Batch have done so far.

Rescue on Ryloth succeeded in establishing the world building and character development for Hera if not keeping the spotlight on the Batch themselves. It's still an entirely predictable affair – but there's enough heart here to keep The Bad Batch engaging. And now, Crosshair is gunning for the Batch directly…

The Bad Batch 1.13 "Infested" – Review:

It was only a matter of time before Cid ran into some trouble of her own back as Roland ends up kicking out Cid from her stronghold. Omega acts as the group's consciousness once again in kickstarting another mission for them that sees them head into thwart Roland's operation – expanding the crime syndicate of the Star Wars underworld and nesting our heroes right in the middle of it, it's a world removed from the more glamorous quarters of the high republic strongholds.

I do feel like this episode should have probably been maybe placed before the Ryloth arc instead of it, it stands out as a filler episode and a gap-bridger and a cool-down after the two parter episodes we've just had before the end of the season, which we've almost reached now – there's only a few more episodes left before the finale and we're at the end of The Bad Batch's run (and still no Jedi since Order 66, I'm impressed!), but we do get some involvement as the potential start of a Pyke-centric storyline in addition to some much needed development, and sympathy for Cid, who has lacked some up until this point.

Roland taking over and taking on Ruby as a trophy pet gives a more sinister side to him than expected and it seems that he's even deadlier than Cid as someone who lacks honour and refuses to keep to his word. Roland and Hunter's meeting is hostile from the start – and it isn't long before Cid puts a plan in motion to get her back on top. I do like this one for me, one for you approach that The Bad Batch has been doing so far this season, uncommitted as of yet to any one side – obviously they can't do missions for the Empire but the criminal syndicates and Cid are the next best thing to the anti-heroes and straight-up villains in this show.

One thing that I do like about The Bad Batch is that – and The Mandalorian to a lesser extent, is that it's setting up stuff that will payoff later. We've already seen the Pykes in The Clone Wars and Solo, and The Mandalorian is spending plenty of time setting up the sequel trilogy. It's almost as if both shows are prequels of their own, the new post-prequels that we've come to expect from Star Wars as of late. But it's great to see The Pykes get more attention and they're purely terrifying opposition.

Omega needs to have more to do than just be the group's conscious and needs to take on a larger role rather than being pushed to the side. If she can avoid getting taken hostage on top of this, then The Bad Batch will find something interesting with her character – but there's only so many times that Omega can get taken hostage before it stretches the point of credibility, even if she's Task Force 99's obvious weakness.