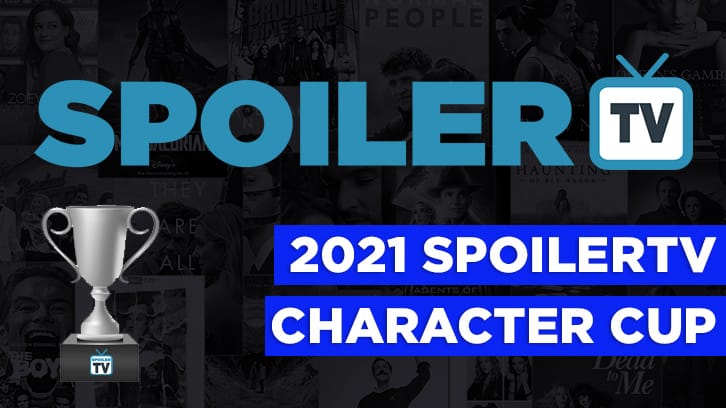 Updated: A list of "bubble" shows are in the comments section.
With the Favorite Episode crowned, it's time to start the 2021 Character Cup. Woooo hooo! This is my favorite part of the summer hiatus and I hope you'll join with me, cheering on your favorite characters and talking TV. A well-written and well-acted character can transport us to new worlds, inspire us with new experiences, and help us understand new perspectives. A well-crafted character comes alive until we care about them almost like a real person. The Character Cup highlights and honors all those characters. So reflect back on all those characters you just can't forget, from those whose shows have long ended to those still on the air. It's nomination time!
Note - I cannot stress enough how important the nomination phase is for your favorite characters to get into the Cup. It has taken as few as 3-5 nominations for a character to get in some years so don't forget to talk the nomination stage up to others and, of course, let us know who your nominations and honorable mentions are in the comments below. Don't forget to read the nominating rules so all yours count. Best wishes to all of your favorites and let the contest begin!
What's the Same:
The Character Cup works similarly to the Episode and Series Competitions. 64 characters compete head-to-head, with the winner advancing to the next round until only one is left. If you haven't participated in the Character Cup on SpoilerTV before, it's simply a way to show your favorite characters some love and pass the time until the fall season starts. There's nothing serious about it, so please, enjoy.
What's Different:
To help include more fandoms, each show can only be represented by 1 character and only 1 character per actor. Also, once a character wins the Character Cup, they are retired and cannot be a part of future Cups. This ensures a new victor each year. If we have a tie at the nomination stage, nominating and ranking polls will be held as necessary.
The Character Cup also has 3 added features. There is a prediction contest where you can try to predict the winners. A mini-contest runs concurrent with the Cup as it comes to an end, so more people can stay involved. Previous mini-contests included Favorite Vehicle, Favorite Villain, Favorite TV Theme Song, Favorite One-Season Show, Favorite Finale, and Favorite TV Animal. I'm looking for suggestions for this year's contest.
My favorite addition though is TV Talk. Each day there is a new TV topic to discuss so even if you don't have anyone to vote for that day, you can still be part of the conversation. If you have any topic suggestions, please nominate them. I can't wait to talk TV with you.
Rules: PLEASE READ
1. Only 1 submission per person. If you submit multiple times ALL of your submissions will be removed. Only nominations with both the character AND the TV show will be counted. Also please use the character's first and last name if you can. If a character is always called by their nickname, that works too.
2. You have to nominate 3-5 characters on the same nomination form. Any more or less will invalidate ALL of your nominations. They can be from shows currently airing, those long ended, and everything in between. Only characters from scripted, English-language shows or non-English language shows covered by SpoilerTV are eligible though.
3. Nominating more than 1 character from the same show or more than 1 character per actor will invalidate ALL of your nominations. If a character is a main character in a show and its spin-off/sequel, the character will be considered as being from both shows.
4. Please do NOT nominate Jack Shephard (LOST), Dean Winchester or Castiel (Supernatural), Root or Sameen Shaw (Person of Interest), Alex Danvers (Supergirl), Lucifer Morningstar (Lucifer), Lexa (The 100), or Temo Lopez (Mi marido tiene más familia). These characters are already past winners and therefore cannot run again. Any nominations for them will be invalid.
5. Nominations will close around noon CST on July 1.
6. Questions? Ask in the comments below.
Tentative Schedule:
Nominations - close at noon CST on July 1
Nominating/ranking polls - July 1 or July 2 for less than 24 hours
Prediction contest - begins July 3 and ends July 5
Character Cup - begins July 5 or July 6