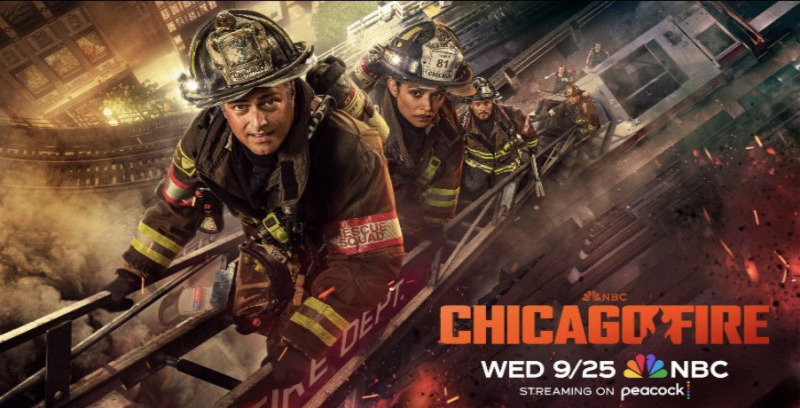 Hello Chicago Fire fans! I have come here with a mea culpa, I have been woefully tardy in my reviews and I apologize. Life in the pandemic world is crazy, and things have changed a lot. One thing that has not changed is my love for this show, so let's discuss a few things, shall we?

Season 9 And Still Thriving:
Does anyone remember when this show premiered in the fall after the 2012 olympics? I loved it instantly, but I do remember slight cancellation jitters as the weeks wore on. Now look at us? Season 9 and
three
spin-offs later, Chicago Fire continues to bring it. This season has been no different when it comes to what makes the show, the show. Whether it be Stella helping get Kylie a job and chief wanting to nurture that, or Ritter and Gallo getting Mouch to speak at their young firefighter get together at Molly's, there is still nothing like a 51 feel-good moment.
This year, the calls have had a mix of about everything. Of course we've had Severide once again solving suspicious fires, which at times can get stale. I get why they do it, but they make the CFD arson department look like they are there for show! One of the more poignant stories was Chief Boden helping the retired police officer with Alzheimer's, I thought it was very well executed and gave Chief a storyline that reminds us of how amazing he is.
We also got a bottle episode this year! The episode with Cruz and Herrmann trapped in the freight elevator was extremly well done, and believe me, when I saw the preview I was skeptical. The way the writers made us live in their shoes, listening to the radio unaware of what the outcome would be for everyone on the outside, was masterful. We also got the reveal that Joe and Chole are going to be parents! The moment of Herrmann imparting his wisdom on a nervous Cruz made the episode that much better.
These are just a few of the examples I could thing of. If you have some highlights, please share them below! Now on to the good, the bad and the frustrating in the world of shipping.
Boys Can Be Dumb....
Let us begin with this guy right here. Now Severide had vowed to be a better man for Stella and has mostly lived up to it, until a crusty old member of the CFD got in his head about how fast Stella was moving up the proverbial CFD food chain. Severide backing off and giving no reason whatsoever just seemed reductive and frustrating. Their love story has had enough turbulance and watching Stella wrack herself with questions and doubt was just ridiculous. It is nice to have Kelly's support, but the fact that she almost backed off her pursuit of becoming a lieutenant because he was closing himself off just seemed very out of character.
Thankfully a teenager (Kylie) knocked some sense in to Severide and they made up. Was this their last big hurdle before a possible engagement? Maybe, but are any of us really hoping it gets there? Since when has a lead in the franchise made it down the aisle with happy results? I will wait.....
Now on to this sweet, yet very frustrating man. Matthew Casey continues to get in his own way when it comes to moving on. Brett and Casey's dance this season has been so up and down and yet, I still cannot get enough. In a way, it is good they are making the issue of history be the focal point of why it isn't so easy for them to get together. They have some daunting hurdles to clear for this to feel right. I would argue that Casey
has
made his choice by failing to leave with Gabby
twice
. He is a man of action not words, so I would say actions speak louder here. When Brett and Casey almost fell into bed and she stopped it, I did respect the hell out of Brett for knowing her worth and wanting to know where his head was at. That had to have been hard when both clearly wanted it to go further. What followed after has been a frustrating dance with third parties and longing looks, and it better have some kind of resolution soon.
Brett also needs to believe that Matt wouldn't have formed these feelings if he didn't believe in his own way that he wanted to move on. Love comes from the most unexpected places whether one is prepared or not. When she angrily confronted him about his treatment of Greg, which was 100% justified don't get me wrong, her reasoning about it being due to Gabby was a bit off the mark and a stretch in my humble opinion. His abhorrant behavior clearly had nothing to do with lingering Gabby feelings, it comes from his fatal flaw of bottling up his frustration until it boils over. Is this healthy? Of course not! And he practically acknowledged as much when he spoke with Severide about his health, and he needs to work on that.
I also want to say something that may be meant with some friction, but it has been on my mind, so here it goes..... I don't think Brett and Gabby are what I would define as best friends. Why? Gabby did not say bye to Brett in person when she left, which made Brett upset and sad because of how they left things. Then she gets an old picture as some kind of cutesy way of making up. Additionally, the show has made no overatures that they are even still in contact. Yes, they seemed fine when Gabby came back last year but it seemed more forced. Best friends in shows I have seen in the past do not behave that way. So, is it time for Brett to trust in herself that the risk of being with Casey, whom she clearly is in love with, is worth the optics and doubt? That is the rub isn't it? We did make progress last episode with Brett being there for Casey during his ongoing health struggle, and you cannot deny the spin and hug moment was something a platonic pair would do. Here is hoping these two find their words soon!
Odds and Ends:
* How did you feel about them bringing back the topic of Casey's head injury? I will admit that some aspects of it scare me even though he has been cleared. Specifically, him holding on to that watch. Does he sell it and give the money to Christy for his niece Violet's college perhaps? This would indicate he doesn't want to repeat history and move on. I don't want it to seem that I don't acknowlege what Dawsey was, I do, I LOVED them. But she isn't here, maybe their love is just a beautiful chapter in his life. It happened, no one can take that away, but sometimes people just aren't meant to be in the long run. They loved each other enough to let go physically, and if Jesse Spencer isn't leaving any time soon, is it really fair to keep Casey in this limbo?
* After only 9 episodes, we once again lost a paramedic in Mackey. I did really like her, but the actress needing to leave the show and the writers giving her a good exit story was nice. Now I just hope they hang on to Violet for the long haul.
* The outside addition to Molly's has been a great way to get around social distancing.
* Who else died of laughter at the outcome of Cheif's parking lot feud? Not what I was expecting.
* We didn't get a big crossover this year for obvious reasons this year. Do you think that helped or hurt the season?
That is it for me.... I will be back next week with a review of tonight's episode! Share your thoughts on the season thus far below, but please keep it classy in the comments about shipping. No matter your stance, I want to hear it! Tune in tonight for a fresh episode of Chicago Fire.