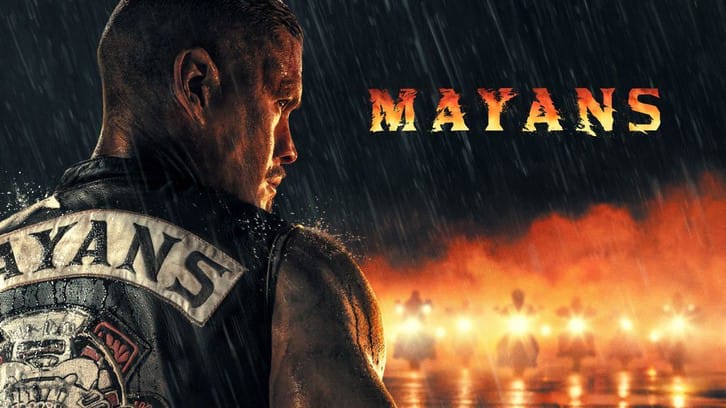 Mayans MC
"Dark, Deep-Laid Plans" was written by Debra Moore Muñoz and was directed by Elgin James. There was lots of action in this episode, but the show is still setting up a lot of conflict still to come. I was thrilled to see Natalia Cordova-Buckley as Laura in this episode. It's unclear that we'll see more of her as Taza (Raoul Max Trujillo) goes to her to try to find her brother – Pablo! (Salvador Chacon) – clearly to get more information on what Los Olividados is up to. Both Reyes brothers appear to be unlucky in love in this episode…
The club manages to pull of the 'Bridge Over the River Kwai' by essentially building their own temporary bridge over the wall while kids with fireworks create a diversion. I loved that the wall was taller than they expected - and they had to improvise with EZ (JD Pardo) making a spectacular jump with less than a minute to spare. Let's also take a minute to really appreciate Prospect Steve (Momo Rodriguez). I loved his the cow is ready for milking comment! EZ manages to fulfill his promise to Bishop (Michael Irby) and deliver the heroin to Ibarra (Mike Beltran), who is full of praise for EZ and pledges to help him any time in the future. When Ibarra gets back to his own clubhouse, the rival chapters are there to greet him… that can't be good…
Coco (Richard Cabral) continues his downward spiral, alienating more and more of the club. Everyone knows that something is wrong, but EZ continues to cover for him. Coco manages to steal the kilo of heroin Isaac (JR Bourne) demanded and ends the episode back at the space trailer park in Hope's (Vanessa Giselle) arms.
Miguel (Danny Pino) continues to pine over his mother and finds a picture of her with his father and Felipe (Edward James Olmos) in a book. He flies out of the house, leaving Erin (Holland Roden) and Emily (Sarah Bolger) wondering what's up now. He goes to Felipe to get answers, but really just gets a nice story about how much his mother used to like to dance – and that she wasn't very good at it. It does, however, finally seem to give him peace. Olmos steals the scene, however, when he hugs Miguel goodbye. He clearly wants to claim him as his son, but knows he never can.
Erin seems to be bent on getting Emily away from Miguel. The two have been hitting the wine, and it seems like Erin is making progress when Miguel comes home and clearly wants to make it up with Emily. Nothing like having your mistress kick you to the curb, eh Miguel? Alveraz (Emilio Rivera) walks in just at this moment, but realizes that it's important for Miguel to get back on track with Emily, so holds back on telling him that Lobos Sonora have killed Juan Denver (Keong Sim) and destroyed a bunch of heroin. Lobos Sonora are now totally the bad guys! THEY KILLED JUAN DENVER!!!! Boo!
Adelita (Carla Baratta) is still struggling to deal with her torture. So naturally, Angel (Clayton Cardenas) decides this is the perfect time to propose. He leaves her alone for the day with the ring to decide. He clearly thinks that she'll say yes by the time he gets back. While he's away, she does put the ring on and seems to be trying on the possibility of this life – along with his clothes. However, by the end of the episode, she transforms herself – by shaving her head (bad look dear…), and is gone by the time Angel comes home to find the ring back on the table and an empty house.
At Angel's urging, EZ decides to "go for it" with Gaby (Sulem Calderon). She's been helping Felipe all day at the store, and EZ shows up to drive her home. She says she's wearing a dress and can't go on the bike… so Felipe throws EZ the keys to his truck – how do you not love Felipe!?!? I also love how much he clearly adores Gaby. She is still resisting getting closer to EZ. He gives her, her own cutlery to use at his house as a peace offering. She's still not sold. He pulls over to get her some churros and on his way back, a biker comes out of nowhere with a gun! Gaby warns him just in time and both go down in front of the truck. There's a shot and then EZ jumps in the truck and tries to get out of there, telling Gaby to keep down. The biker gets up and comes after them, firing, before he's hit by a van! EZ takes off and finally pulls over terrified that Gaby has been hurt – but it's EZ that's been shot!!!!!
It was a totally shocking end to the episode! This episode really moved along at a good pace. The character scenes were nicely balanced by the action. I thought this was the best episode of the season so far. I'm curious to see how Gaby handles the look into what EZ's life is really like. Will she be able to handle it? I'm not convinced that Adelita and Angel can be a good match. He has a good heart, but I'm not sure that he's her intellectual equal, so could they make it work? What did you think of the episode? Let me know your thoughts in the comments below!