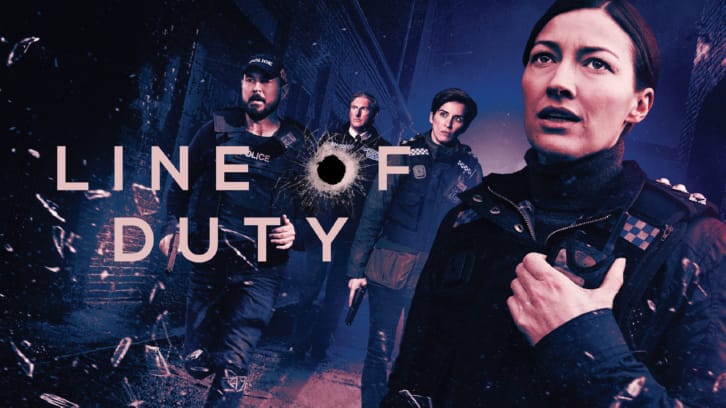 Line of Duty delivered an episode that was very much of two halves – culminating in a fairly standard second act that was very much a typical of the series, but it brought its A-Game to the table in the form of a stellar opening 15 or so minutes that was probably the most tensely packed hours of television that I've seen so far this year. Everything was incredibly on edge and thrilling practically from the word go, Ryan Pilkington, dodgy copper and most-punchable-face award winner 2021 almost succeeded in taking out poor, framed Terry Boyle, but for the intervention of Kate – and Ryan is able to spin the situation on his head so he comes out of the heroic rescuer of Terry rather than his killer, even if he couldn't save an officer in the process. Gregory Piper does a stellar job in making Ryan so detestable when put under interrogation by Kate – who knows the truth about who he is. Now it's all a matter of proving the link – full credit for Jed Mercurio for not wasting too much time in getting the characters up to speed with the audience. Line of Duty has bigger plans than that.

Kate's loyalty is questioned over the course of this season as she finds herself torn between Jo and AC-12, but isn't above informing AC-12 of the current situation concerning Jo's commanding officer, DSU Ian Buckells. After he awards "family friend" Ryan with a condemnation and trots him out in the cameras like his golden boy, he's hauled in for questioning after tampering with the evidence that led to Beechwood House being without surveillance for several hours as Jo walks away, exonerated. She's free, and in the clear – especially when Vella's files are found in the boot of his car. The episode ended on a sinister note, with her emailing an unknown figure who we've seen crop up in the past: H? "It's all under control", Jo tells the anonymous emailer. Her character has been too suspicious from the start to be fully innocent, and normally, when Line of Duty goes in hard to clear someone's name, they turn out to be the guilty party later. That's very much the case here: we haven't seen the last of Jo, and she could even be a key lead in AC-12 leading to H's investigation.

We're not quite sure yet what the identity of H is which could mean to multiple scenarios, a common fan theory has speculated that it's one of the three AC-12 members. But AC-12 has already undergone heavy H-related questioning with Ted Hastings already having his name cleared. But he's the only innocent party. And presumably Steve, too – he has problems of his own, a misguided hook-up with Steph Corbett continues Steve's dodgy track record of hooking up with women involved in his cases, as he battles personal problems of his own. That leaves Kate – is she being played by Jo, or is she manipulating the scenario to serve her own agenda? We don't know yet – answers, presumably, may come in episode four, which has been hyped up as one of the series' best episodes yet by pretty much everybody.

The reservoir stunt is the highlight of the episode by far; it's a fantastic Line of Duty set-piece that keeps you on the edge of your seat from start to finish. A real contrast from the rest of the episode, but it was not without its merits, it was a episode of personal turmoil for Steve whose comment about sharing a takeaway with Kate really highlighted the fact that he's missing the Camaraderie that the two had on previous seasons of the show, and he's not alone in that regard – we all are, and it's something that Mercurio is very much aware of, delighting in scenarios that put the three together and watching their established dynamic soar.

Gail Vella is potentially going to be the one that ties all the thread of corruption together, it's why she was killed in the first place. Her questioning of Chief Constable Osborne (Steve's boss from Series One before he joined AC-12) and interviewing of Rohan Sindwhani, the Police and Crime Commissioner, was questioned about Patrick Fairbank (Series Three), raising questions about why there was no enquiry about police collusion with Fairbank. AC-12 are getting closer and closer to the truth – they're just missing the evidence that ties it all together. Hastings' link to the past about H is brought up again in this episode; and he's capable of calling off zingers that are classic Line of Duty catch-phases. His officers' actions are "determined by one thing and one thing only, the letter of the law. The letter," Hastings enthusiastically tells DCC Andrea Wise. She's not happy with AC-12 continuing investigations into old battles, but if there's one thing that Hastings knows – given his name sharing the connection with the Battle of 1066, he's an epitomy of an old battle. These zingers – police corruption and all, are still the most exciting moments of Line of Duty, and you can't help but take delight in how convincing Dunbar delivers them. Crowd-pleasing moments, if there ever was one. The question remains: does Wise know more than she's letting on? It seems likely, she is linked to Rohan Sindwhani after all.

More information about Terry Boyle is pulled to light again – the criminal organisation moved into his home and used it as a base for drug dealing and other activities. But links are being closed at every corner; no longer is PC Farida Jatri willing to come forward about Jo after an incident in police custody that sees her placed in hospital – Jo is quick to clamp down on any past relationship between the two, raising greater doubts about her innocence. She's already a proven liar.

Line of Duty provided a perfect example this episode of why it's best watched as a collective series rather than jumping in each season with plenty of call-backs to past events. The forensics over Boyle's freezer gave credence to this: the results found a deposit which is a 99.9% match for Jackie Laverty, in a callback to Series One – her remains in turn were found with that of John Corbett's, and we're still mourning the absence of the terrific Stephen Graham, who brought a real edge to Series Five that was one of its biggest strengths despite being killed off in episode four. Steph herself may not be in the clear yet, dealings with her and Hastings raise suspicion for Steve on another visit, and Steve finds some money in the attic tucked away – is this what Steph had left from Hastings?

Regardless, the situation for AC-12 and Jo Davidson, is far from "under control", and if the show's previous track record is anything to go by, Line of Duty is gearing up to kick things into second gear in episode four.

Line of Duty continues tonight and is available to stream on BBC IPlayer now in the UK.