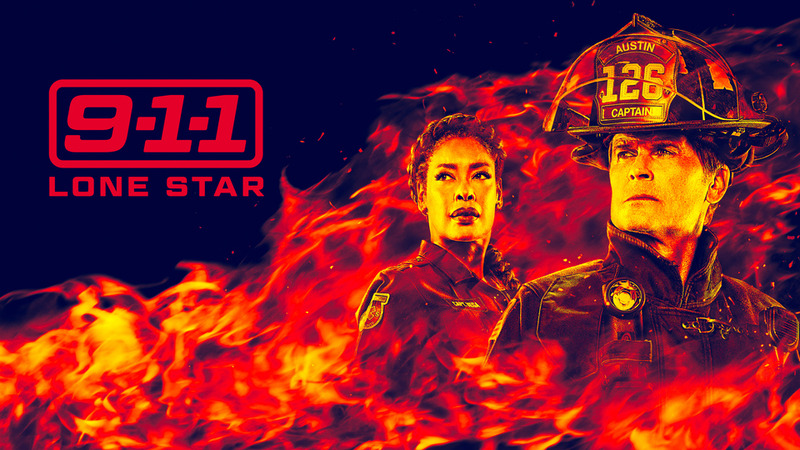 911: Lone Star returns from its hiatus with its very best episode in the series. It's own type of Grace & Judd Begin episode, "Saving Grace" introduces us to young Judd and Grace, and shows us how they got to the place they are now.
The episode starts off extremely tense when we see Judd and his friend Cal, both as young boys, getting into a street race with another car. The car ends up crashing, and as a result, Cal dies. Knowing that Judd has grown up with this guilt was absolutely heartbreaking. To then to see Cal's mother's reaction when she calls 911, and it brings it all back up for Judd as an adult, was even worse.
We all do things as kids that we're not proud of – maybe not that severe, but still. Knowing that Judd told Grace what happened, before they even knew each other, really, and knowing that she still accepted him for him was absolutely priceless. There's also the fact that Judd stated when he first called Grace on the crisis hotline that he wasn't much of a talker and then he called her day after day just to talk to her. Judd and Grace are the best couple on Lone Star.
Their backstory was one of the most original and organic ones I've seen, with them having a falling out and finding their way back to each other. Their meeting at the bar after Judd finds out Grace isn't working at the prayer hotline anymore was one of the most beautiful things that has happened on this show.
Plus, finding out what Judd's hand tattoo means was something I never thought we'd get to see on the show. I think hand tattoos are kind of tacky (sorry, y'all), but finding out the meaning behind this one – that Judd got it as a sign of moving forward and to remind him of Grace, I'm sure – made it mean so much.
Seeing Tommy and Judd working together in 2012 was also so sweet. We got to see how their friendship has bloomed as well, and how much they really love each other. They've both been through so much together, and I think it worked so well in Judd's favor that Tommy was the one to calm him down when he woke up after the crash.
Now, in the present, Grace still hasn't woken up and that has everyone freaking out – rightfully so. She was under the water for six minutes, and as Judd notes, brain damage can occur when you're under for four. Then, everything is turned on its head when we find out that the man who caused their accident and also crashed into a convenience store later that morning, is in the same hospital, a few rooms down.
Owen ensuring that Judd is okay when he finds out this news is sweet, but Owen… come on. You thought Judd was just gonna hang back while his wife is in a coma and the man who caused it has a simple broken leg? Please.
As expected, Judd enters the man's room and lets him know that he's possibly taken away the greatest person Judd has ever known. When he starts choking him, Owen enters to let him know that Grace is awake and asking for him. Judd looking back at the man, after telling him that Grace has saved over 2,000 lives, and letting him know that "Grace just saved your life too," gave me full-on chills. It was such a small sentence, but the weight that carries from Grace to Judd, to this man who ran them off the road is immeasurable.
At the end of the episode, we find out that Grace is pregnant, which was a beautiful parallel to the beginning of this episode when they're discussing children right before they crash. Grace and Judd are going to be such wonderful parents and I'm so glad we're getting to see them go on this journey.
We also get a chance to see them come back together in the past, waiting to meet Tommy's girls, and my goodness that scene is so beautiful too. Judd admitting that he lied to Grace, and Grace putting Judd in his place by saying that her father doesn't control her. Then finding out that they're the godparents of Tommy and Charles' girls? I was actually full-on crying.
Overall, 911: Lone Star's best episodes come when they highlight the people who aren't necessarily at the forefront of the show such as Grace, Judd, and Paul. This episode is definitely the best one of season two, maybe the even series.
Some other things from "Saving Grace" that I wanted to briefly mention:
Grace and Judd having chemistry from the very beginning, highlighted the first time they're on the phone when Grace says "maybe you should let her spit in your face," and Judd says "oh, that's really your advice?"
I know there's an eight-year difference between these two scenes, but you're telling me Grace's dad had the nerve to tell Judd that he wasn't right for Grace, and then cheat on her mother and ask Judd to hide it from her? The audacity, I swear.
When Judd called the prayer hotline multiple times to speak to Grace and instead of simply asking for her, he hung up and called back if she didn't answer first. That man is whipped, y'all.
What did you think of "Saving Grace"? Are you excited that Grace is pregnant? What was your favorite part of their backstory? Let me know in the comments below!