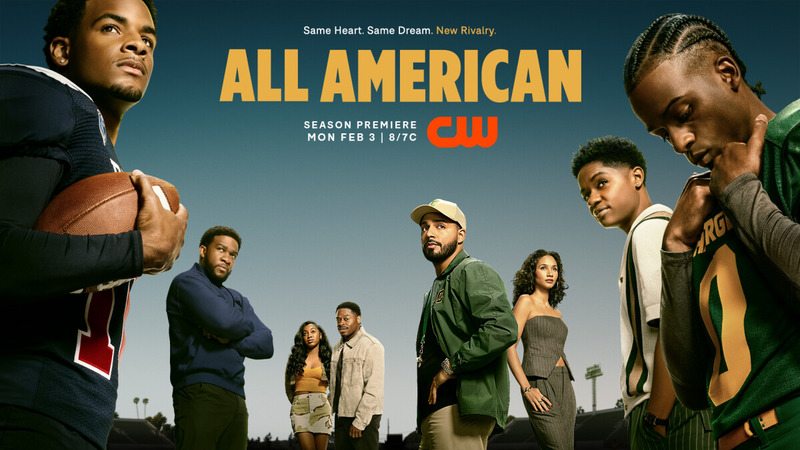 Tonight is the mid-season finale of All American, but before that airs we need to discuss the last two episodes. We finally learned what happened in Vegas! I definitely have some thoughts and opinions, but before we discuss that, I want to briefly review "Teenage Love".
Spencer goes to the cabin to try to figure things out after his fight with Coop. He originally wants to be alone, but everyone else shows up to spend time with him. This was a nice thought, but it quickly takes a turn for the worse. Asher and Layla notice that Olivia and Spencer are closer than ever, and they think something's up.
Things get even worse when they play "Never Have I Ever". Has this game ever turned out well for anyone on a TV show? Olivia gets jealous of Vanessa's connection with Asher, Vanessa gets upset that everyone makes jokes at Asher's expense, Asher reveals that Jordan cheated concussion protocol, and Simone lets it slip that Olivia was in Vegas. Wow. That's a lot of information.
Olivia and Asher have a discussion, and it doesn't go over well. Honestly, I think Asher made some good points. 1.) Why didn't Olivia just tell him he was in Mexico unless she also had a reason to feel guilty? 2.) Summer meant something to Asher, and I think it was kind of a low blow for Olivia to just dismiss his work and believe Vanessa helped figure things out. He is capable of figuring things out of his own. and 3.) They really haven't connected since summer. I have some opinions on Asher and Olivia, but I will wait until the end of this review to discuss them.
Coop arrives at the cabin to talk to Spencer, and the two of them also have a falling out. Coop wanted Spencer to think she could save herself. She didn't need Spencer to save her, and she didn't ask him to get involved with Tyrone. I liked that the show gave us Coop's point of view of Spencer's shooting. I felt really bad for Coop in this scene. I get why Spencer's angry with her, but Coop and Spencer have been best friends for a long time. Losing Spencer is going to hurt her, and I'm afraid of what she's going to do now especially since it looks like Patience may leave to go on tour.
At the end of "Teenage Love", Layla asks Spencer what really happened this summer, and she asks him to please respect her enough to tell her the truth. She knows Olivia went to Vegas, and she knows something happened. She's angry, and I don't blame her. It's way past time that these secrets came out.
At the beginning of "Roll The Dice" we learn that Layla, Coop, and Patience are there on tour, and Layla's dad got an amazing room for Spencer, Jordan, Simone, and JJ. Spencer calls Olivia that night and complains that he doesn't know what he's going to do since he'll be all alone the next day. Olivia surprises Spencer the next morning by showing up to spend time together.
Olivia and Spencer quickly figure out that Jordan and Simone came to Vegas to get married. Spencer and Olivia are clearly against it and try to talk Jordan and Simone out of it. But after feeling bad for how much they upset Simone and Jordan, Olivia and Spencer show up and become supportive. I have mixed feelings about this marriage. I know they love each other, but they're in high school. It worked out for Nathan and Haley on
One Tree Hill
, but Jordan and Simone aren't Nathan and Haley. And while this couple has grown on me, I have a hard time getting invested since it looks like Simone is going to leave for her own show.
I'm honestly impressed that Jordan and Simone have kept this secret for so long. But why? Are they afraid that Laura and Billy will make them get it annulled? But why get married if you're not going to tell anyone? I'm surprised Olivia didn't tell their parents, but that's probably only because she has her own problems to deal with.
Before Olivia arrives in Vegas, it seems like Layla and Spencer are on their way to getting back together. It seems like that's what they both want, but Spencer isn't 100 percent sure. He goes shopping with Olivia and ends up talking to a psychic. While Spencer doesn't believe anything this lady says, Olivia takes it seriously. At Jordan and Simone's wedding, Spencer realizes what the psychic was talking about: he's in love with Olivia.
He tells Olivia that he loves her, and he kisses her. But then she tells him she can't do this and runs out on him. Layla then comes to Spencer's room and they sleep together. I'm relieved that Olivia and Spencer didn't sleep together, but I'm so mad at Spencer. He told Olivia he loves her, and then right after that he sleeps with Layla? And then in the first episode she basically tells him they don't have to be together again, and he says he wants to be with her! Why did he do this to Layla? She deserves better! And frankly, so does Olivia. I think the reason she's drinking is she feels guilty for Spencer loving her. She knows it's going to ruin her friendship with Layla.
I know that Spencer and Olivia have a lot of fans. I liked them at the beginning, but then I discovered I liked Asher and Olivia more. Which leads me to: what was the point of Olivia and Asher? The show built this beautiful friendship between Olivia and Asher, and they were happy together as a couple for like 5 seconds. If the writers knew they were going to put Spencer and Olivia together all along, then they should have just let Olivia and Asher stay friends. Because right now, it's going to take a while for Asher and Olivia to get that friendship back.
At this point, I don't really want anyone to be in a relationship (except maybe Coop and Patience). Layla needs to focus on her mental health, Olivia needs to focus on her sobriety, and Spencer should figure out what he wants and try to get his shoulder healed. And don't even get me started on Vanessa. I'm afraid the show is going to put her with Asher, and I'm not excited about it. I don't think they have any chemistry together, and honestly, she annoys me.
I want to end this review on a positive note, so I will say that I'm relieved that all the secrets are out. For better or worse, Layla knows what happened, and everyone can start to move forward. I am anxious to see what happens tonight and in the second half of the season.
Other Thoughts:
- JJ has been hilarious these last few weeks. His "porta party" cracked me up, and I loved that he ended on the poster at the end of "Roll the Dice". It looks like he made some new friends! I really appreciate his comic relief.
- I loved that Jordan pointed out to JJ that if he and Vanessa got together, their couple name would be "VaJJ"
- I'm still rooting for Billy and Laura to reunite.
- All of the actors have been amazing the last two weeks. Daniel Ezra in the scene where Spencer tells Olivia he loves her, and Cody Christian and Samantha Logan in Asher and Olivia's break up scene were wonderful. I just hope they can have some happier material soon.
What did you think about "Teenage Love" and "Roll The Dice"? Are you excited or nervous for tonight's episode of All American?