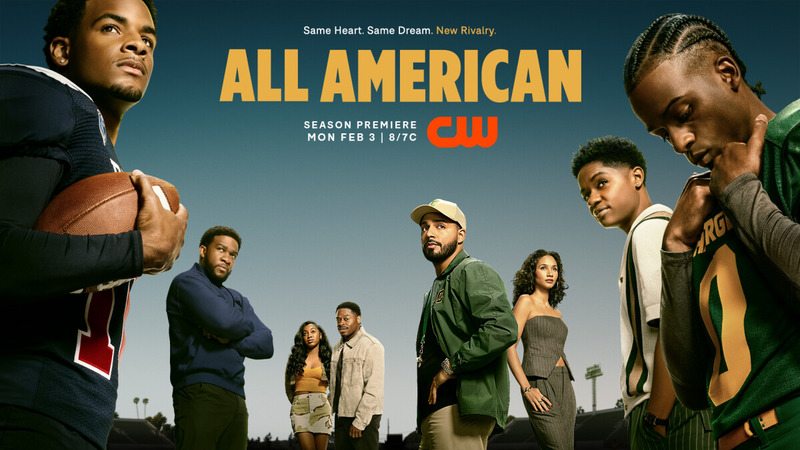 Summer is officially over on All American and everyone is back in school. Jordan and JJ deal with the new football coach while Spencer adjusts to being back at Crenshaw. We also learn more about what happened this summer, but there are still so many questions.
First, I want to say that I am relieved about Patience. Yes, what JP did to her was awful, but I'm glad she wasn't attacked. I understand why she was upset though. He just gave her song to another artist. I do love the idea of Patience signing with Layla, and I think they will make a good team.
Speaking of Layla, I am really liking her this season. She seems so much happier and healthier than last season, and I'm loving her confidence. I'm glad she stood up for herself with Coop. I can't believe Coop treated her like that after everything Layla has done for her the last few months.
At Crenshaw, things haven't exactly started off on the right foot. The players haven't warmed up to Coach Baker yet especially Frausto. I don't know how I feel about Frausto yet. Of course, I wasn't crazy about Darnell at first, and I love him now. So I'll give it a few more episodes. And it looks like Darnell isn't loving Coach Baker either after Chris is picked to be the starting QB. I get Coach Baker's reasoning for doing this, but Darnell deserves to be the starter in my opinion. I just hope that Darnell doesn't quit over this.
Back at Beverly, the team meets the new football coach: Coach Montes. I like that the show chose a female coach for Beverly. I think she could be good for the players especially Jordan. At first, I was annoyed with Jordan, but he stepped up. He fought for his spot, and he proved that he deserves this. I think it's going to be good for him to have someone coach him besides his dad.
Now, on to my least favorite part of the episode: Vanessa. Maybe I'm not being fair here, but she just seems like trouble. And did this show really need any more drama? I desperate hope that Asher didn't cheat on Olivia with Vanessa this summer. Maybe they just kissed. If Asher did cheat, then the show has proved that they don't care about his character development at all.
Other Thoughts:
- I'm glad we got to see Kia again. If it were up to me, I'd probably pair her with Spencer as I always like their scenes together. I know some other viewers were interested in seeing her with Darnell after last season's finale, and I'm not opposed to that, either.
- JJ was so fun in this episode. He helped become a better player with competition, and he was happy for Jordan. He's a good teammate and a good friend.
- I was shocked when Olivia told Layla she went to Mexico to surprise Asher. I was not expecting that! But I wonder why she's being so secretive about it. Why doesn't she just tell Asher she saw him? Is it because she slept with Spencer later in the summer? I think we'll find out more in the next episode, but I'm just going to try to stop guessing what's going on. The show clearly has some twists coming.
What did you think about "How to Survive in South Central"? What do you think about the new characters? How are you liking this season so far?